"Det ger mig hopp att veta att vi inte är ensamma"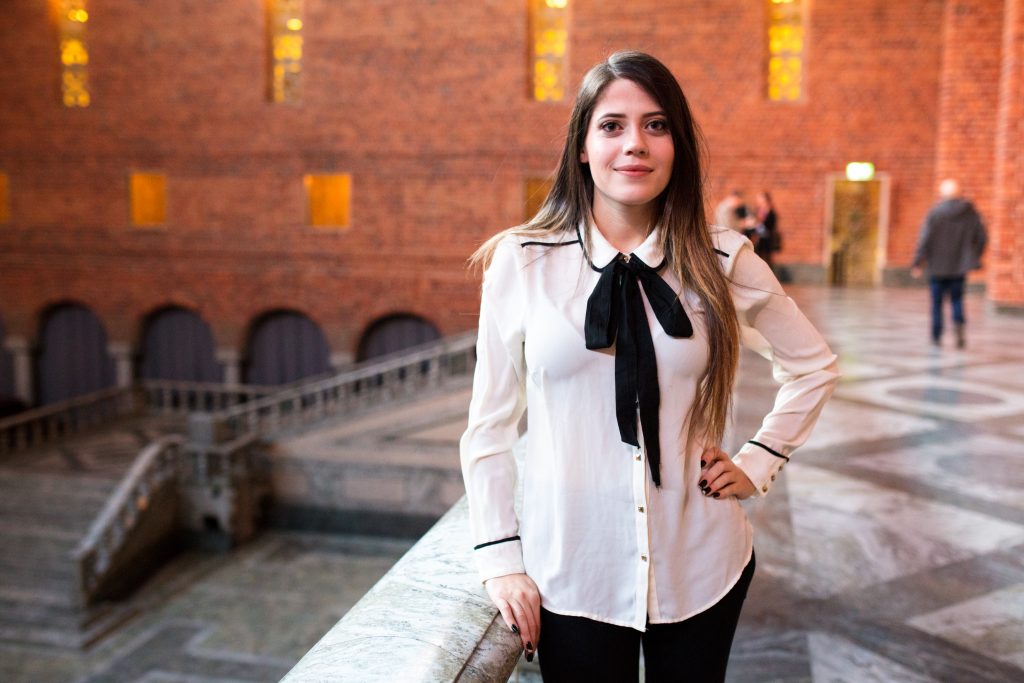 Träffa Genesis Dávila från organisationen Defiende Venezuela som arbetar med mänskliga rättigheter i Venezuela – en av alla deltagare som var med på Defenders' Days 2018.
Följande artikel finns endast på engelska:
Voices from Defenders' Days:
Close-up with Genesis Dávila, Director and Founder of Defiende Venezuela
What does your organisation do?
We promote and defend human rights in Venezuela by raising awareness of the Inter-American Human Rights System and how to effectively request international protection when the national mechanisms fail. Our core team in Caracas and members of our support network based in other parts of the country and in the US, work on a case-by-case basis. We document and support victims of human rights violations in filing individual petitions before the Inter-American Commission on Human Rights, IACHR, which has the responsibility to process specific complaints on human rights violations in any of the 35 countries that are members of the Organization of American States, OAS. Our main target group is political prisoners, who are not receiving medical assistance, and human rights defenders who have been attacked, intimidated or harassed by the Venezuelan government. We also give lectures and arrange workshops worldwide and use social media to promote the international human rights protection mechanisms.
What are the main challenges you face in your work?
In April 2017, tens of thousands of Venezuelans took to the streets to protest against the accumulation of power in the executive branch of the government and its crackdown on the opposition, and the erosion of human right guarantees and democracy. The protests devolved into violent clashes with riot police, leaving thousands of arrested, injured and dead. As a result, mass demonstrations no longer take place in Venezuela but the violations continue in the form of arbitrary detentions and political harassment against government opponents and activists. Human rights organisations and human right defenders – who are the new target of the government – are increasingly suffering persecution and criminalisation for their work.
This only strengthens my organisations' commitment and desire to defend our people and our country, but it obviously means that the safety of myself and my colleagues, who are defending victims of human rights violations, is at great risk.
In May 2017, I set out to come back to Venezuela after having pursued a leadership development program at Georgetown University in the United States, to establish Defiende Venezuela. As the founder, I not only faced the challenge of trying to establish an organisation in the socio-political context surrounding the mass demonstrations and, in a time, when our country is facing a humanitarian and human rights crisis; I also faced the challenge of being a young woman determined to do something about the situation in a systematic and structured way. Not only did I have to convince the other human rights bodies in Venezuela of my intentions and the quality of my work to get their approval, but the team I was about to recruit – initially comprised of three men older than myself. As a newly founded organisation, we also had to convince the victims we sought out to defend that is important and worthwhile to file petitions to the IACHR.
What is your most recent success story?
Despite the nation-wide known crisis, Venezuela has a lower number of human rights-violation cases reported before the IACHR in comparison to other countries in the region, such as Mexico and Colombia. This does not match the current reality. Everyday human rights violations occur in front of our eyes, and yet, only 43 cases were reported before the Commission in 2016.
Our organisation has already, after being operational six months, reported ten petitions before the IACHR. So far, the Commission has granted precautionary measures in favour of two political prisoners who were suffering from health issues but not receiving adequate treatment nor medical care. This is a great success – we proved that even though we are a young organisation, we can request and contribute to the fulfilment of justice.
By increasing the number of petitions before the IACHR – to better match the number of actual violations – and by the adoption of precautionary measures, we contribute to the respect of human rights and the strengthening of democratic institutions in Venezuela.
How can Defenders' Days improve your work?
For me, Defenders' Days was more than just academia or a training course – it was important for me to discover and get in contact with the global community of human rights defenders.
I learned about others facing the same challenges as we are facing in Venezuela, and how they are working to overcome these challenges. It gives me hope to know that we are not alone: that we have support and that there are many of us working for the same purposes.