Civilsamhället kräver att Tep Vanny frisläpps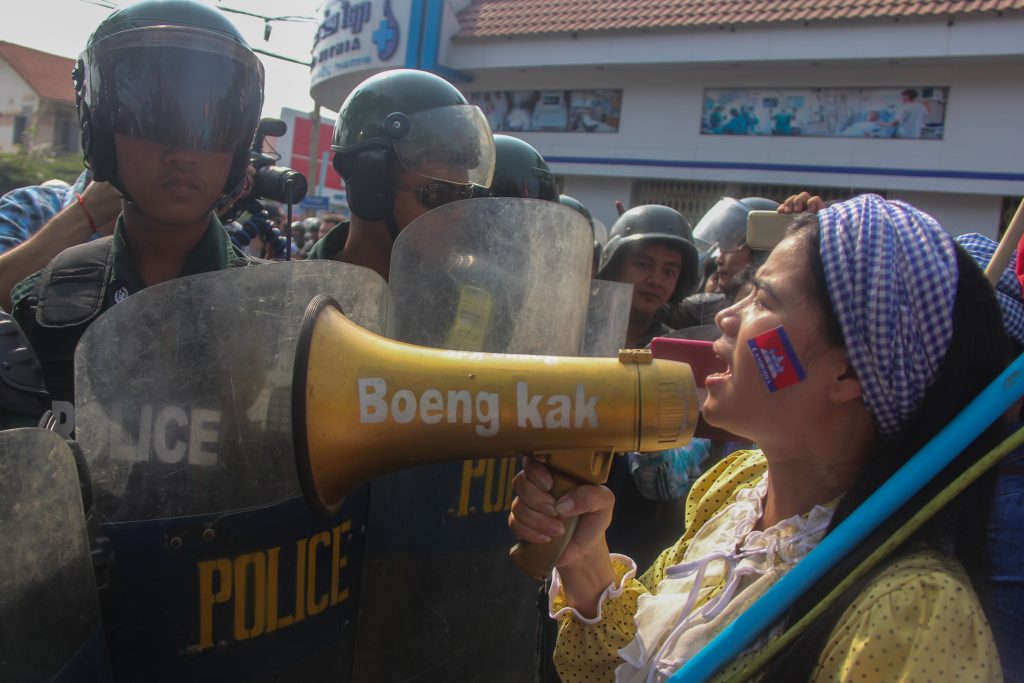 Phnom Penh, 15 augusti 2018:
Idag är det två år sedan landrättsaktivisten och människorättsförsvararen Tep Vanny frihetsberövades på grund av sitt arbete med att försvara rättigheterna för lokalbefolkningen i området Boeung Kak Lake. Civil Rights Defenders går nu samman med 159 andra organisationer och kräver att Tep Vanny släpps ur fängelset. Vi fördömer det faktum att hon suttit godtyckligt fängslad i två år och uppmanar de kambodjanska myndigheterna att lägga ner alla anklagelser mot henne.
Tep Vanny har kämpat outtröttligt för att ge rätt åt de människor som tvångsförflyttades från sina hem i Boeung Kak Lake i Phnom Penh. Hon har även engagerat sig i kampanjer som startats av andra människorättsförsvarare i landet. Så länge Tep Vanny sitter fängslad hindras hon från att fortsätta sitt viktiga arbete.
– Om vi står upp tillsammans kan vi nå rättvisa. Desto fler vi är som sluter samman, desto större makt har vi, har Tep Vanny själv sagt.
Läs mer om fallet Tep Vanny i vår artikel på engelska: Civil Society Groups Call for the Release of Tep Vanny.
---
Den här artikeln är underskriven av
1. 24 Families Community (Preah Sihanouk)
2. 92 Community (Phnom Penh)
3. 105 Community (Phnom Penh)
4. 297 Land Community (Koh Kong)
5. Activities for Environment Community (AEC)
6. Alliance for Conflict Transformation (ACT)
7. Angdoung Community (Preah Sihanouk)
8. Angdoung Kanthuot (Battambang)
9. Angdoung Trabek Land Community (Svay Rieng)
10. Anlong Run Community (Battambang)
11. Ansoung Sork Community (Battambang)
12. Areng Indigenous Community (Koh Kong)
13. ASEAN Parliamentarians for Human Rights (APHR)
14. Asian Democracy Network (ADN)
15. Asian Forum for Human Rights & Development (Forum Asia)
16. Banteay Srey Community (Phnom Penh)
17. Bat Khteah Community (Preah Sihanouk)
18. Boeng Chhuk Community (Phnom Penh)
19. Boeung Pram Community (Battambang)
20. Borei Keila Community (Phnom Penh)
21. Borei Mittepheap Community (Banteay Meanchey)
22. Borei Sontepheap Community (Phnom Penh)
23. Bos Sa Am Community (Battambang)
24. Bou Japan Land Community (Koh Kong)
25. Buddhism for Peace Organization (BPO)
26. CamASEAN Youth's Future (CamASEAN)
27. Cambodia Indigenous Peoples Organization (CIPO)
28. Cambodia's Independent Civil Servants Association (CICA)
29. Cambodian Center for Human Rights (CCHR)
30. Cambodian Domestic Workers Network (CDWN)
31. Cambodian Human Rights and Development Association (ADHOC)
32. Cambodian Independent Teachers' Association (CITA)
33. Cambodian Informal Economy Workers Association (CIWA)
34. Cambodian Labor Confederation (CLC)
35. Cambodian League for the Promotion and Defense of Human Rights (LICADHO)
36. Cambodian Youth Network (CYN)
37. Capacity Community Development Organization (CCD)
38. Chek Meas Land Community (Svay Rieng)
39. Cheko Community (Phnom Penh)
40. Center for Alliance of Labor and Human Rights (CENTRAL)
41. Cheung Wat Village Land Community (Banteay Meanchey)
42. Chikor Kraom Land Community (Koh Kong)
43. Chikor Leu Land Community (Koh Kong)
44. Chirou Ti Pi Community (Tbong Khmum)
45. Chhub Community (Tbong Khmum)
46. Chorm Kravean Community (Kampong Cham)
47. C I 5 Community (Preah Sihanouk)
48. CIVICUS: World Alliance for Citizen Participation
49. Civil Rights Defenders (CRD)
50. Coalition of Cambodian Apparel Workers Democratic Union (C.CAWDU)
51. Coalition of Cambodian Farmers Community Association (CCFC)
52. Coalition of Integrity and Social Accountability (CISA)
53. Committee for Free and Fair Elections in Cambodia (COMFREL)
54. Community Peace-Building Network (CPN)
55. Confederation of Cambodian Worker (CCW)
56. Dok Por Community (Kampong Speu)
57. Dombe Community (Tbong Khmum)
58. Equitable Cambodia (EC)
59. Fishery Community (Banteay Meanchey)
60. Front Line Defenders (FLD)
61. Forest and Biodiversity Preservation Community (Svay Rieng)
62. Free Trade Union of Workers of Kingdom of Cambodia (FTUWKC)
63. Gender and Development Cambodia (GADC)
64. Horng Samnom Community (Kampong Speu)
65. Human Rights Watch (HRW)
66. Independent Democracy of Informal Economy Association (IDEA)
67. Independent Monk Network for Social Justice (IMNSJ)
68. Indigenous Youth at Brome Community (Preah Vihear)
69. International Federation for Human Rights (FIDH), within the Framework of the Observatory for the Protection of Human Rights Defenders
70. International Freedom of Expression Exchange (IFEX)
71. Khva Community (Phnom Penh)
72. Koh Sralao Fishery Community (Koh Kong)
73. Lor Peang Land Community (Kampong Chhnang)
74. Mlup Prom Vihea Thor Center (Koh Kong)
75. Moeunchey Land Community (Svay Rieng)
76. Minority Rights Organization (MIRO)
77. Mother Nature Cambodia (MNC)
78. Network for Prey Long Protection in Mean Rith Commune (Kampong Thom)
79. Orm Laing Community (Kampong Chhnang)
80. Ou Ampil Land Community (Banteay Meanchey)
81. Ou Chheu Teal Community (Preah Sihanouk)
82. Ou Khsach Community (Preah Sihanouk)
83. Ou Tracheak Chet Community (Preah Sihanouk)
84. Ou Tres Community (Preah Sihanouk)
85. Ou Vor Preng Community (Battambang)
86. Phnom Bat Community (Phnom Penh)
87. Phnom Kram Community (Siem Reap)
88. Phnom Sleuk Community (Battambang)
89. Phnom Torteong Community (Kampot)
90. Phsar Kandal Village Land Community (Banteay Meanchey)
91. Phum 22 Community (Phnom Penh)
92. Phum Bo Loy Community (Ratanakiri)
93. Phum Dei Chhnang Community (Kampong Speu)
94. Phum Samut Leu Community (Ratanakiri)
95. Phum Ou Svay Land Community (Banteay Meanchey)
96. Phum Sela Khmer Land Community (Banteay Meanchey)
97. Phum Thmei Taing Samrong Community (Kampong Speu)
98. Ponlok Khmer (PKH)
99. Poy Japan Land Community (Koh Kong)
100. Prasak Community (Battambang)
101. Preah Vihear Kouy Indigenous Community
102. Prek Takung Community (Phnom Penh)
103. Prek Tanou Community (Phnom Penh)
104. Prek Trae Community (Preah Sihanouk)
105. Prey Chher Pich Sangva Laor Chhert Community (Kampong Chhnang)
106. Prey Long Community (Kampong Thom)
107. Prey Peay Fishery Community (Kampot)
108. Progressive Voice (PV)
109. Railway Community (Phnom Penh)
110. Raksmey Samaki Community (Kampong Speu)
111. Roluos Cheung Ek Community (Phnom Penh)
112. Rum Cheik Land Community (Siem Reap)
113. Russey Sras Community (Phnom Penh)
114. Land and Housing Community Solidarity Network (Phnom Penh)
115. Samaki Phnom Chorm Mlou Community (Kampot)
116. Sahmakum Teang Tnaut (STT)
117. Samaki Romeas Haek Land Community (Svay Rieng)
118. Samaki Rung Roeung Community (Phnom Penh)
119. Sangkom Thmey Land Community (Pursat)
120. Samaki 4 Community (Phnom Penh)
121. SAMKY Organization
122. Sdey Krom Fishery Community (Battambang)
123. SILAKA Organization
124. Skun Land Community (Banteay Meanchey)
125. Skun Land Community (Siem Reap)
126. Smach Meanchey Land Community (Koh Kong)
127. Somros Koh Sdech Fishery Community (Koh Kong)
128. SOS International Airport Community (Phnom Penh)
129. Southeast Asian Press Alliance (SEAPA)
130. Spean Chhes Community (Preah Sihanouk)
131. Srechong Land Community (Kampong Thom)
132. Sre Prang Community (Kampong Cham)
133. Sreveal Land Community (Kampong Thom)
134. Steung Bort village Land community (Banteay Meanchey)
135. Steung Khsach Sor Forestry Resource (Kampong Chhnang)
136. Steung Meanchey Community (Phnom Penh)
137. Strey Klangsang Community (Phnom Penh)
138. Tani Land Community (Siem Reap)
139. Ta Noun Land Community (Koh Kong)
140. Ta Trai Village Land Community (Banteay Meanchey)
141. Teng Tao Land Community (Svay Rieng)
142. Thmor Kol Community (Phnom Penh)
143. Thmor Da Community (Pursat)
144. Thmor Thom Community (Preah Sihanouk)
145. Thnol Bort Village Land Community (Banteay Meanchey)
146. Thnong Land Community (Koh Kong)
147. Toul Rada Community (Phnom Penh)
148. Toul Samrong Community (Kampong Chhnang)
149. Toul Sangke A Community (Phnom Penh)
150. Tourism Employee Grand Diamond City Union (Banteay Meanchey)
151. Tourism Employee Union (Banteay Meanchey)
152. Trapaing Chan Community (Kampong Chhnang)
153. Trapaing Chor Community (Kampong Speu)
154. Trapaing Krasaing Land Community (Siem Reap)
155. Trapaing Raing Community (Phnom Penh)
156. Trapaing Sangke Community (Kampot)
157. Tumnop II Community (Pursat)
158. Tunlong Community (Kampong Cham)
159. Vital Voice Global Partnership
160. World Organization Against Torture (OMCT), within the Framework of the Observatory for the Protection of Human Rights Defenders