Remembering Natalia Estemirova; After Ten Years, The Fight for Justice Continues.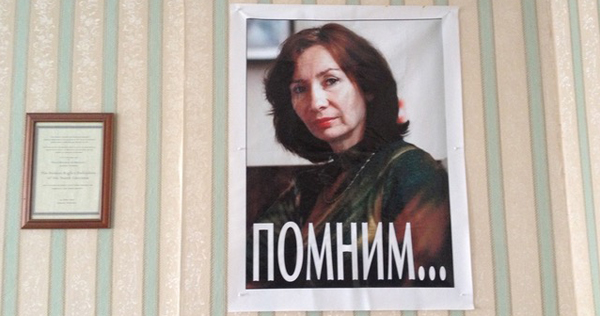 It started as any other day. Natalia Estemirova, the head of the Russian human rights group Memorial's office in Chechnya, stepped outside of her apartment building, making her way to the bus stop in Grozny, the capital of the Chechen Republic, on her way to work.
But on this day, 15 July 2009, she never made it to her office.
A short distance from the entrance to her apartment building, four men grabbed Natalia and put her in a car and drove off, heading to the neighbouring republic of Ingushetia. Shortly after crossing the border, the kidnappers stopped their car, marched Natalia Estemirova off the road and shot her dead.
Ten years has passed since that day.
Natalia's work on human rights and her outspoken activism made her an unpopular figure in the eyes of the regime in Russia's rogue republic of Chechnya. As the head of the Russian human rights organisation Memorial's activities in Chechnya and champion of civil and political rights, she was often targeted by the authorities. At the time of her abduction, she had been investigating several cases of torture, abduction and extrajudicial killings committed by the Chechen police. She was also one of the few people in Chechnya to openly criticise the head of the Chechen Republic, Ramzan Kadyrov.
Even though her death sparked outrage and prompted response from amongst other Russian President Putin, whom openly acknowledged that her murder was linked to her professional work and pledged a full and independent investigation and even as Kadyrov repeatedly denied any involvement and even boasted that he would personally find her killer, no credible investigation has ever been undertaken by the authorities.
Today, her work and legacy continues in the organisation she once headed. Memorial in Chechnya works steadfastly to promote human rights, as well as documenting human rights atrocities. Founded before the dissolution of the Soviet Union, Memorial is one of Russia's oldest human rights organisations. It is a resilient civil society organisation, and catalogues both current and historical human rights violations and provides legal aid and advice to victims of human rights violations. Memorial is also the last remaining human rights group that works on official impunity in Chechnya – a region that has been the site of gross human rights violations for over two decades.
The weakening of civil society in Russia and it's federal subjects such as Chechnya, started in 2013, with sweeping inspections of hundreds of non-governmental organisations, NGO's, across the country, paired with amendments to the Law on foreign agents, introduced in 2014, which enabled the Ministry of Justice to place NGO's on the foreign agents registry without their consent. Since then the list has continued to grow and as of 2018 the list included 80 organisations. This number used to be higher, as 163 NGO's were declared foreign agents: the number decreased after some organisations shut down operations or declined foreign funding in order to be taken off the list.
Over the last few years, almost every single critical voice has been silenced, or forced to leave Chechnya. Memorial is the last remaining human rights group in the country that documents human rights violations and is often on the receiving end of the authorities' efforts to squeeze them out of the country.
Memorial in Chechnya, since 2009 headed by Natalia's successor, Oyub Titiev, has constantly faced tough actions from the regime and other actors. Their offices were broken into and the organisations car in neighbouring Dagestan was the target of an arson attack and the head of the Dagestan office was violently assaulted by an unknown person.
Threats and messages such as "You're walking on the edge of the abyss. Shut down! Next time we'll burn your office, with you inside. The car is just a warning" were – and still are – common and not often investigated by the authorities. Staff get harassed and are subject to intimidating surveillance and persecution. Nevertheless, the organisation and its human rights defenders persist in the face of adversity.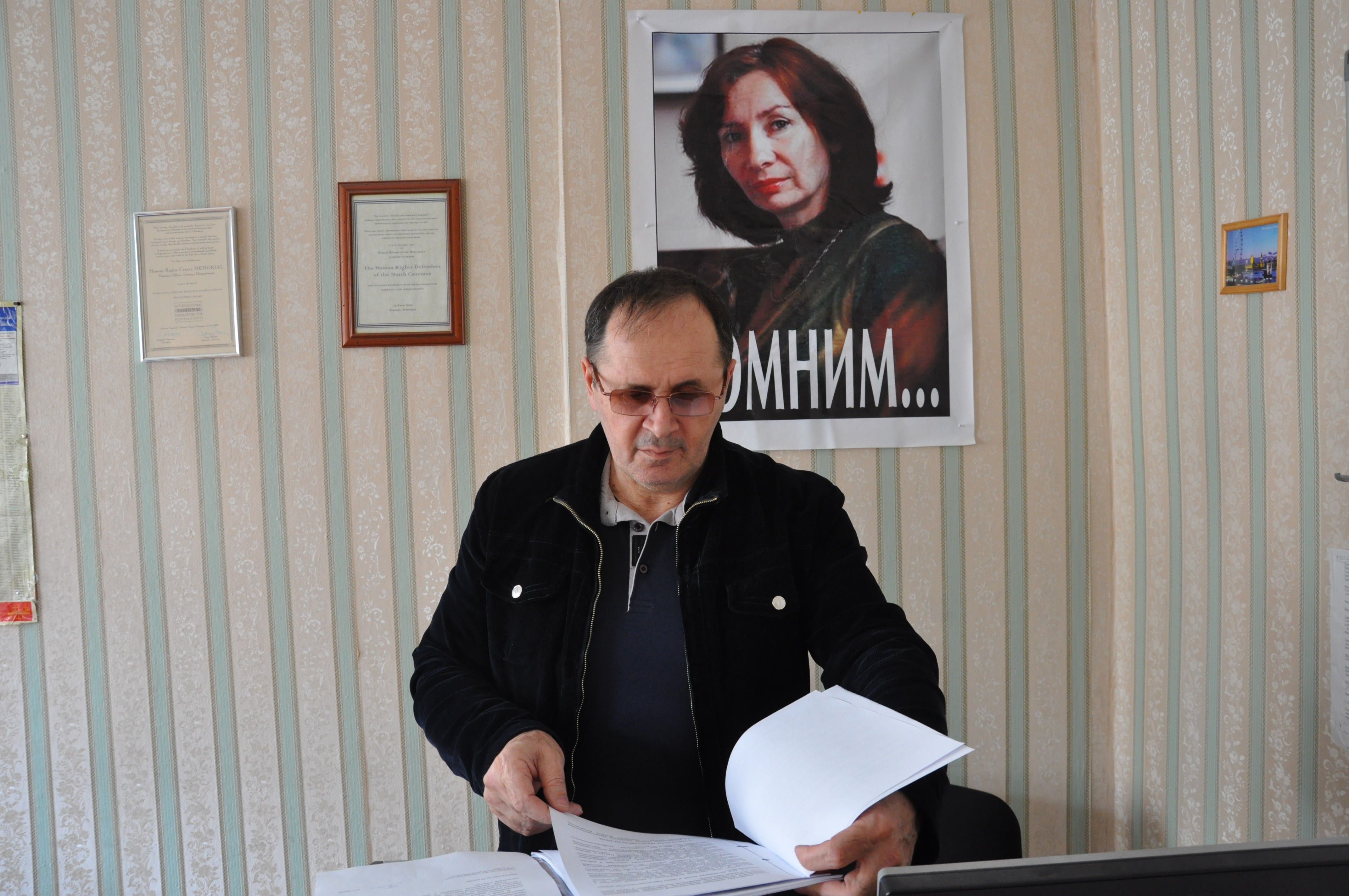 In 2017, Titiev was stopped by the police on his way to work. After a quick search of his car, the authorities found more than 170 grams of marijuana. The possession of narcotics is illegal and carries with it a maximum sentence of ten years. This method, of stopping and finding illegal substances, is a favourite method used by the regime, as it is not as gruesome as a murder, but still renders someone incapable of doing their activist work by being sentenced to long periods of time in prison, preferably to a penitentiary far away from relatives and colleagues.
Titiev denied the allegations and said that the drugs were planted on him by the police. His arrest came shortly after Magomed Daudov, the speaker of the Chechen parliament, described human rights activists as "enemies of the people" and suggested they should be executed.
The subsequent lengthy detainment and trial was internationally decried. As the 61-year-old Titiev, sitting in a metal cage, was trialled, the international community of civil society organisations, lay heavy pressure on both their respective governments and the Chechen authorities to release Titiev. Even though this didn't stop the court from sentencing Oyub Titiev to serve time in a penal colony, it did reduce the sentence from the dreaded ten years, to four years.
During this whole time, civil society organisations like Memorial continued to fight for human rights in Chechnya. But despite the efforts from Memorial, the situation in Chechnya is still particularly dire for minority groups and LGBTI+ people. In 2017 and 2018 the Chechen security forces, practically under the command of regime leader Kadyrov, carried out two mass "purges" of dozens of LGBTI+ persons, subjecting them to extra-legal imprisonment, torture, and in at least two cases, death. Since 2017 the Russian LGBT Network has relocated around 150 people out of Chechnya and resettled them in other, safer regions.
Even though her work focused mainly on the situation in Chechnya, the legacy of Natalia Estemirova lives on in other parts of the world. The plight of human rights is a universal one and the fight for political and civil rights have expanded into other territories. In Cuba the issue of free speech and freedom of assembly is suppressed and the situation in Venezuela, Myanmar and Turkey is also very precautious. The shrinking space for civil society and the ensuing democratic backslide is also evident in countries such as Hungary and Poland.
Human rights organisations in other countries have their own Natalia Estemirova. The disappearing, jailing or outright assassination of human rights defenders is a common occurrence in countries whose regimes want to supress human rights and have free reign to commit atrocities. Take the case of Alexis Bustamante Molano, who disappeared on his way back from a meeting in Colombia. He was later found to be detained by the DGCIM, the Venezuelan contra-espionage agency and placed in a cell in the Ramo Verde military detention centre. Bustamante Moreno works as a coordinator at the human rights group FundaRedes. The organisation focuses on issues like the recruitment of children to serve in armed gangs and militias in Venezuela. His case is still unresolved, as is hundreds of other prisoners being held on account of their human right activities.
Freedom of speech, which was championed by Natalia Estemirova, remains in limbo in places like Myanmar, where a group of thespians were imprisoned for their work satirising the regime. Under draconian laws, or by referring to national security, the Myanmar military has imprisoned and indicted filmmakers and journalists. The trend is not confined to Myanmar, as democracy and its tenets of free speech, freedom of assembly and freedom of the press, is constantly under attack from oppressive rulers. The methods of suppression mustn't always be as gruesome and obvious as detention or murder, and often involves other ways of intimidation.
This has been the case of Khadicha Askarova, who has found herself living in uncertain housing conditions. She owns her house, but the authorities keep trying to confiscate it, despite this being against the law. The sole reason for this is that her husband is Azimjon Askarov, a human rights defender in southern Kyrgyzstan. He was detained in connection to his work gathering information about suspected abuse from the police and the Kyrgyz' authorities in their involvement in a violent conflict in the region. He shared the information with international human rights groups and with the media, to put the spotlight on the situation in the region. Askarov and his lawyers have testified about how the police kept him in isolation, beaten him and prohibited his lawyers from meeting him. Askarov has been in jail since 2010, sentenced to life in jail by a local court, who did not review any evidence and refused to listen to eyewitness accounts of the torture endured by Askarov. As of 2019, he is still in jail, the higher courts affirming the low court's decision. All because he was shining a light on human rights atrocities and trying to keep his government accountable.
In face of all these Natalia Estemirova around the world, it is easy to feel the doom and gloom surrounding the situation of human rights across the globe. But there are examples of where things have improved and where focused and steady resistance and action have driven oppressive regimes back. Even though Oyub Titiev was sentenced to four years in jail, he was released in June of 2019, after 19 months in detention, although total exoneration still eludes him. In Vietnam, the human rights defender and activist Nguyễn Ngọc Như Quỳnh, also known as Mother Mushroom, was released after serving two years of her ten-year sentence.
The legacy of Natalia Estemirova extends beyond the fight for human rights. It's also a legacy of how human rights defenders can protect themselves and their families in oppressive regimes.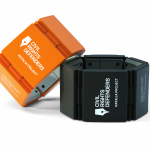 Natalia Estemirova's activities documenting the ongoing abuse and abduction of civilians by government backed militias, inspired Civil Rights Defenders' quest for a safety device that could enhance the protection of human rights defenders working in some of the most repressive and dangerous regions. In April 2013 the Natalia Project was launched as the world's first security alarm system for human rights defenders at risk, powered by social media. Named in her honour, the project is still ongoing and counts upwards of 160 users worldwide, with more human rights defenders getting the Natalia Project bracelet and security training, every year.
Natalia Estemirova remains a powerful symbol of the human rights movement in Chechnya. Today, on the tenth commemoration of her tragic passing, Civil Rights Defenders renew our demand for justice and call on Russia to ensure that her killers are prosecuted and sentenced. We also renew our call to Chechen leaders to allow human rights groups to work inside the country. It is time for justice for Natalia, and human rights for the Chechen people and people across the world.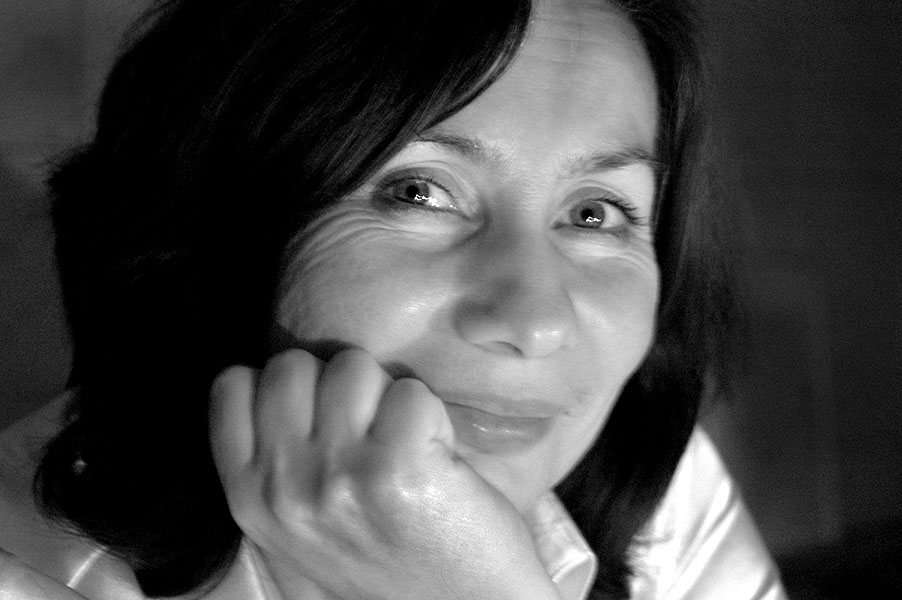 ---
If you want to join our mission of spreading human rights across the world, don't hesitate to give your support here.
Your support helps todays' human rights defenders, be it with emergency funding or getting the Natalia Project security and training. Your contribution makes a difference.
Thank you!