Attack Against Natalia Project Member Olena Shevchenko Must be Investigated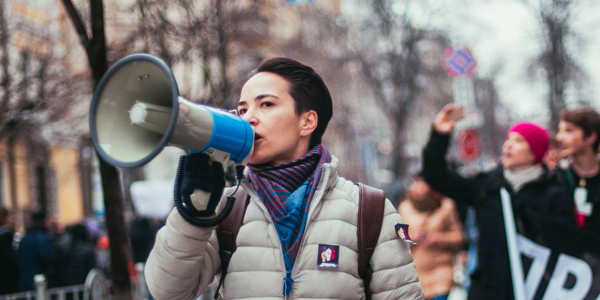 On 1 November, Ukrainian human rights defender and LGBTI+ activist Olena Shevchenko was attacked by two unknown perpetrators in Kyiv, Ukraine. The attackers shouted homophobic slurs and caused moderate physical injuries to Olena Shevchenko. Civil Rights Defenders strongly condemns the assault and urges the police to investigate the attack as hate crime.
Olena Shevchenko leads the organisation Insight that focuses on promoting and protecting the rights of LGBTI+ persons. She is also a participant in Civil Rights Defenders' security programme Natalia Project – an assault alarm system for human rights defenders at risk.
"It is important that the attack is investigated promptly. Due to the nature of Olena's work, and the homophobic slurs that were shouted during the attack, we urge the police to investigate this as a hate crime," said Marcin de Kaminski, Programme Director for Human Rights Defenders at Risk, Civil Rights Defenders.
Threats from Right Wing Groups
As an outspoken human rights defender, focusing on advancing women's rights and LGBTI+ rights, Olena has been subjected to threats, harassment and intimidation also in the past.
On 8 March 2018 – International women's day – a women's rights parade in Kyiv was attacked by 200 ultra-right radicals armed with sticks and tear gas. Olena Shevchenko, who was one of the organisers of the parade, was charged with "violation of the procedure for conducting peaceful assemblies".
The charges were completely based on claims by the ultra-right group National Druzhina, a group that had previously launched extensive social media campaigns targeting both Olena Shevchenko and Insight.
In the subsequent hearing in the local court on 12 March, Olena Shevchenko was confronted by armed ultra-rights radicals inside of the courthouse which forced her and her lawyer to hide. The local law enforcement was not able to protect Olena Shevchenko and her lawyer who managed to get away by arranging private security guards.
"Olena and her colleagues at Insight are vocal and important voices for human rights in Ukraine. Because of their work, they have been targeted on a number of occasions over the past few years. We are very worried about their safety and urge the police to find the attackers and bring them to justice," said Marcin de Kaminski.