The Human Rights Defender Podcast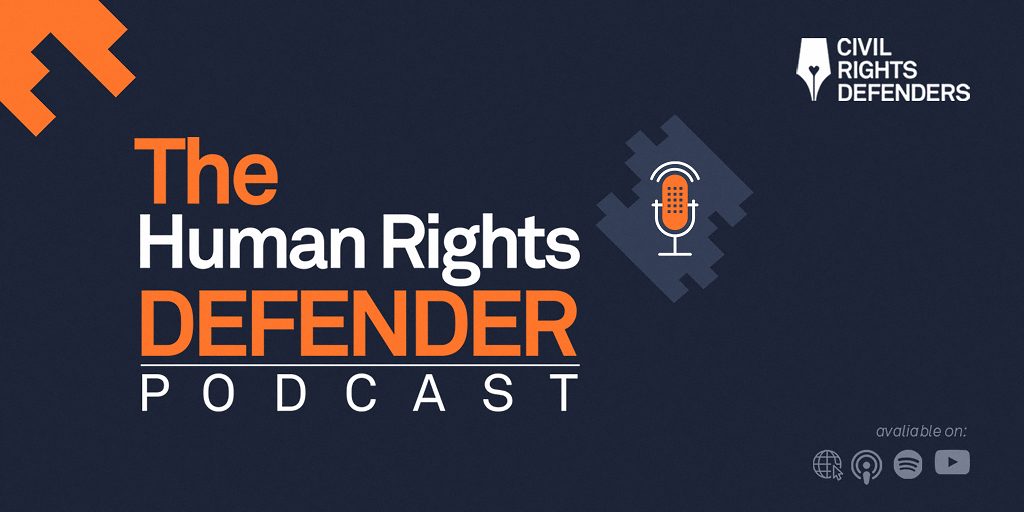 The Human Rights Defender; a podcast series that explores the work and lives of brave individuals standing up for our human rights. Available on all major podcast platforms, including Spotify and Apple Podcasts.
---
Season 3 | Season 2 | Season 1
---
Season 3
---
Episode 5: Albania's LGBTI+ Community Facing Attacks
Over the past few months, Albania's LGBTI+ community has been subject of a hateful smear campaign, with calls for violence against members spread by national television hosts and other influential figures. We sat with Xheni Karaj, from Aleanca LGBT who has been personally targetted and is leading the fightback through the courts.
Episode 4: #RomaSummit: MEP Evin Incir (S&D)
In the second episode of the #RomaSummit special, we speak with MEP Evin Incir (S&D), who has been a tireless advocate for Roma inclusion from her seat in the European Parliament. Serving as Co-President of the EP's Anti-Racism and Diversity Intergroup (ARDI), she offers us an important insight into the shortcomings of previous EU-level initiatives, how the new EU-Roma Framework might address these, as well as the challenges that remain to bringing about real institutional change – both in Brussels, and more pressingly, at national level.
Episode 3: #RomaSummit: Gabriela Hrabanova, ERGO Network
In anticipation of the upcoming Western Balkans Roma Summit (17-18 November), we're hosting a mini-series on this podcast, focusing on the the rights and issues of the Roma community. Over the next few episodes, we'll be speaking with EU policymakers, representatives of civil society organisations and grassroots activists tackling anti-gypsyism and promoting the community's rights across the continent. First up, Gabriela Hrabanova of the Brussels-based ERGO network, which represents 30 Roma and pro-Roma organisation working tirelessly on advocating these issues before EU bodies.
Episode 2: Defender of the Year 2021: OVD-Info
On 23 September, Civil Rights Defenders named the Russian independent human rights and media project OVD-Info, the Defender of the Year for 2021. Just days later, the Russian authorities put OVD-Info on a growing list of civil society organisations labelled as "foreign agents". We caught up with co-founder Daniil Beilinson to hear about the general human rights situation in the country, the project's vital contribution to monitoring police brutality and arrests of peaceful protestors, as well as how the newfound label will impact their work going forward.
Episode 1: The Pegasus Project
It's being hailed as "the story of the year" impacting the privacy and safety of HRDs. Over the past few months, 80 journalists from 17 media organisations have been sifting through a leak of 50,000 phone numbers which may have been compromised by sophisticated spyware. The clients: autocratic regimes snooping on their citizens. The victims: activists and journalists holding power to account. Ilya Lozovsky from the OCCRP offers his insights on this breathtaking investigation.
---
Season 2
Episode: 1 | 2 | 3 | 4 | 5 | 6 | 7 | 8 | 9
---
Episode 10: Turkey's Assault on Press Freedoms
In February 2021, Erol Önderoglu was the subject of an international civil society solidarity campaign, facing a 14-year sentence on charges of "terrorism". His crime: supporting independent media which was targetted by Turkey's crackdown on press freedoms. Marking World Press Freedom Day (May 3rd), the Reporters Without Borders representative tells us more about his pending case, the repressive tactics used to silence critical outlets, as well as Turkey's cooling interest to achieve justice in the case of Saudi journalist, Jamal Khashoggi.
Episode 9: Albania's Elections: Ultimate Test for Democracy
Albanians will head to the polls on Sunday (25 April) following the 8-year, increasingly authoritarian rule of Prime Minister Edi Rama. Our guest, Albi Çela, stresses it will also be a major test for Albania's fragile democracy, as the government introduces measures intended to pressure voters and suppress a high turnout. Against the odds, though, we are encouraging wider youth participation by launching Vota Vlen (Your Vote Counts), a platform that educates and engages first-time voters in the process.
Episode 8: #LoveisLaw: Serbia's Defining LGBTI+ Moment
It's quite a time to be an LGBTI+ activist in Serbia. Having successfully held consecutive Pride marches since 2014, and preparations underway for Belgrade to host EuroPride in 2022, the community is bracing for landmark legislation that would legally regulate same-sex civil unions. Our guest, Marko Mihailovic, direct from the frontlines of this struggle, shares his thoughts on recent accomplishments and the long road ahead to equality.
Episode 7: Hungary's Media Landscape
BBC Central Europe correspondent, Nick Thorpe, offers us a unique insight into the ways and means of Orban's regime, as well as an overall look at media literacy in neighbouring countries.
Episode 6: Digital Rights in the Western Balkans
Following the release of the Human Rights in a Pandemic report, SHARE Foundation's Director of Tech, Andrej Petrovski, gave us an insight into some of the key findings and the overall picture of digital rights in the Western Balkans.
Episode 5: Belarus – 6 months on
Six months have passed since pro-democracy protests began in Belarus following the falsification of the Presidential elections, and the repressive tactics of Lukashenka's regime are showing no signs of slow-down. Instead, with the attention of the world's cameras shifting elsewhere, independent journalists and activists are being targeted and arbitrarily detained in their thousands. Human rights lawyer, Kristina Rikhter, tells us more.
Episode 4: Roma Rights in Times of Global Crisis
Dan Doghi, Chief of the ODIHR Contact Point for Roma and Sinti Issues at the OSCE tells us about the devastating effect the pandemic is having on Roma communities across Europe; their poor access to healthcare and education, compounded by growing discrimination from institutions and wider society.
Episode 3: Global State of Play with Mary Lawlor
Heading an office which communicates with hundreds of HRDs across the world, Mary Lawlor, UN Special Rapporteur on the Situation of Human Rights Defenders, offers us a picture of the challenges to defending human rights in times of global crisis.
Episode 2: Poland's Stand for Equality
We travelled to Warsaw to sit with two renowned human rights defenders on the morning of the biggest civil protest Poland has seen in decades. On October 31st, 100,000s took to the streets to protest a humiliating ban on abortions. Julia Maciocha, President of Warsaw Pride, and Bart Staszewski, LGBTI activist and film director, tell us how human rights have been systematically degraded in Poland and the long road ahead to equality.
Episode 1: Women Human Rights Defenders
What are WHRDs? How does their position differ from their male counterparts, and what additional pressures do they face in their lives and work? Marking the International Women Human Rights Defenders Day (29 November) we're speaking about WHRDs and the increasing precarious role they play in fighting inequality and injustice worldwide. Guests: Nurcan Baysal, Journalist (Turkey) Galina Arapova, Director, Mass Media Defence Centre (Russia).
---
Season 1
Episode: 1 | 2 | 3 | 4 | 5 | 6 | 7 | 8
---
Episode 8: Srdjan Susnica, Columnist, Bosnia and Herzegovina
Srdjan story shows what happens when you dare to speak out against autocratic regimes which abuse public resources to repress human rights and democracy.
Episode 7: Rajmonda Sylbije, LGBTI+ activist, Kosovo
"Pride in our region is a protest, not a celebration," Rajmonda told a joyful crowd at Oslo Pride back in 2016, just as she and her colleagues prepared for the first ever Pride March in her home country of Kosovo. An ardent activist for LGBTI+ rights, she shares her thoughts on the journey so far and the key social and legislative challenges that lay ahead.
Belarus Edition: Victoria Fedorova, Legal Initiative
The world has been gripped by the recent pro-democracy movement in Belarus and President Lukashenka's crackdown on peaceful protestors. Victoria shares her insights from the ground and the increasingly challenging task of defending human rights from within a brutal dictatorship.
Episode 5: Vanja Calovic, Executive Director, MANS (Montenegro)
Vanja and her colleagues have paid a high price for uncovering the sophisticated relationship between organised crime, corruption and power in Montenegro. On Sunday (30 August) her country goes to the polls in what will be a decisive test for the 30-year rule of President Milo Djukanovic.
Episode 4: Lorin Kadiu, Executive Director, Citizens Channel (Albania)
As Albania's civil society grips with restrictive measures introduced to tackle the pandemic, Lorin tells about the challenge for independent media to report freely in the midst of a full-blown communications crisis.
Episode 3: Dr. Biljana Kotevska, Research coordinator, European Policy Institute (EPI) – Skopje
Biljana tells us about the success of HRDs in uncovering a captured state that violated human rights and abused power, the disproportional challenges WHRDs and LGBTI+ still face in North Macedonia, as well as the importance of human rights research for ensuring accountability.
Episode 2: Osman Isci, General Secretary, Human Rights Association (Turkey)
With thousands of activists, journalists, academics and dissidents prosecuted in recent years, Osman sheds lights on the extremely precarious position for human rights defenders in Turkey and his own personal motivations to commit his life to the cause.
Episode 1: Ivan Djuric, Program Director, YIHR Serbia
Ivan shares his reflections on the uphill challenge of changing Serbia's youths mindsets about the war in the 90s, and creating an environment in which human rights defenders are respected, not harassed.