Ukrainian Feminist and LGBTQI Rights Defender under Threat by Ultra-Right Radicals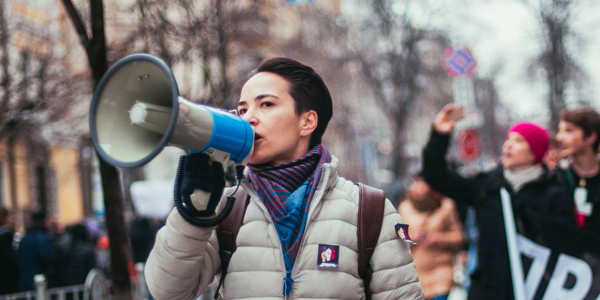 On 8 March 2018 – International women's day – a women's rights parade in Kiev, Ukraine was attacked by 200 ultra-right radicals armed with sticks and tear gas. Furthermore, one of the organisers of the parade, Olena Shevchenko from the feminist LGBTQI rights organisation Insight, has been charged with "violation of the procedure for conducting peaceful assemblies". The charges are completely based on claims by the ultra-right group National Druzhina, a group that has launched extensive social media campaigns targeting both Olena Shevchenko and Insight.
In the subsequent hearing in the local court on 12 March, Olena Shevchenko was confronted by armed ultra-right radicals inside of the court house which forced her and her lawyer to hide. The local law enforcement was not able to protect Olena Shevchenko and her lawyer, who managed to get away by arranging private security guards.
The next hearing is scheduled for today, Thursday 15 March.
"The situation for Olena Shevchenko and her colleagues in Insight is rapidly evolving in a negative way, and we are very worried about her and her colleagues safety. Civil Rights Defenders demands that all charges related to Shevchenkos human rights advocacy should be dropped and that the local law enforcement fulfils its duties to protect the personal safety of human rights defenders along with their right to assembly and freedom of expression," said Marcin de Kaminski, Programme Director for Human Rights Defenders at Risk at Civil Rights Defenders.
More information can be found at the Swedish Federation for LGBTQ Rights (RFSL) website, of which Insight is a partner, or through Olena Shevchenko's Facebook page.
As part of our long-time engagement supporting the most brave targeted human rights defenders around the world, Civil Rights Defenders is supporting Olena Skevchenko through the Natalia Project.
The Natalia Project is the world's first security alarm and positioning system for human rights defenders at risk. Once activated, a distress signal including the exact GPS location is sent to Civil Rights Defenders' headquarters in Stockholm. Within minutes of the attack, the signal is also sent out to global social media platforms, allowing people everywhere to immediately get involved. The ability to act quickly can be the difference between life and death. The Natalia Project staff is on call 24/7, monitoring the local developments and ready to act when needed.