Intensified Attacks Against Leading Russian Rights Group: "The Car is Just a Warning"
"You're walking on the edge of the abyss. Shut down! Next time we'll burn your office, with you inside. The car is just a warning."
The recent series of threats and harassment of Russian human rights group Memorial over their work in the Republic of Chechnya seem to have no end. On Monday evening, 22 January, a car belonging to the organisation was torched in Makhachkala, Dagestan, and the local staff received multiple messages telling them to shut down their operations.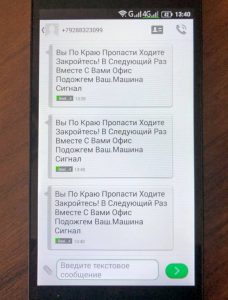 Human Rights Center Memorial is one of Russia's leading human rights organisations and have documented human rig
hts abuses in the Chechen republic for more than two decades. Over the last few weeks, they have been systematically targeted for attacks and harassment over their work in the region.
Starting with the arrest and prosecution of Oyub Titiev, head of Memorial's Grozny office, on 9 January, Chechen authorities begun their most recent attempts to scare the rights group into silence. Titiev now stands accused on bogus charges of illegal drug possession, possibly facing up to 10 years in prison.
Other Memorial staff, along with Titiev's lawyer, have reported increased surveillance since the arrest. When recently travelling to Chechnya to support their arbitrarily detained colleague, the group found themselves detained and searched no less than five times.
Furthermore, on 19 January, the Grozny police searched the Chechnya office for the third time. "The Chechen police had already searched the premises twice this week, on January 16 and again on January 18", Memorial said in a statement.
Only a week after the arrest of Oyub Titiev followed an arson attack on the organisation's Nazran office in the neighbouring Republic of Ingushetia. Two unidentified men entered the premises in the middle of the night and torched the office along with important documents and equipment inside.
According to the rights group, recent attacks on their offices in neighbouring regions are connected to their work in Chechnya. "I have no other theories: the only place we have tense relations with in the region is Chechnya," Oleg Orlov, head of Memorial's Hot Spot programme, told Associated Press after the attack on the Nazran office.
The events in Dagestan and Ingushetia cannot not be considered isolated events but rather part of a broader campaign to force Memorial out of North Caucasus.
In addition to the already catastrophic human rights situation in Chechnya, Civil Rights Defenders is deeply concerned about the recent attacks against the prominent organisation, which is also one of the few human rights actors left in the region. This is a time when it is imperative that Sweden and the international community stand together and demand the Russian authorities stop the attacks on Memorial and guarantee its safety and security when performing legitimate human rights work.