Remembering Chechen Human Rights Defender Natalia Estemirova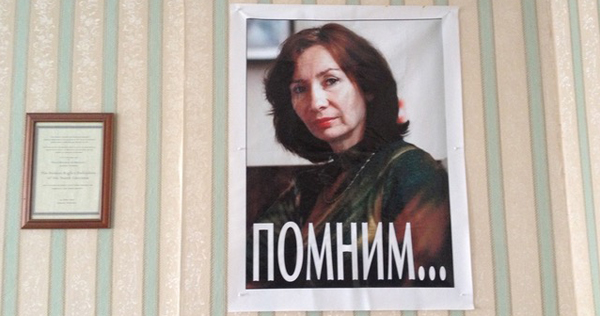 Eight and a half years ago, prominent human rights defender Natalia Estemirova was abducted and murdered in retaliation of her work. Still, the perpetrators enjoy complete impunity. Today, on what would have been Natalia Estemirova's 60th birthday, Civil Rights Defenders renews its demand for justice, and calls on Russia to ensure that her killers are prosecuted and sentenced.
Almost nine years after her death, the murder of Natalia Estemirova remains unsolved. She was abducted outside of her home in Grozny, Chechnya, on 15 July 2009. Several hours after the abduction, her body was found by the road side in Ingushetia, Chechnya's neighbour in the west. She had been shot in the head and chest.
Natalia Estemirova had a key role within the Russian human rights group Memorial, a long-term partner of Civil Rights Defenders. In July 2009, Natalia investigated several cases of grave human rights abuses in Chechnya. She documented cases of torture, enforced disappearances, and extrajudicial killings committed by the Chechen police.
Civil Rights Defenders remains concerned over the failure of the Russian authorities to bring Natalia's killers to justice. One should remember that her case is not unique, as widespread impunity for grave human rights violations committed in the North Caucasus continues unabated.
Continued pressure against rights group Memorial
The situation for human rights defenders remains critical. Over the last few years, almost every single critical voice has been silenced, or forced to leave the republic. Memorial, the last remaining rights group on the ground to document human rights violations, is now being squeezed out of Chechnya.
The beginning of this year brought with it a wave of attacks against the organisation. On 9 January, the director of their Chechen office, Oyub Titiev, was arrested and charged with unlawful drug possession, which can lead to ten years in prison. In the weeks following the arrest, Memorial's office in Ingushetia was burnt down, and the car belonging their Dagestan office was torched. The office staff later received a text message with unequivocal content: "Next time we'll burn you with the car. Keep your mouths shut".
Not the time to turn a blind eye
Nothing suggests that the Chechen local dictator, Ramzan Kadyrov, is in any way planning on stopping the attacks on human rights defenders. Instead, local critics are in most cases forced to leave the republic in order to avoid being incarcerated, harassed, or even killed.
The case of Natalia Estemirova should serve as a reminder of the importance to shine a spotlight on Chechnya. If the international community turns a blind eye, other human rights defenders risk falling victims of the same repression. And if the last critical voices disappear from the republic, there will be little or no information about what human rights violations are committed there.
Natalia Estemirova remains a symbol of the human rights movement in Chechnya. Today, on what would have been her 60th birthday, Civil Rights Defenders renews its demand for justice, and calls on Russia to ensure that her killers are prosecuted and sentenced.
We ask the international community to remember her invaluable work and to condemn in the strongest possible terms the ongoing atrocities, and demand the Russian authorities to put an end to the grave human rights violations committed in Chechnya.
---
Natalia Project
In 2013, Civil Rights Defenders started the Natalia Project – the world's first alarm and positioning system for human rights defenders at risk. The project was named in honour of Natalia Estemirova.