One Year Since Belarus' Rigged Elections, Human Rights Situation Continues to Deteriorate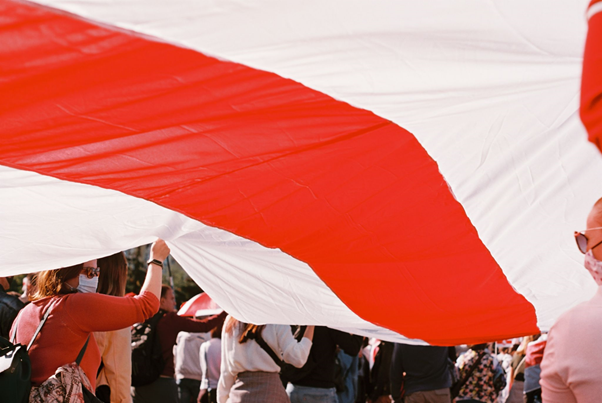 Today marks one year since Alexander Lukashenka rigged Belarus' presidential elections in his favour. The situation for human rights in the country continues to deteriorate, as Lukashenka uses increasingly oppressive tactics to stifle political opposition and silence independent media.
When President Lukashenka heavily falsified the results of Belarus' presidential elections on 9 August 2020, thousands of Belarusians took to the streets to protest peacefully. They were met with excessive violence from police and security forces, as hundreds were beaten, arbitrarily detained and tortured in custody.
Since the elections, the Belarusian people and civil society has continued to demand fair elections and democracy, but Lukashenka continues to hold onto power through a combination of oppressive tactics. Several key members of the political opposition have been detained or forced to leave the country, and authorities are increasing their repressions against independent media to silence voices critical of the regime. As of today, 610 people are being held as political prisoners in Belarus.
"The situation for human rights in Belarus continues to deteriorate. The number of political prisoners grows, and Lukashenka uses increasingly oppressive tactics to silence the reporting on human rights issues. We stand with the people of Belarus in their struggle for democracy, but Sweden and the international community must take a firm stance against Lukashenka's atrocities," says Ana Furtuna, Eurasia Department Director at Civil Rights Defenders.
Holding onto power by stifling political opposition

To hold onto power, both before and after the presidential elections in August 2020, President Lukashenka has stifled political opposition by denying opposition members the possibility to register as candidates and detaining those who oppose him.
Lukashenka announced that he was running for another term as president shortly after the parliamentary elections in November 2019. The results from these elections appeared to be falsified, as not a single candidate from the opposition won a seat in the parliament. During Lukashenka's subsequent election campaign, multiple members of the opposition announced their plans to run for president but were denied the possibility to register as candidates. Siarhei Tsikhanouski, Valery Tsepkalo and Viktar Babaryka, three prominent opposition members who announced they were running for president, were subjected to criminal prosecution. Tsikhanousky and Babarika were arrested, and Tsepkalo was forced to leave the country.
Shortly after, Siarhei Tsikhanousky's wife registered as a candidate and joined forces with Babarika and Tsepkalo's teams to form what is now Belarus' main political opposition. In July 2019, they organised the largest demonstration in the country's history in Minsk, attended by over 63,000 people.
Leading up to the presidential elections in August 2020, Belarusian authorities actively prevented independent observers, including international observers, from monitoring/observing polling stations around the country. Many Belarusians were denied the right to vote altogether. The official election results were heavily skewed in Lukashenka's favour, who received 80,23 percent of the votes. In response, tens of thousands of Belarusian across the country took to the streets to protest the fraudulent election and were met with excessive violence from security forces.
Authorities crack down on independent media to silence reporting on human rights issues
Since the presidential elections, Belarusian authorities have escalated repressions against independent media and journalists. Multiple journalists have been beaten, arbitrarily detained and sentenced to prison on politically motivated charges. Many have had their credentials revoked, and homes and offices raided. The repressions are part of the government's efforts to silence media reporting on peaceful protests and human rights violations.
On 17 September 2020, the Viasna Human Rights Centre, one of Belarus' most prominent human rights organisations, was attacked. The organisation's volunteer service coordinator Marfa Rabkova and several volunteers were detained and accused of causing/preparing mass riots.
The attack has been continuing ever since, under which several of Viasna's activities and employees were detained on politically motivated charges, including Leonid Sudalenka and Tatiana Lasita in January 2021. The latest strike took place in mid-July 2021 when three high-profile team members of Viasna, Valiantsin Stefanovich, Uladzimir Labkovich and the organisation's chairmen, Ales Bialiatski, were arbitrarily detained and put under pre-trial arrest.
During the first year of Lukashenka's renewed ruling, Belarusian civil society organisations faced harassment, intimidation, raids of their offices and employees' homes, arbitrary detentions and liquidation, starting with the Office for Rights of People With Disabilities being targeted. As of August 2021, at least 50 human rights and civil society organisations are facing liquidation.
Multiple independent journalists and bloggers faced wrongful prosecution, including two Belsat journalists that were sentenced to prison for broadcasting a protest after the murder of Raman Bondarenko. Belarus' biggest news portal, TUT.BY, was raided by law enforcement on 19 May 2021, as was Hrodna.life on 3 June.
Causing international headlines, the Belarusian government forced a Ryanair flight from Athens to Vilnius to land in Minsk on Sunday, 23 May 2021. The plane was diverted by a military jet on President Lukashenka's orders. Upon landing, the regime-critical journalist and activist Raman Pratasevich on board the plane was arrested.
Today, more than 610 persons are recognised as political prisoners, 30 journalists are imprisoned, and three people are held under house arrest.
"The crackdown on independent media and journalists by Belarusian authorities is a part of the regime's oppressive tactics aimed at silencing voices that are critical of the regime," says Ana Furtuna, Eurasia Director at Civil Rights Defenders.
---
Civil Rights Defenders has covered most of the severe human rights violations in the country, e.g. condemned the violations of freedom of assembly right after the elections, joined the collective statements calling on the UN Human rights Council to call a special session on human rights violations in the country and to ensure the accountability of Belarusian authorities in light of the attack on human rights defenders, covered the crackdown on independent media after NEXTA was designated as 'extremist'. The latest joint statement addresses the EU, ICC and the UN HRC, urging them to act in the light of the hijack of the Ryanair flight to arrest Raman Pratasevich.