Civil Rights Defenders files criminal complaint in Sweden against representatives of Syria's regime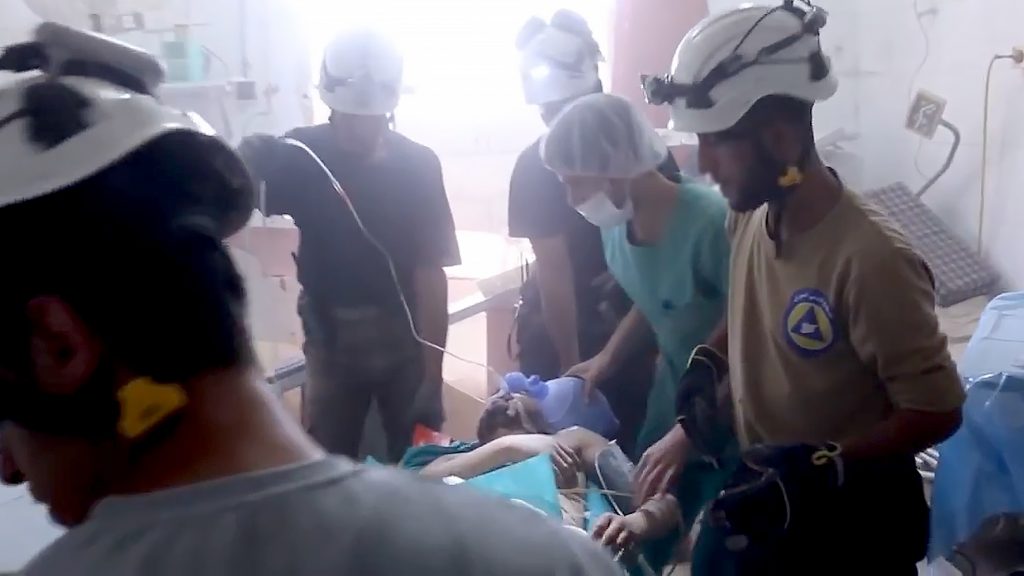 The Syrian regime used sarin gas in two attacks; on Khan Sheikhoun in 2017 and al-Ghouta in 2013, in which hundreds were killed and many more received serious injuries, including children. A criminal complaint is now filed in Sweden against high-ranking members of the Assad regime for war crimes and crimes against humanity. The filing comes one day before the 193 member states of OPCW meet to discuss, among other issues, what consequences this should have for Syria.
The criminal complaint is filed before the Swedish police by Syrian victims and civil society organisations Civil Rights Defenders, Syrian Center for Media and Freedom of Expression (SCM), Syrian Archive and the Open Society Justice Initiative.
In addition to first-hand testimonies from the victims of sarin gas attacks in Khan Sheikhoun and al-Ghouta, the criminal complaint contains hundreds of documentary evidence items, including photos and videos. Other documents show evidence of the type of chemical weapons being used and establish who was responsible for these attacks. It also contains a thorough analysis of the Syrian military chain of command.
"In the ten years since the first assaults on pro-democracy protesters in Syria, the government has strategically used chemical weapons as a tool to wear out the civilian population living in opposition-controlled areas and to suppress any resistance against the regime. It is unacceptable that those responsible for these heinous attacks are enjoying absolute impunity", says Aida Samani, Legal Adviser at Civil Rights Defenders.
Many Syrians living in Sweden have suffered significant trauma from the atrocities committed by the Syrian regime. Yet, perpetrators continue to walk free. According to Swedish law, Swedish authorities can investigate and prosecute grave international crimes committed in a foreign country, despite the crimes lacking any connection to Sweden. This means that crimes against humanity, genocide and war crimes can be investigated in Sweden, regardless of where they took place and the nationalities of the perpetrator or plaintiff.
"By filing the complaint, we want to support the victims' struggle for truth and justice. We hope that a Swedish investigation into these crimes will eventually result in trials and convictions of those who ordered and carried out the attacks. Sweden can and should contribute to putting an end to the current state of impunity in Syria", says Hadi al Khatib, founder and director of Syrian Archive.
According to international law, Sweden and other countries have a responsibility to hold people who are committing war crimes and crimes against humanity accountable. In Germany, in October 2020, and France, in March 2021, similar complaints have been filed against representatives of the Assad regime.
"We want the Swedish police and prosecutors to investigate the attacks with their German and French counterparts. A joint effort between the authorities will increase the chances of a future European arrest warrant and efficient justice for victims", says Mazen Darwish, general director of the Syrian Center for Media and Freedom of Expression.
The complaint is filed the day before meeting in OPCW
Syria is one of the 193 member states of the Organisation for the Prohibition of Chemical Weapons. The day after the filing of the complaint, the member states will meet to decide on what measures should be taken in response to Syria's failure to provide an adequate declaration of chemical weapons on its territory.
While a state cannot be deprived of its membership of the OPCW, measures may be taken during the meeting to restrict or deprive them of their rights, issue recommendations for sanctions in accordance with international law and refer the matter to the UN General Assembly and Security Council. In response to Syria's continued use of chemical weapons, several states have submitted a draft decision to deprive Syria of its rights in the OPCW.
"Passage of the decision would signal that the Syrian regime's use of chemical weapons has diplomatic consequences. But states must go beyond this to ensure that the perpetrators of these attacks are held accountable. States should call for a dedicated debate in the UN General Assembly, where states can make commitments for additional measures to support justice for atrocity crimes in Syria", says Eric Witte, senior policy officer at the Open Society Justice Initiative.
More information
Contact
For more information, please contact Civil Rights Defenders at press@crd.org or at +46 (0)76 576 27 62.