Natalia Project Participant Angela Maldonado Receives Prestigious Award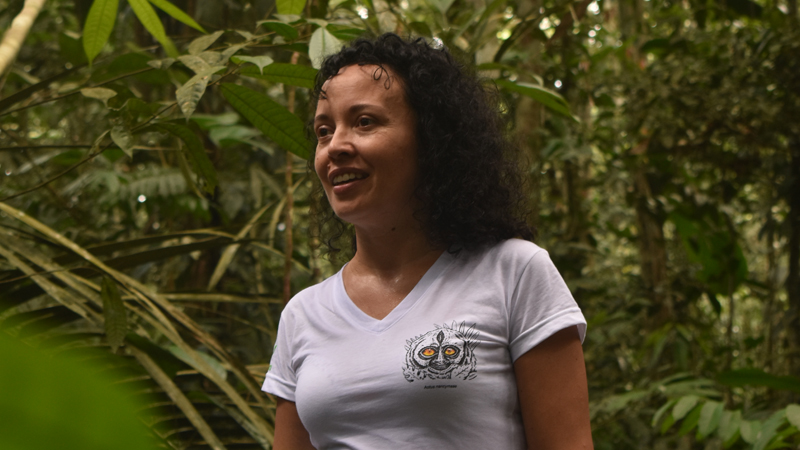 Colombian environmental human rights defender and Natalia Project participant Angela Maldonado receives the 2020 National Geographic Buffet Award for Leadership in Conservation in Latin America. We congratulate Angela who, despite risks to her own safety and security, continues to be a tireless advocate for the protection of the Amazon rainforest.
The National Geographic Buffet Award for Leadership in Conservation was established to recognise and celebrate individuals who continue fighting for the protection of natural resources in their regions and countries. The awardee is typically a person who is an inspirational conservation advocate who serves as a role model and mentor. The award is handed out annually to two individuals from Africa and Latin America.
"This award represents a powerful tool; thanks to the media coverage it will receive. It will help to tell people about the current situation at the tri-border between Colombia, Brazil, and Peru. The negligence by the governments in these three countries against indigenous people and their health system is very concerning" said Angela Maldonado to Civil Rights Defenders.
Angela is the founder of the Colombian environmental organisation Fundacion Entropika. Together with her colleagues, she monitors and campaigns against the illegal trafficking of wildlife between Colombia, Brazil, and Peru, advocates for the enforcement of domestic environmental legislation and international conventions regulating the trade of endangered species and conducts capacity building and educational programmes for indigenous communities.  
"Entropika and I are very proud and happy for this international recognition. This recharges our batteries to continue working for the protection of human rights as well as for the conservation of the Amazon and its local people," said Angela Maldonado.
Received Emergency Support in 2019
Last year, Angela Maldonado was subjected to death threats because of her advocacy work in the Amazon. As Latin America remains one of the deadliest regions in the world for human rights defenders, Angela took the threats seriously and decided to apply for assistance from Civil Rights Defenders' Emergency Fund. Due to serious security concerns, we assisted Angela to temporarily move to a safe place where she could continue her important work.
"Thanks to the emergency grant provided by Civil Rights Defenders, I was able to relocate. It made a huge difference in my life. I am feeling safe, and I have the possibility to keep working," said Angela Maldonado after receiving support.
In 2019, 547 human rights defenders from 23 countries received emergency support from our emergency fund. Of all the grantees, 92% are currently being able to continue their work.
Since 2019, Angela also participates in Civil Rights Defenders' global security programme Natalia Project. She has received tailor-made security training and been equipped with an alarm with a GPS transmitter. In the event of an attack, she can activate the alarm, which sends a signal with her geographical location to Civil Rights Defenders and Angela's closest colleagues. In just a few seconds we can determine where the attack is taking place and quickly help Angela.
A determined fighter for the future of the Amazon
Despite recent threats and harassment, Angela persists in her defence of local land rights and the right to a healthy environment. As part of a vibrant civil society, she is determined to endure and resist the attempts by powerful offenders to silence critical voices. By continuing her work, she hopes that justice and accountability can be achieved.
"Our own government intends to silence us, but intimidation won't stop me. Civil society has to resist in order to stop the violation of fundamental rights," said Angela Maldonado.
Civil Rights Defenders is delighted at the news that Angela is the 2020 recipient of the National Geographic Award for Leadership in Conservations in Latin America. We extend our warmest congratulations to Angela and her dedicated team at Entropika.