Human rights defender killed in the Amazon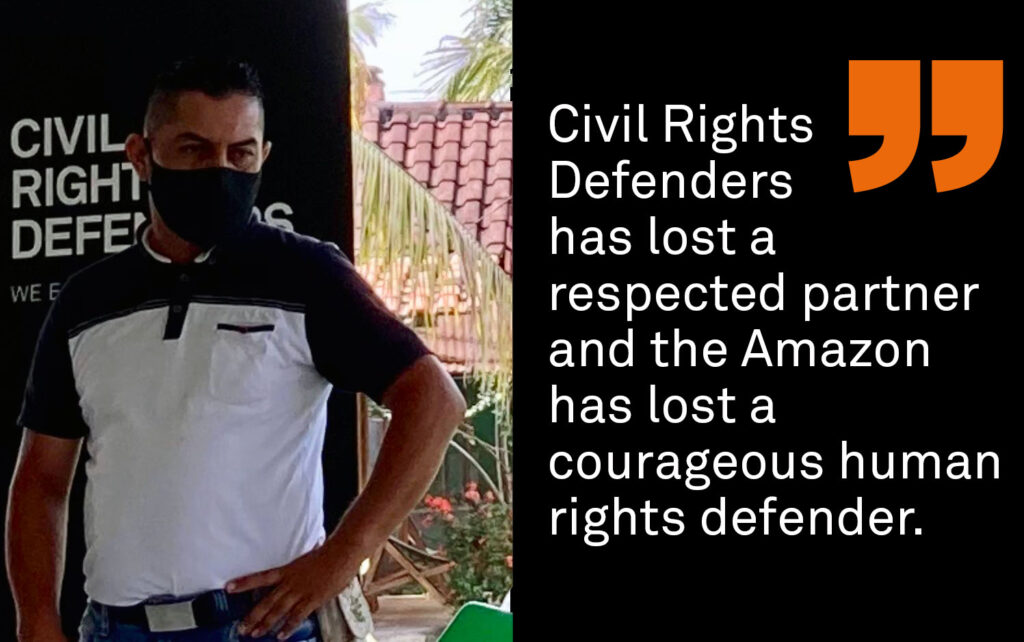 William Pedraza, 44, was shot to death on 2 September. He paid with his life for his fight against sexual exploitation and drug trafficking in the region.  
On 2 September, William Pedraza, a member of the "Veedurías de Amazonas" network and president of a local administrative board, was murdered in Leticia, the capital of the Amazonas department. He was shot by an armed man.
William Pedraza was part of the capacity-building processes of Civil Rights Defenders in Amazonas.
"We are saddened and outraged and express our deepest sympathies to the family and friends of William Pedraza. Civil Rights Defenders has lost a respected partner, and the Amazon has lost a courageous human rights defender," says Anders L. Pettersson, Executive Director at Civil Rights Defenders.
High risk defending human rights
Pedraza had called attention to alleged corruption regarding building contracts for infrastructure and denounced sexual exploitation and drug trafficking networks in his neighbourhood. The border area where William Pedraza lived has been reported to be used by armed groups engaged in the exploitation of natural resources and drug trafficking and it is dangerous speaking up against injustice.
According to the Institute for Development and Peace Studies of Colombia – Indepaz, 124 human rights defenders have been murdered so far this year. That makes the country one of the most dangerous for those defending life and territory.
"We recognize the leadership William had in his community and the importance of his work in defense of the territory. For Civil Rights Defenders defending civil and political rights in that country is a fundamental task for peacebuilding, the fight against climate change, illegal economies and corruption. This shows again, in the most horrible way, the need to improve security for human rights defenders in Colombia," says Maria Pia Alvira, Senior Programme Officer, Civil Rights Defenders in Colombia.
Human rights organisations in the Amazon have reacted to the sad news with grief and determination. They demand a thorough investigation.
"We need more transparency from the authorities regarding the human rights violations in the Amazon and we request protection for its overseers," says the Amazonian Civic Society Accountability Network, which works with overseeing human rights violations in the region. 
Civil Rights Defenders work in the Amazon
Civil Rights Defenders works in the Amazon to increase the safety of human rights defenders. We work with local organisations to conduct security training, capacity-building and give psycho-social support. We also work with local authorities and national decision-makers to improve legislation and prevent impunity for the crimes committed against local activists.
Our goal is for human rights defenders to be able to work efficiently and safely.