Museum of Science and Technology Features Natalia Project in New Exhibition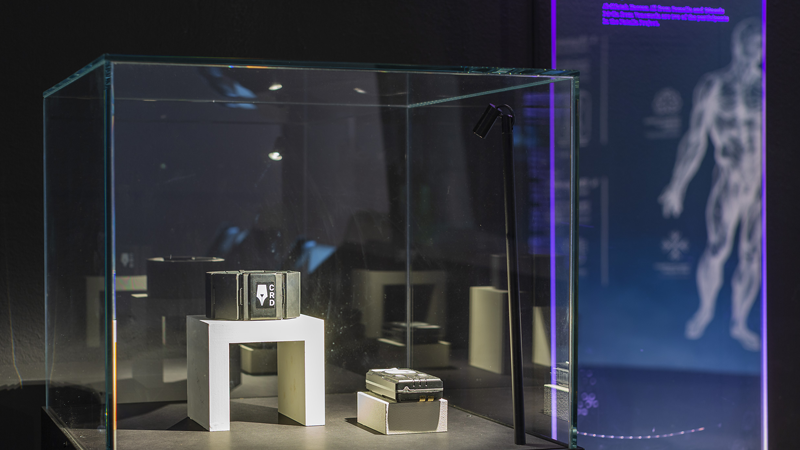 Today is the opening of the exhibition Hyper Human at the Museum of Science and Technology in Stockholm. Among the featured displays is our security programme Natalia Project – the world's first security alarm system for human rights defenders at risk.
The Hyper Human exhibition presents various areas where technology has become an increasingly important part of people's lives. Questions of what is possible technologically are brought together with issues of ethics, equality, sustainability, and justice. The exhibition will be open for several years.
As a visitor, you will get the chance to learn more about two participants of the Natalia Project – human rights defenders Génesis Dávila from Venezuela and Abdifatah Hassan Ali from Somalia. In recorded interviews, they speak about what it is like to defend human rights in countries where this work poses a threat to their security, as well as how solutions like the Natalia Project can be a lifeline in dangerous situations. 
"In Venezuela, human rights defenders are targeted by the Maduro regime. We are seen as enemies and even terrorists. We have been criminalised and are often attacked. The Natalia Project makes us feel a little bit more safe and secure. It is positive that the government knows that we use these devices. Because if they know that someone else is watching and will protect us, and that an international alert will be activated if something happens, it improves our chances," said Génesis Dávila.
The Natalia Project alarm devices are equipped with GPS technology. When triggered, the alarm sends a distress signal, including the human rights defender's exact location, to Civil Rights Defenders' headquarters and to selected people in the defender's network. In the event of an attack, people in the immediate proximity of the defender can quickly begin the work of locating and trying to help the person in danger, while Civil Rights Defenders informs the world of what is happening.
Human rights defenders all over the world use the Natalia Project alarm devices. The alarms have for example been used when human rights defenders have been physically hurt in the border region between Venezuela and Colombia, arrested in North Caucasus, or detained during protests in Belarus.
"I work in Somalia and I have received many threats. One of the most helpful things for me is that the Natalia Project has contributed to us developing security plans. Our organisation did not have this before, and we feel a lot more confident now that we do. We trust that if something happens, somebody out there will do something for us," said Abdifatah Hassan Ali.
Natalia Project was named in honour of leading Chechen human rights defender Natalia Estemirova. In 2009, she was kidnapped during a mission in the region and later found murdered. Civil Rights Defenders decided to find new ways of increasing the protection and security of the human rights defenders most at risk, and in 2013 we launched the Natalia Project. Today, more than 170 human rights defenders from all over the world participates in the programme.
Read more about Hyper Human here.
Read more about the Natalia Project here.