Abdifatah Hassan Ali: a Somali Blogger and Social Media Activist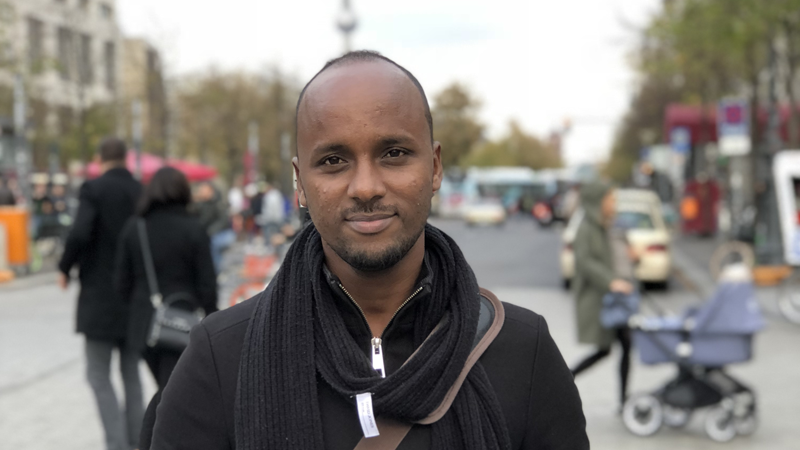 Abdifatah Hassan Ali is a Somali blogger and social media activist. He is determined to bring attention to issues of social injustice and impunity and believes that social media can be a tool to bring stories of injustice out into the open – so that accountability can be achieved.
Since 2018, Abdifatah Hassan Ali participates in the Natalia Project – the world's first security alarm system for human rights defenders at risk. The alarm is designed for individuals at high risk of being targeted because of their work. In case of an attack, the alarm is activated and a distress signal goes off. Within minutes, Civil Rights Defenders and a network of human rights defenders can start investigating the situation.
"I work in Somalia and I have received many threats. One of the most helpful things for me is that the Natalia Project has contributed to us developing security plans. Our organisation did not have this before, and we feel a lot more confident now that we do. We trust that if something happens, somebody out there will do something for us," said Abdifatah Hassan Ali.
Once the distress signal – including the exact GPS position of the human rights defender at the time of the attack – has been verified, information about the attack is sent out through global social media platforms to let the world know what has happened.
"Before I started using the device, no one knew where I was or what I was doing. I could not contact my friends or family if something were to happen. I now carry the alarm on a daily basis and it has made me feel a lot more confident," said Abdifatah Hassan Ali.
The ability to act quickly can be the difference between life and death for human rights defenders who have been targeted simply because of their work to defend (y)our rights.