Five years since the chemical weapons attack in Syrian Khan Shaykhun – now we submit further evidence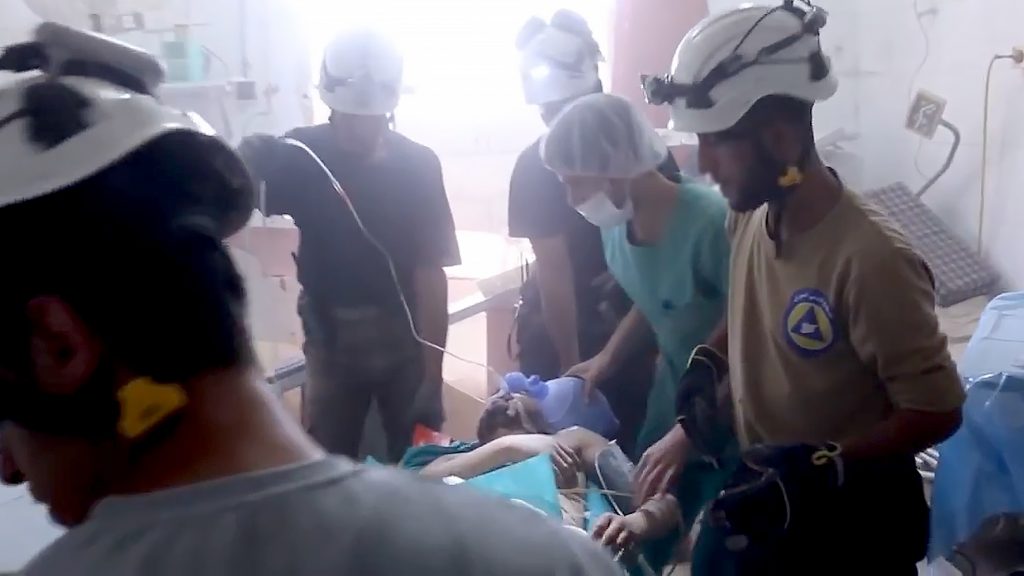 Five years after the sarin gas attack on Khan Shaykhun, the Syrian Center for Media and Freedom of Expression (SCM), the Syrian Archive, the Open Society Justice Initiative, and Civil Rights Defenders are filing additional evidence to the investigative and prosecutorial authorities in Germany, France, and Sweden.
4 April 2022 marks the fifth anniversary of the tragic attack on Khan Shaykhun, when the Syrian government used sarin gas against the city. This led to the death of more than one hundred people, among them 32 children. The first week of April further marks the fourth anniversary of the heinous chemical attack on Douma that also claimed dozens of lives. 
Khan Shaykhun and Douma were not the first places the Syrian government weaponised toxic chemicals against citizens, having also used chemical weapons in Ghouta in August 2013,  killing more than one thousand people. In efforts to hold those responsible accountable for their actions, SCM and Syrian Archive have compiled additional evidence and information relevant to the chemical attacks on Ghouta in August 2013 and Khan Shaykhun in 2017 for presentation to the authorities in Germany, France, and Sweden, where criminal investigations are underway.
"Every day that passes since these attacks should be a step towards justice for the victims," said Haneen, project lead for the Syrian Archive. "We hope that the ongoing efforts by civil society will lead to justice for the victims and survivors, and accountability for the perpetrators of these crimes, to ensure that such atrocities won't be repeated and to prevent more innocent victims in Syria or anywhere else in the world."
"Only a few days after Russia started its war against Ukraine, there were already warnings and concerns from Ukrainian officials, experts, and international organisations that Russia might use chemical weapons against the Ukrainian people. Russia has been the main protector of the Syrian regime against international justice", said lawyer Mazen Darwish, the head of SCM. "This would not have been possible without allowing the Syrian regime – which is supported and protected by Russia – to enjoy impunity for war crimes, crimes against humanity, and the use of chemical weapons. The international community should take serious steps in the next days against those implicated in the use of chemical weapons in Syria, to send a clear message that they will be held accountable."
Syrian Archive and SCM jointly offer complementary information that was separately gathered, reflecting two, distinct documentation styles by civil society actors. SCM collects original, first-hand information: both on-the-ground through its Violations Documentation Center in Syria (VDC) team members recording footage and by interviews with witnesses, victims, defectors, and collaborators. Syrian Archive works exclusively in digital information, having preserved large quantities of open source content documenting apparent crimes and other violations levelled against the Syrian people in the years since 2011. Syrian Archive also worked in collaboration with Security Force Monitor, an organisation that specialises in compiling public information on security forces around the world.
Contributions by Syrian civil society and their continued push for accountability for governments' weaponization of toxic chemicals is a crucial, urgent fight on the global justice landscape.
"The international community's failure to stand up against the Syrian government's complete disregard of international norms and the loss of civilian lives has paved the way for further large-scale atrocities by the government and its allies, both in Syria and elsewhere", said Aida Samani, Legal Adviser with Civil Rights Defenders. "Now the heavy burden of holding those responsible for crimes against civilians rests on domestic authorities across Europe, and we count on them to shoulder the responsibility".
"Five years since the April 4 Khan Shaykhun chemical weapons attack, which killed more than 90 people, many of whom were children, and injured hundreds more, its perpetrators still have not faced trial. Now, with horrors unfolding in Ukraine, the world has awakened to the possibility that these heinous weapons could be used, once again, against innocent civilians," said Steve Kostas, senior legal officer at the Open Society Justice Initiative. "Judicial authorities in France, Germany, and Sweden, where complaints on Syrian chemical weapons attacks have been filed, must receive the necessary political and financial support to bring these cases to prosecution. Only then will the international community send the message that anyone who uses these illegal weapons, anywhere, will be brought to justice."
More information
For further information, and media inquiries: