'Tolerance' by Mirko Ilić to celebrate International Day for Tolerance in Belgrade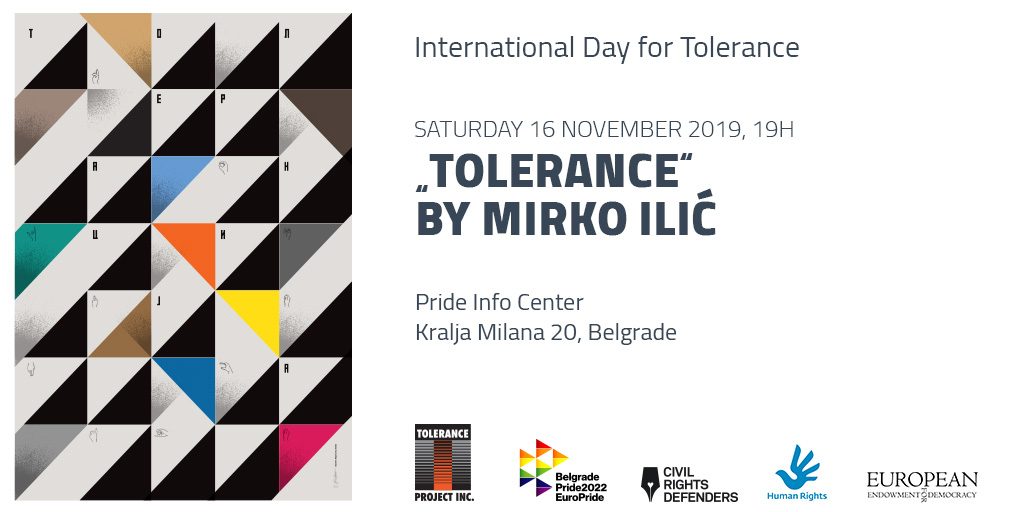 Civil Rights Defenders and Belgrade Pride are happy to announce an exhibition of renowned, New York-based designer, Mirko Ilić, which will be held in Belgrade on 16 November, to mark the International Day for Tolerance.
'Tolerance' is a travelling poster project that features works of over 130 local artists, whose only direction is to illustrate the word "tolerance" in their native language. The posters appear in public spaces, engaging with as wide a cross-section of the population as possible.
Over the years, it has inspired over 100,000 people through 56 shows in 25 countries worldwide.
According to its author, "It's part of an effort to spread respect and thoughtfulness in a world increasingly split by distinctions of race, religion, sexuality, and national origin. In posters that are by turns playful and profound, surprising and original, 'Tolerance' utilizes the unique power of design to remind us what we all have in common – and what it takes to bridge the divides between us."
Since arriving in the U.S. from his native Bosnia and Herzegovina, Mirko Ilić became the art director of Time Magazine International Edition and the Op-Ed pages of the New York Times, as well as founding his own design studio, Mirko Ilić Corp. He has received numerous awards for his work and is in collections of institutions such as Smithsonian Museum and MoMA, New York.
Belgrade's public will have the opportunity to see the collection and meet its creative author at the Pride Info Center (Kralja Milana 20, Belgrade), on 16 November at 19:00. The exhibition will remain open until 24 November 2019.