Natalia Project Bearer Joel Ogada Reported Safe After Security Incident
Early this morning, Kenyan human rights defender Joel Ogada used his Natalia Project alarm device to let Civil Rights Defenders know that a security incident had occurred close to his home. The situation calmed down quickly, demonstrating the effectiveness of the Natalia Project system.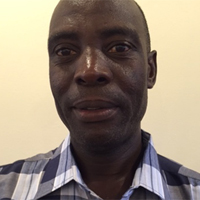 It was around 04.20 local time this morning, 26 October, that Natalia Project bearer Joel Ogada triggered his alarm device. By using standard protocol, Civil Rights Defenders managed to reach both Joel Ogada and his local security network, the so called shields, who acted according to their agreed plan.  
All Natalia Project participants undergo extensive security training when becoming part of the global security system. Among other things, each participant sets up a tailored security plan, including procedures on what to do and how to act in case of an attack. When a situation escalates, the Natalia Project system allows for Civil Rights Defenders to quickly send out a signal to global social media platforms, so that people everywhere to get involved and exercise pressure on the attackers. 
"With the help of local friends and colleagues, the incident that occurred this morning could be solved quickly, and there was no need for an external alert to be sent out. This is a very good example of how well the Natalia Project system actually works, and we are glad to have been in contact with Joel Ogada to confirm that he is safe," said Marcin de Kaminski, Director at Civil Rights Defenders' programme for human rights defenders at risk.  
Civil Rights Defenders, together with the National Coalition of Human Rights Defenders in Kenya, and the Centre for Justice Governance and Environmental Action, will continue to monitor the situation closely. 
About Joel Ogada
Joel Ogada has been part of the Natalia Project since 2015. He is an environmental human rights defender based in the Malindi region, north of Mombasa along the Kenyan coast. Joel Ogada has been standing up against the corrupt mining industry in his region for over a decade. He has been imprisoned and repeatedly threatened as a result of his human rights work.