Five Years Since the Murder of Natalia Estemirova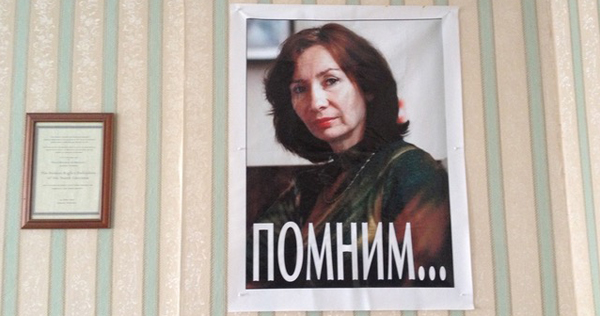 Five years ago Natalia Estemirova, a prominent human rights defender working in Chechnya was brutally murdered for her human rights work. Although the Russian authorities have repeatedly guaranteed to bring her killers to justice there is still a general reluctance to investigate the possible involvement of local law enforcement in her murder.
On 15 July 2009 Natalia was abducted outside her home in Grozny, Chechnya. Several hours later her body was found in neighbouring Ingushetia. She had been shot in the head and chest. Natalia worked for Memorial, a well-known Russian human rights organisation and a valued partner of Civil Rights Defenders. At the time of her abduction, she had been investigating several cases of torture, abduction and extrajudicial killings committed by Chechen police. She was also one of the few people in Chechnya to openly criticise the notorious head of the Chechen Republic, Ramzan Kadyrov.
The Russian President Vladamir Putin openly acknowledged that her murder was linked to her professional work and pledged a full and independent investigation. Kadyrov has repeatedly denied any involvement and boasted that he would personally find her killer.
Civil Rights Defenders continues to express its on-going concern over the failure of the Russian authorities to bring Natalia's killers to justice. Her case is not unique, as widespread impunity for human rights abuses committed in the North Caucasus continues unabated.
"During the past five years, authorities have failed to properly investigate the role played by the Chechen police, instead eagerly exploring the remotest leads where state officials were not involved. At various stages of the official inquiry, investigators pointed the finger at insurgents blaming them for Natalia's murder. Conveniently, the insurgents they refer to were either already dead or in hiding somewhere abroad," said Roemer Lemaître, Programme Director for Eastern Europe and Central Asia, Civil Rights Defenders.
A parallel investigation conducted in 2011 by Civil Rights Defenders partner Memorial, "Novaya Gazeta" newspaper and the International Federation for Human Rights (FIDH) who found that the credibility of the official investigation was a serious cause for concern.
Natalia Estemirova's activities documenting the on-going abuse and abduction of civilians by government back militia's kick started Civil Rights Defenders quest for a safety device that could enhance the protection of human rights defenders working in some of the most repressive regions. In April 2013 the Natalia Project was launched in her honour as world's the first security alarm system for human rights defenders at risk powered by social media. The inspiration she provided has enabled Civil Rights Defenders to equip and train 21 human rights defenders from three different continents with the Natalia bracelet.
By signing up to the Natalia Project you can play your part as a human rights defender in protecting human rights defenders at risk. You will be notified if an alarm is triggered by a bearer and can then immediately share the information in your own network. Please sign up here.