Housing Rights Activist Yorm Bopha is Freed on Bail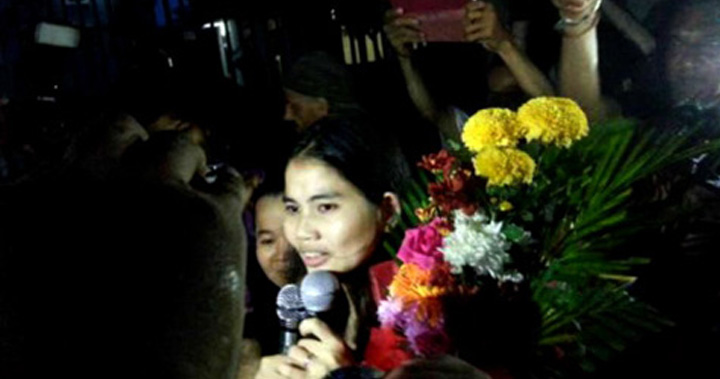 On 22 November, the Supreme Court ordered the release of Cambodian Housing Rights activist Yorm Bopha on bail. The Court further ruled that the Boeung Kak Lake activist should have her case returned back to the Court of Appeal for a retrial.
"The fact that Bopha is released on bail is positive in the respect of her being able to go home to her family and friends. But it is at the same time disturbing that the Supreme Court does not drop the charges, but instead decides on a new trial in the Appeal Court and thereby allows a continuation of this politically motivated process," said Brittis Edman, Southeast Asia Programme Director, Civil Rights Defenders.
The decision follows a lengthy process that resulted in Yorm Bopha being imprisoned on fabricated charges in 2012 of as she strove to fight against the forced evictions in her community. Bopha received a three year prison term but the case was appealed in June 2013. The decision was upheld despite the spurious allegations by the authorities and the sentence was reduced to two years. It is clear that the motivation by the authorities for upholding the sentence is due to her tireless campaign to defend the housing rights of her community in Boeung Kak Lake.
The Supreme Court hearing was presided over by five judges and took only two hours to hear witness testimonies followed by the judge's deliberation. Hundreds of her loyal followers, made up of community members and local monks, crowded outside the court to await the decision.
Ham Sunrith, lawyer for Bopha, said in an interview following the decision that no date for the retrial of his client's case back to the appellate court had been given. This is the same Court that previously sealed her fate. The Supreme Court should be wholly criticised for returning the case back to the Court of Appeal. Bopha is due to be released at some point today but there is still an overwhelming feeling of disappointment that the charges against her have not been quashed all together. There is also intense frustration that the case is being transferred back to a lower Court where Bopha's sentence was previously upheld.
Although the decision goes some way in vindicating Bopha and her followers, Civil Rights Defenders urges the Cambodian judiciary to clear Yorm Bopha of all charges.