Natalia Estemirova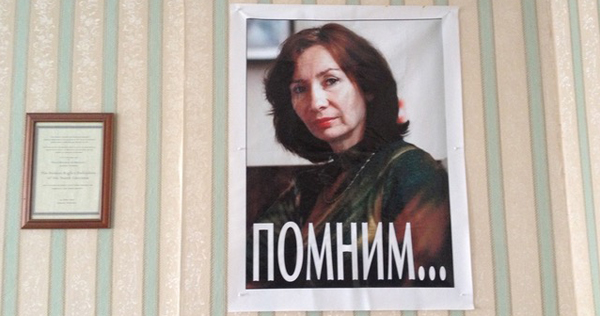 Natalia Estemirova was one of the leading human rights defenders in the North Caucasus. Working for Civil Rights Defenders' partner, Human Rights Centre Memorial, she investigated cases of grave human rights violations in Chechnya. In 2009 she was murdered. Her death is most likely connected to her human rights work, which many considered put her at risk.
Natalia Estemirova worked in a risky and dangerous environment but was aware of her enemies:
"We, human rights advocates, are defending human rights and fighting against crimes, while the state fights against us," she said at the funeral of the human rights lawyer and journalist Stanislav Markelov, who was shot dead while leaving a news conference in Moscow on 19 January 2009.
On 15 July 2009, Natalia Estemirova was kidnapped in the vicinity of her residence in Chechnya's capital Grozny. She was forced into a white car and driven to Ingushetia by unknown persons. In the afternoon she was found murdered, shot dead with two bullets to the head.
One year after the murder, Natalia Estemirova's friend and colleague Tanya Lokshina wrote in an article about Natalia's life and work:
"I can't believe a whole year has passed. It still feels as though she's just gone away and at any moment the telephone will ring and I'll hear her usual urgent burst of words: "It's like this…it's urgent…it's just terrible…something has to be done."
She spoke the language of rights
Natalia Estemirova was a teacher by profession and taught history in a high school in Chechnya until 1998. According to Aleksander Cherkasov, chairman of the board of Memorial and Natalia's partner in the programme "Hot spots", Natalia knew how to talk to people – including to her opponents – not only in their own language, but at the same time using the language of rights.
"As a teacher she had the ability to talk to people like one would talk to children, still innocent of the evils of the world. She had the rare ability to find a language which was readily understood, and to which both sides were receptive."
Natalia Estemirova had also worked as a correspondent for local newspapers and TV stations in Grozny before joining Memorial Human Rights Center and frequently contributed to the independent Moscow newspaper Novaya Gazeta and the news web site Kavkazsky Uzel (Caucasian Knot).
When she began working for the Human Rights Centre Memorial, the organisation had not even opened its Grozny office. Natalia Estemirova travelled to the worst hot spots in Chechnya and reported on grave human rights abuses.
Aleksander Cherkasov recalls an event in October 1999 when Grozny was being blanket bombed and targeted by rockets. An army general in charge claimed, with a broad smile, that nothing of the sort had happened. Natalia calmly looked the general straight in the eyes and said: "You are lying. I was there when the rockets hit and the cluster bombs fell."
Natalia Estemirova's contribution to gathering information and witness reports is very important for documentation purposes, for highlighting the situation and for bringing redress to people that have been abused. So far, the work of bringing legal proceedings against Russia for serious human rights violations in the North Caucasus has been very successful. It has resulted in about 210 judgements against Russia by the European Court of Human Rights. The work is being made possible through extensive cooperation between local organisations like Memorial and Civil Rights Defenders.
Inspired by Anna Politkovskaya
Natalia Estemirova found inspiration in the possibility to change things for the better, and indeed she altered the fates of many people. She also found inspiration in her friends. Around half of the texts on the Chechen conflict written by the Russian journalist Anna Politkovskaya were based on Natalia's information. She felt a duty to those still alive and to those no longer with us. After spending time in Moscow, to meet with her colleagues, she would always go back to Grozny.
"What she simply couldn't physically make herself do was to leave a place where people were suffering and where she might be able to help someone," Tanya Lokshina said about her colleague.
According to Tanya Lokshina, Natalia had very clear ideas about what to do and it was hard to stop her even when she was threatened:
"We, of course, tried to persuade her to stop, to leave, to live for herself even a little bit. But if I'm completely honest, we didn't try hard enough. Because we needed her to be there, in Grozny, because nobody could do the work better than she, and who else would we have gone to stay with, who would have given us advice, who else could we have asked to finish off what simply cannot be done during a one-week stay?"
Around 2007, in connection to the rebuilding of Grozny after the war, the authorities decided to demolish unauthorized buildings in the village of "Shankhai". Officials had come to supervise the demolition of the houses and the bulldozers were all lined up and ready. In order to prevent this, Natalia stood in front of the bulldozers and the officials, even though she did not at first know what she would say. In the end, she demanded to see the paperwork relating to the demolition order. When she was shown these, she pointed out to the officials that:
"Here, it states that if it turns out that the demolition is in fact unlawful, you will be held responsible!"
In this case, she managed to find precisely that common language that was required. Who else, finding themselves in such an apparently hopeless situation, in front of rumbling bulldozers, and seeing the pointlessness in engaging in negotiations, would have attempted to do so anyway? But Natalia found the right words and was victorious. And how pleased she was afterwards! Even for her, the success was unexpected, Aleksander Cherkasov remembered.
She wanted to live a normal life
According to Tanya Lokshina, Natalia really wanted to live a normal life. She was interested in literature and theatre although she almost never had time to read or to go see a play. She loved night time gatherings with friends at restaurants and cafés, which was something she lacked in Grozny.
Natalia was subjected to direct threats several times but continued her work for the rights of other people. Even though she had a daughter whom she adored, it was hard for Natalia to leave Chechnya, even for a short period of time. Natalia Estemirova said to Tanya Lokshina:
"There's so much to do, so many people, how can I leave them?"
A few weeks before her death, Natalia was prepared to leave Chechnya. Local authorities tried to deprive Natalia of her apartment in Grozniy for the second time. To some meetings, Natalia did not even bring her closest colleagues, knowing how dangerous this could be for them. She was fully aware of her situation.
"I have to wrap up some matters, and then I will leave," she said to her colleagues.
Even today, three years after her death, no one has been charged for the murder. According to an independent report by the International Federation for Human Rights (FIDH), Human Rights Center Memorial, and the newspaper Novaya Gazeta, the investigation is continuing down the wrong track. So far the investigative agencies and the court system of the Russian Federation have systematically denied the victim, Svetlana Estemirova (Natalia's sister) and her representatives the right to review the materials contained in the case file.
Natalia Estemirova will continue to be well known for her commitment to reporting on serious human rights violations in Chechnya and the North Caucasus region. She gained international recognition and received several human rights awards.
"Natasha was not a fanatic or a martyr. Nor was she naïve or exceptionally self-sacrificing. She was rational, but in a rare sense going beyond common prudence. As long as it is possible to help people, this is something worth doing," said Aleksander Cherkasov.
Sources: Article by Tanya Lokshina, published on Open Democracy and interview with Aleksander Cherkasov 28 June 2012.
---
Biography: Natalia Estemirova
Natalia Khusainovna Estemirova (Russian: Ната́лья Хусаи́новна Эстеми́рова)
Born 28 February 1958, Sverdlovsk Oblast, Soviet Union. Her parents were of Russian and Chechen heritage.
Died 15 July 2009 (aged 51), Gazi-Yurt, Ingushetia, Russia.
Natalia had one daughter.
Natalia graduated in history from Grozny University and taught history at a local high school until 1998. In 1991, she worked as a correspondent for the local newspapers The Voice and The Worker of Grozny. While working on TV in Grozny, she filmed thirteen short documentaries about victims of the Russian punitive practices. She participated in the Organization of Filtration Camps Inmates as a press-secretary.
She started gathering evidence on human rights violations that had occurred since the beginning of the Second Chechen War in 1999. In 2000, she became a representative for the Memorial Human Rights Centre in her native Grozny. She visited many hospitals in Chechnya and Ingushetia, capturing child victims of the war with hundreds of photographs.
Estemirova was a frequent contributor to the independent Moscow newspaper Novaya Gazeta and the news Web site Kavkazsky Uzel (Caucasian Knot).
At a ceremony in the Swedish parliament building Natalia received the Right Livelihood Award in 2004. Along with Sergey Kovalyov, chairman of Memorial, she was awarded the Robert Schuman Medal by the Group of the European People's Party in 2005. In October 2007, she was awarded the first Anna Politkovskaya Award by Reach All Women in War (RAW), a human rights organisation supporting women human rights defenders in war and conflict.
Natalia also investigated the unsolved murders of journalist Anna Politkovskaya (who lost her life in 2006) and human rights lawyer Stanislav Markelov (who died in 2009).
Human rights at risk in the North Caucasus
Human rights defenders in the region are working under very difficult circumstances and are endangering their lives to help victims obtain justice and to highlight the human rights violations in the North Caucasus. According to Human Rights Centre Memorial, the pressure on human rights defenders has accelerated since the murder of Natalia Estemirova. Her death resulted in a serious blow to the presence of human rights organisations on the ground. Memorial had to suspend all its operations for six months.
The murder of Estemirova was also followed by several other murders of human rights defenders, journalists and political opponents, such as Chechen activist Zarema Sadulayeva and her husband Alik Dzhabrailov, who were illegally detained and later found killed and activist Maksharip Aushev, who was shot dead while travelling in Kabardino-Balkaria on October 25, 2009.
Civil Rights Defenders has initiated what we call the Stockholm Process, an on-going initiative to raise awareness for the human rights situation in the North Caucasus and for the situation for human rights defenders working in the region. Together with our partners in the region we also bring cases against Russia before the European Court of Human Rights in Strasbourg (ECtHR), for serious human rights violations in the North Caucasus. In every ruling, the ECtHR stresses the fact that the Russian government has failed to properly investigate the violations. In about one third of the judgments the ECtHR also remarks that the Russian government fail to provide relevant and necessary documentation to the ECtHR to properly examine the cases.