Civil Rights Defender of the Year 2022 – Xheni Karaj and Frank Mugisha
LGBTI+ activists and human rights defenders Frank Mugisha from Uganda and Xheni Karaj from Albania are awarded the Civil Rights Defenders of the Year Award 2022. Despite threats, harassment, and danger to their own safety the award recipients continue to work for political and social change by advocating for political reforms, changing people's attitudes, and providing protection and a community for LGBTI+ persons in Uganda and Albania.
"Xheni Karaj, from Albania, and Frank Mugisha, from Uganda, are two of the world's most courageous LGBTI+ activists and human rights defenders. Despite working in environments where homophobia is widespread, they continue fighting with impressive resilience, for every individual's right to have their own sexual orientation and gender identity. They have both been instrumental in building LGBTI+ movements in their countries and inspire LGBTI+ activists all over the Balkan region and the African continent," the Civil Rights Defenders Board of Directors writes in the motivation for the award.
Central figures in creating movements for LGBTI+ rights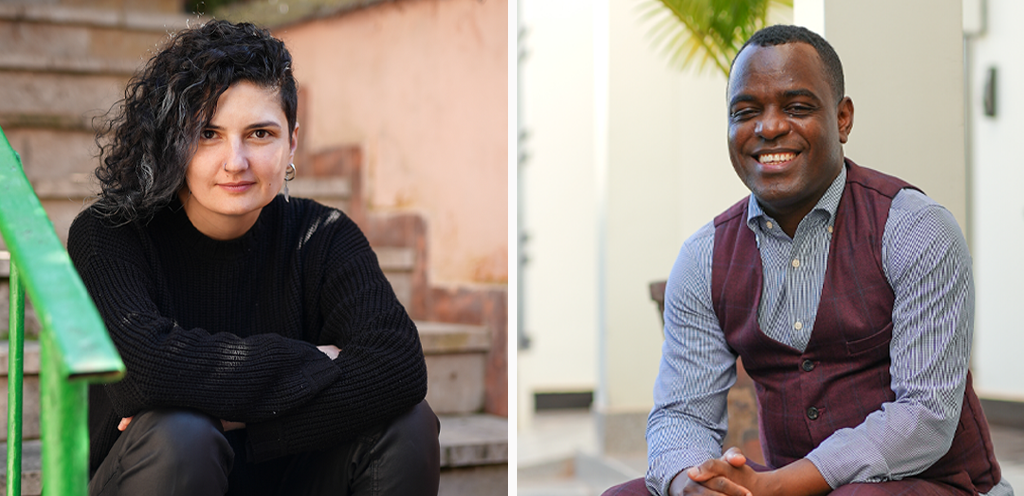 The right to one's own sexuality and gender identity is a human right, but violence and discrimination against people from the LGBTI+ community is still a problem globally. Xheni Karaj, founder and Executive Director of Aleanca LGBT in Albania and Frank Mugisha, Executive Director of Sexual Minorities Uganda (SMUG) are working for LGBTI+ and human rights in countries where violence, discrimination, and homophobia is widespread. Due to the situation in both Uganda and Albania, many LGBTI+ people keep their sexual identity hidden out of fear of the consequences they might face if coming out in public. Through education, advocacy, and building a community for LGBTI+ persons, Frank Mugisha and Xheni Karaj are contributing to improving the lives of thousands. Their commitment to LGBTI+ rights has played a huge part in the progress for human rights in their regions.
"I am excited and happy about the award. This prize shows that LGBTI+ rights are part of universal human rights. For us, it is a recognition that we are involved in advancing human rights work," says Frank Mugisha.
"The award made us all feel very happy and appreciated and motivates us to continue with the good work we are doing. To get this acknowledgement also helps me realise that we are making a revolution in Albania. From being invisible, we have showed people that we exist. That we are proud of ourselves, and we should have the right to be free and tell our stories," says Xheni Karaj.
Frank Mugisha – working to change hearts and minds
Frank Mugisha is the Executive Director of SMUG, an umbrella organisation for sexual minorities in Uganda that supports the LGBTI+ community through advocacy for policy-reform, as well as by providing protection, medical attention, counselling, guidance, and economic empowerment.
Uganda is one of the countries that still outlaw homosexuality. As late as 2009, the Parliament in Uganda proposed the 'Anti-Homosexuality Act', which would have broadened the criminalisation of homosexuality to include the death penalty. SMUG, along with other activists and organisations, successfully advocated for the overturn of the bill by the Constitutional Court. SMUG has also pursued and won legal cases in Ugandan courts challenging the legal grounds of "Outing Gays in Media". Recently Frank Mugisha has been fighting against the Sexual Offenses Act, that would further criminalise homosexuality in Uganda.
Frank Mugisha came out at the age of 12 and then thought himself to be the only gay person in Uganda. Now he inspires the young Ugandan generation by publicly speaking out and being present in media.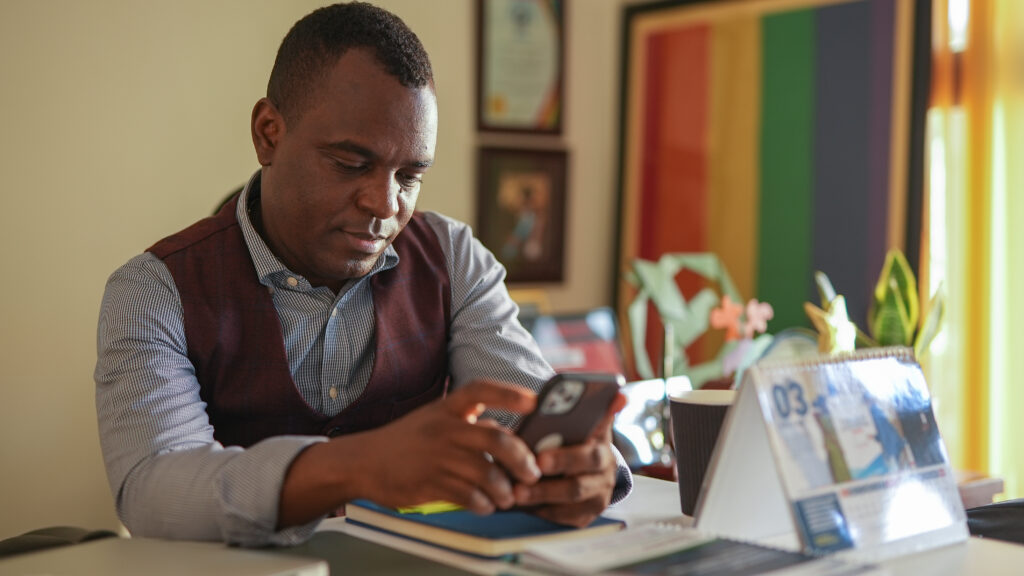 "I give them hope and courage to be who they really want to be," says Frank Mugisha.
Being a public figure and representative of an LGBTI+ organisation, in a country where homophobia still is strong, is a risk and takes a lot of courage. In 2011 Frank Mugisha's friend and SMUG-colleague David Kato was murdered; the tragedy has naturally affected both Frank Mugisha as well as the rest of the community. Due to his high-risk situation Frank Mugisha is one of the persons protected by Civil Rights Defenders Natalia Project. Despite the harsh environment he is determined to stay in Uganda to fight for the rights and the freedom of the LGBTI+ community.
"When David was murdered at first, I felt pain. But then I think pain turned into anger. Because it is not only me, in one day alone up to 20 people can come to me here at the SMUG centre telling me about attacks, evictions, and arrests asking me for support."
Apart from providing help with medical attention, counselling, guidance, and economic empowerment, SMUG also provides shelter for LGBTI+ persons. Homelessness for young people coming out is a common issue, since they are often rejected by their families.
"We give education to our own neighbours, our own people. Wherever we go, we try to change the hearts and minds of people. We also educate the police, the judiciary, lawyers, and our government."
Although the situation for LGBTI+ people in Uganda is difficult, Frank Mugisha has hopes for the future. Aiming to partake in global politics the government has cleaned up their act and is not acting as oppressive, although not supportive. With a young generation and more people who come out to their families and in public, the awareness of LGBTI+ rights in the country is increasing.
Xheni Karaj – Spreading awareness through activism
Xheni Karaj is one of the most influential LGBTI+ activists and feminists in Albania and the Western Balkan region. She founded Aleanca, an LGBTI+ organisation in Tirana in 2009. Aleanca envisions a free, open, and equal Albania embracing diversity, inclusivity, and gender equality for everyone.
Xheni Karaj started her activism back in 2009 at the age of 21, after coming out on national television during a heated debate. When a politician in the debate panel said that he would shoot his son in the head if he came out as homosexual, and another contestant claimed that homosexuals do not exist in Albania, Xheni Karaj could not stay quiet. She stood up in the audience and asked for the microphone. She became the spokesperson for the Albanian LGBT+ movement over a night and for her it is not a job; it is her life. She proclaims that she will not stop working for the cause until the very last LGBTI+ person is freed. She recalls the feeling of empowerment her first action of activism gave her.
"I felt like I was a new person, I felt that I had a reason to wake up. From that moment on I never stopped doing activism. It was like a cure for me, from anger and pain. I met others and we started to build a community".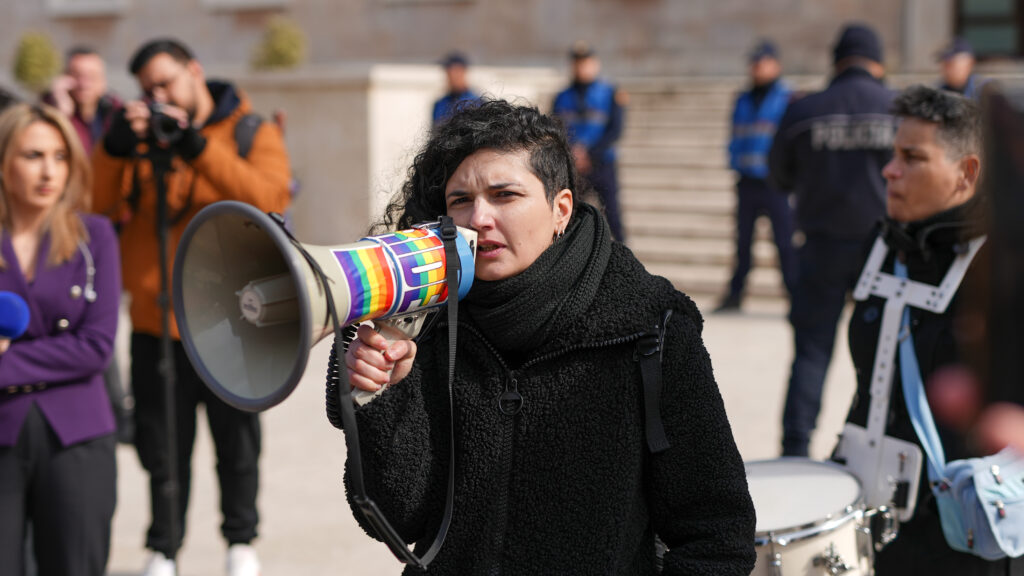 Although the situation has improved since Xheni Karaj started her activism, many problems such as physical violence, bullying, difficulties finding employment, and lack of access to health care for LGBTI+ people remain. In connection to Albania being in the process of entering the EU, an anti-discrimination law has been passed. However, not enough has been done to improve LGBTI+ people's everyday life in the country.
"Generally, our society still has a lot of prejudices against us, it is still a very conservative and patriarchal society. We are still far from total acceptance and freedom," says Xheni Karaj.
Living in Albania, a country that is often described as the most homophobic one in Europe, is not easy for LGBTI+ persons. Most of the community wants to leave the country to live a life free of threats and discrimination. A current issue that Xheni Karaj and her organisation are working on is LGBTI+ people's parental rights. The right to register themselves as parents to their own children.
About the Civil Rights Defender of the Year Award
The Civil Rights Defender of the Year Award is awarded every year by Civil Rights Defenders for outstanding work in defense of civil and political rights. With the award, we recognise prominent human rights defenders who, despite the risk to their own safety, continue the struggle for civil and political rights. 
The award highlights the situation of human rights defenders at risk. It enhances their human rights work by providing international recognition and support. The award recipient is a person or organisation who carries out their work without the use of violence.
For more information, read our FAQ.
Press Contact
For more information: press@crd.org or +46 (0)76 576 27 62.