Majority of Kosovo Citizens Support Rights of Same-Sex Couples, Poll Finds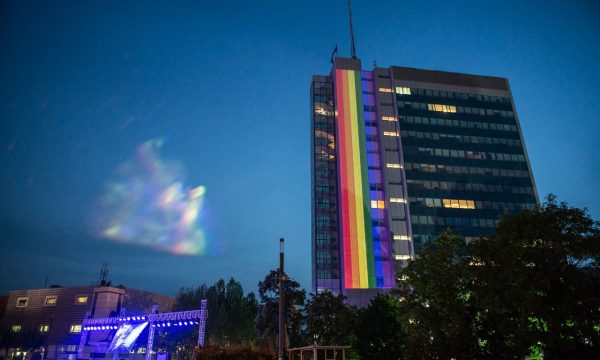 In recent months, LGBTI+ activists and civil society organisations have been urging Kosovo's government to include and legally regulate same-sex partnerships in the newly-drafted Civil Code.
A recent public opinion poll conducted by Civil Rights Defenders in Kosovo confirms that the majority of citizens support the ability of same-sex couples to enjoy rights stipulated by this inclusion. Graphs highlighting the key findings and the research methodology are available here.
Key Findings
Strong support for each of the rights stipulated by legislation regulating same-sex marriages, ranging from the right of LGBTI+ persons to visit their partners in hospital or prisons (61%) to the right of LGBTI+ persons to inherit assets in the event of a partners death (57%).
This represents a major (almost three-fold) increase compared the same poll conducted in 2015, where an average of 20% of citizens supported each right.
Support for these rights is highest among younger (18-29), college-educated respondents, and particularly those who communicate with LGBTI+ persons (80%+).
Despite Kosovo's international human rights obligations to ensure minorities are not discriminated, and the Constitution of Kosovo stating that "based on free will, everyone enjoys the right to marry," the draft Civil Code fails to account for the needs of the LGBTI+ community, defining marriage as "a legally registered union between two spouses of different sexes".
Civil Rights Defenders Programme Officer for Kosovo, Sarah Maliqi, who is part of a working group with civil society organisations to make changes to the draft Civil Code said "The Government of Kosovo has a responsibility to legally regulate the status of same-sex couples; to ensure that their basic, day-to-day needs, such as the right to visit a partner in hospital, are accounted for. What this public opinion poll shows is that citizens are overwhelmingly sympathetic to these issues too, and understand the need for legislation that is not exclusive or discriminatory."
This poll was carried out as part of region-wide research conducted by Civil Rights Defenders, together with IPSOS Strategic Marketing, with a representative sample size of over 6000 respondents.