Women Human Rights Defenders: Podcast Out Now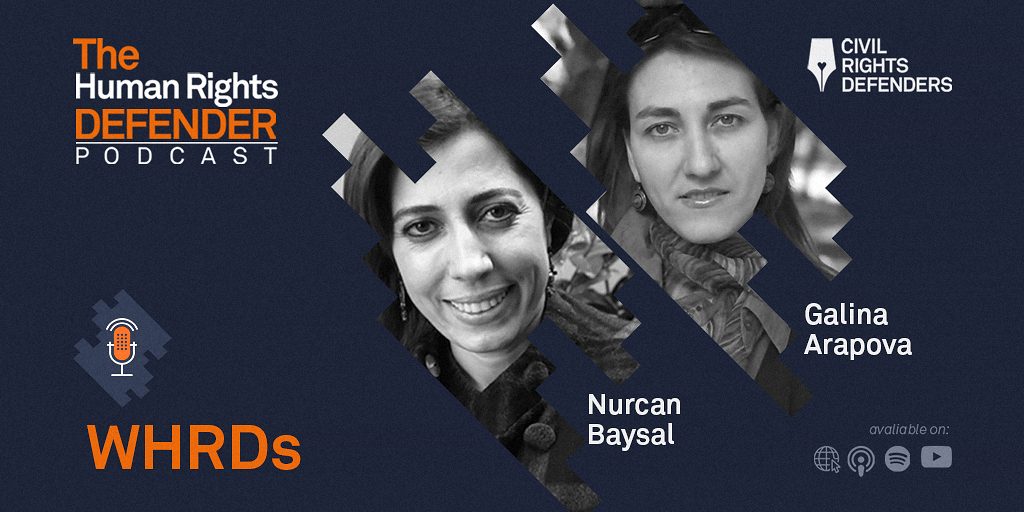 Marking the International Women Human Rights Defenders Day (29 November) we're releasing an episode of The Human Rights Defender podcast speaking about WHRDs and the increasingly precarious role they play in fighting inequality and injustice worldwide.
What are women human rights defenders (WHRDs)? How does their position differ from their male counterparts, and what additional pressures do they face in their lives and work?
Over the weekend, Civil Rights Defenders' legal advisor, Aida Samani, spoke with two women human rights defenders, Nurcan Baysal, a journalist from Turkey and Galina Arapova, Director of Russia-based Mass Media Defence Centre, about the human rights situation in their countries and the specific challenges faced by women in this struggle.
The full episode can be listened to below, and is also available via Spotify and Apple Podcasts.
Both guests stressed that women working on human rights face enormous pressures from government institutions, state-controlled media, but also large parts of society. However, they differ on their view whether women are specifically discriminated in their work on the grounds of their gender, which underlines a point that experiences of women human rights defenders can largely depend on their surroundings and the role of women in their community.
Nurcan argues that "in such a conservative society, such as Turkey, even within the human rights community, even within your own family, women are not supported. You get the impression that nobody really wants to see a powerful woman on the front page." Galina, on the other hand, points out that the reason why she and her female colleagues in Russia face threats and attacks "is not necessarily because we are women, but because we are HRDs, exposing the lack of media freedoms and other sensitive issues."
On 29 November, the world marked International Women Human Rights Defenders Day, celebrating and paying tribute to courageous women who are at the forefront of the collective struggle for the protection and advancement of human rights. In addition, we are happy to support the UN's '16 Days of Activism against Gender-Based Violence' campaign, which takes place from 25 November until Human Rights Day on 10 December.
This episode also marks the launch of Season 2 of The Human Rights Defender podcast. To listen to the entire first season click here.