Freedom of Expression in Cambodia – a Distant Dream?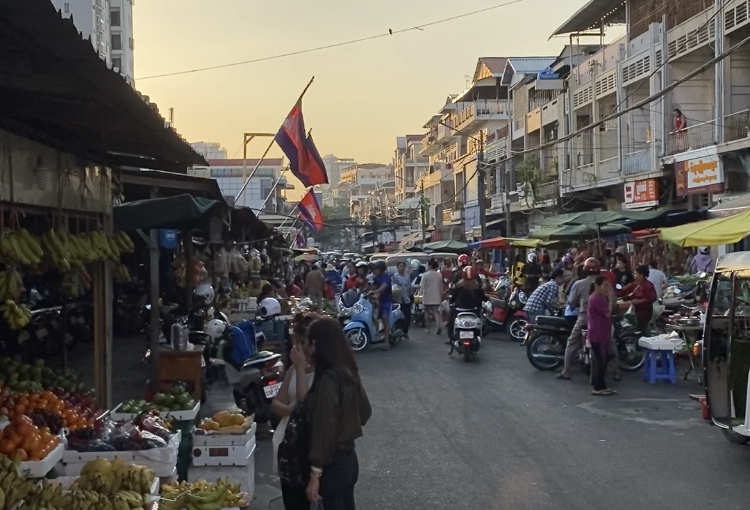 Over the past few years, the Cambodian government has effectively gained control over all traditional media in the country. Many Cambodians, not least journalists and human rights defenders, have instead relied heavily on social media for information. As the number of social media users grew, the government stepped up its game and launched a new crackdown on online freedom of expression. With new monitoring laws, the online space quickly turned into trap for those daring to speak their mind.
A few years ago, Facebook became Cambodia's number one news source, triggering a sense of growing insecurity within the government. For a time, Facebook and other social media remained a chance for the opposition to circumvent the regime's tight control over the press, TV and Radio, and still get their message out to the citizens of Cambodia.
The growth of social media users came at a time where almost all traditional media had ended up in the hands of the Cambodian regime. Not long after, government-friendly newspapers became available at low prices, offering serious competition to the few remaining independent news sources. And simultaneously, news agencies acting as propaganda machines were established to share "good news" about Cambodia and its regime.
A significant defeat for independent voices came when the major English-language newspaper Cambodia Daily announced that it was under official threat of closure due to allegations of tax evasion. "The power to tax is the power to destroy," read the first sentence in a statement released by the paper. Shortly after, the newspaper ended its activities.
In August 2017, several FM radio frequencies connected to news broadcasts within the country were closed down by order of the government, including Radio Free Asia and Voice of America.
The state-ordered crackdown progressed in a systematic manner, leading to the dismantlement of all independent news reporting in major press, TV and Radio. In 2019, Cambodia received the abysmal ranking of 143 in the World Press Freedom Index, which includes 180 countries.
Online Freedoms Under Intensified Attack
The regime's initial uncertainty on how to react to the increased usage of social media soon turned into hands-on action. Today, Cambodians voicing their opinions on Facebook are often being threatened, intimidated, and detained. The severe repercussions have led to a high level of self-censorship.
Civil Rights Defenders' Cambodian partner organisations have reported that they documented at least 25 cases involving more than 110 people who were detained or arrested for their online posts in 2018.
In December 2015, a law on Telecommunications was adopted by the government. The law allows for authorities to intercept any communications pending they have approval from a legitimate authority. However, nowhere in the law is it clarified what constitutes a legitimate authority, or which these are.
A few months earlier, in August, a young student called Kong Raya updated his status on Facebook, sending a message out to his followers. In the message, he asked Cambodians to join him in a "colour revolution" to change the government, according to reports by the Voice of America. Little did he know that this very Facebook post would land him in court where he, in March 2016, was sentenced to 18 months in prison.
The young student was convicted of incitement, despite the fact that he was calling for a peaceful and non-violent gathering. This is a common charge used to detain and imprison journalists, activists, and others who openly criticize the government. The maximum imprisonment is two years, but many spend a long time in pre-trial detention before receiving their penalty.
While self-censorship is widespread, Kong Raya decided to take a different approach. After serving his sentence, he stated to the media that he was a 100 percent determined to continue standing up for freedom of expression.
Yet, reaching the point where freedom of expression is respected seem a long way away, and online surveillance continues to increase dramatically. Among other things, the Cambodian Council of Ministers has created a "Cyber War Team" to monitor and collect information from Facebook and other websites in order to "protect the government's stance and prestige".
Our Cambodian partners further reports that the government has set up a new and expansive network of control to monitor social media, utilising an interlinked system of regulations, laws, and taskforces to target critics and block websites deemed to affect social stability – terminology often used by the ruling party to demonise its critics.
Years of Attacks Against Journalists and Outspoken Activists
On 10 July 2016, the world was reached by the shocking news that the political analyst Kem Ley had been shot and killed while having his morning coffee at a gas station in Phnom Penh. The attack occurred only days after he had commented on a report that revealed how President Hun Sen and his relatives controlled more than 100 companies in the country, according to the Voice of America.
Kem Ley was outspoken in his criticism of the government and was often interviewed by the media to comment on issues connected to power abuse and other problems within the Cambodian society. Over the years, he became popular among Cambodians as he regularly raised the issues in an easy-to-understand manner, among other things by posting updates on his Facebook account.
A suspect, Oeut Ang, was arrested in connection with the killing and it has been widely speculated that he was hired by the government to murder Kem Ley. Leading international human rights organisations, including Civil Rights Defenders, have condemned the lack of investigation into the motive. Still, an impartial, effective, and transparent investigation has not been conducted. In 2019, Cambodian authorities detained seven people for marking the third anniversary of the killing of Kem Ley.
The murder of Kem Ley has fuelled the already widespread fear among critics. Most Cambodians have become aware that speaking up against corruption, power abuse, and human rights violations can be associated with severe risks, and even death.
Still, there are civil society actors who continue to work tirelessly to bring about change. Civil Rights Defenders' Cambodian partners, some working openly and some remaining anonymous due to security reasons, are leading examples.
It is them who continue to call on the Cambodian government to allow for independent media outlets to reopen.
It is them who fight to make sure that political prisoners who have been jailed for using their freedom of expression can be released.
And it is their efforts that could end harassment and intimidation against journalists and outspoken human rights defenders.
"Khmer citizens shall have the freedom to express their personal opinions, the freedom of press, of publication and of assembly". This is stated in the Cambodian constitution, article 41. If this is ever to become true, more support must be given to the country's civil society. At a time when civic space continues to shrink, it is more important than ever that we stand united and call for change.