March With Us and Join Our Panel at Stockholm Pride 2019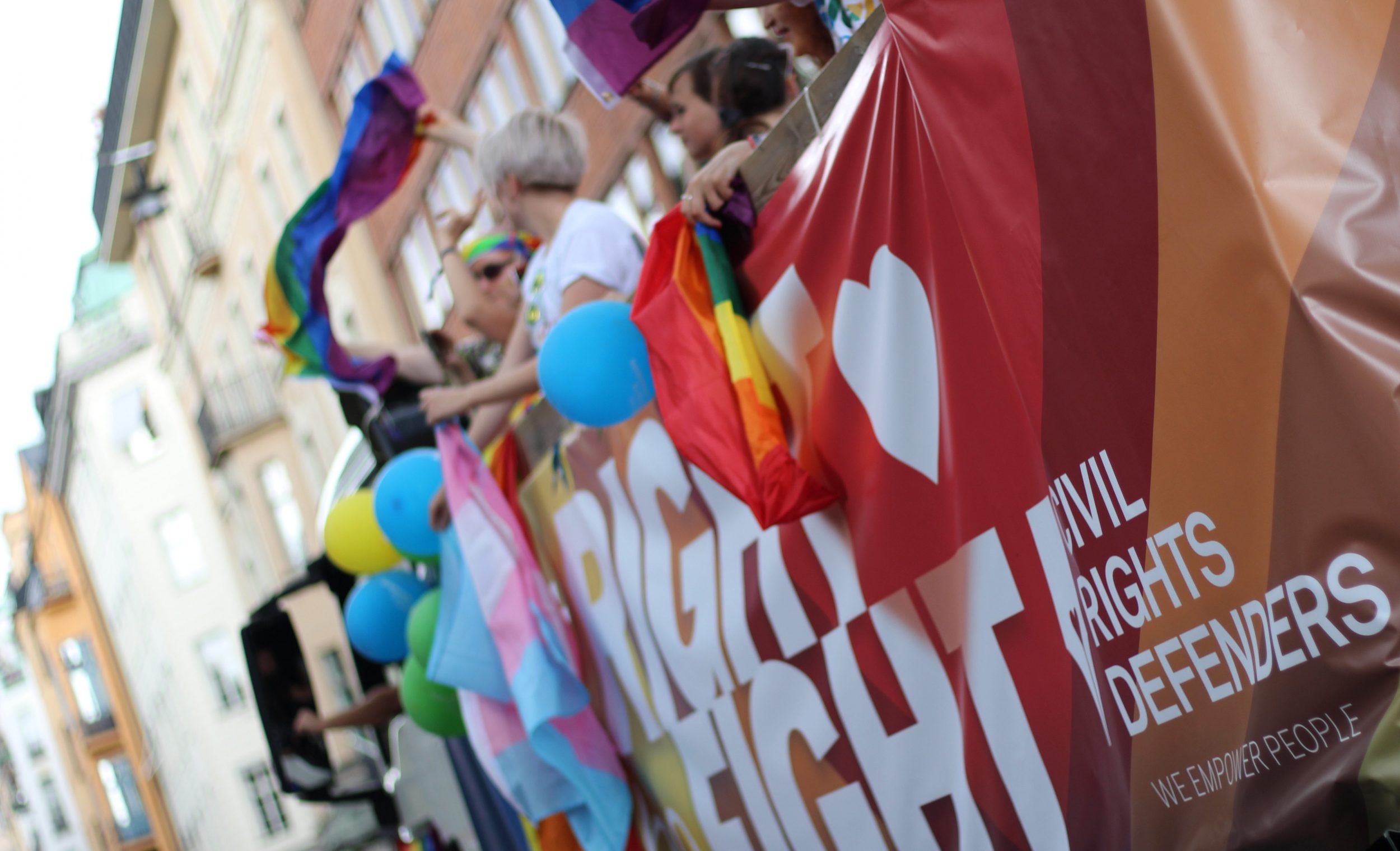 During Stockholm Pride (29 July-4 August 2019), we will host our partners and human rights defenders from Russia, Belarus and the Western Balkans. March with us in the parade and join our panel discussion in Pride House!
---
March with us in the Pride parade
Come and march with us! Civil Rights Defenders and our partners from several countries will participate in Stockholm Pride parade on 3 August 2019. Let's march for the LGBTI+ people who can't, march until all countries are on the right side of history. Let's march to celebrate the achievements and positive changes that have taken place as a result of the hard work of LGBTI+ activists and human rights defenders.
We have our own truck and DJ, so join in on the fun and celebrate!
Date: 3 August 2019.
Time: Be there no later than 12.40 pm. The parade starts 13.00 pm.
Place: Stadshuset. Our truck number will be announced later.
RSVP: Free entrance!
For more information, please follow our Facebook-event.
---
Panel discussion: Art and culture to raise awareness of LGBTI+ rights in repressive environments
In tandem with a worsening human rights situation, several countries in the Eurasia region have embarked on a crack-down on LGBTI+ rights and little progress can be witnessed in the rights' protection of LGBTI+ people in the Balkans.
The strengthening of the protection of "traditional values" and spreading of extreme right-wing tendencies, also reinforced by governments, have further hardened the situation for the LGBTI+ community and its defenders. In Russia, the law banning propaganda of "non-traditional sexual relations" is one example of this trend that has led to discussion of similar laws in other Eurasian and European countries. In an increasingly repressive environment, culture and art has still served as one way to discuss and raise topics of LGBTI+ rights and to empower the LGBTI+ community.
How can art serve as a tool to raise LGBTI+ right issues and empower the LGBTI+ community when the space is narrowing down? What is possible in an increasingly repressive environment and what are the threats?
Meet human rights defenders and artists from Russia, Belarus, Albania and Kosovo when they share their experiences working with culture and art to raise awareness of LGBTI+ rights in their respective countries.
Date: 1 August 2019, 13.30-15.00.
Place: Pride House, Clarion Hotel Stockholm, Ringvägen 98.
Language: English.
RSVP: The seminar is free of charge but you will need a Pride-pass and register at Eventbrite.
Panelists:
One representative of the LGBTI+ initiative group Coming Out – the organisers of the international cultural festival Queerfest.
Lena Gavrilova, volunteer of the cultural Festival Open Art organised by the Moscow Community Centre for LGBTI+ initiatives.
Dasha Romanovich, LGBTI+ activist, member of MAKEOUT project, Queer Calendar project coordinator.
Loreta Cuka, Documentary photographer and LGBTI+ activist.
Adelina Tërshani, Human Rights Activist.
Host:
Goran Miletic, Director Europe Department and Acting Director Eurasia Department, Civil Rights Defenders.