Civil Rights Defenders at Stockholm Internet Forum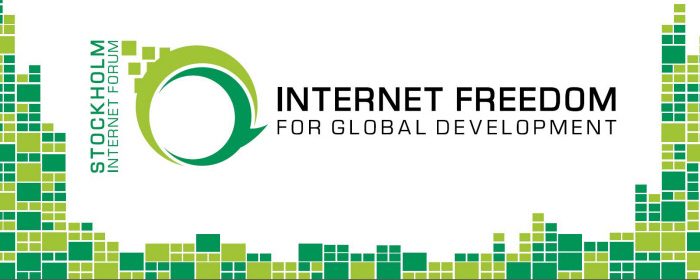 Stockholm Internet Forum (SIF) is an annual conference held in Stockholm hosted by Sida where several hundred human rights defenders and civil society actors gather to discuss development issues and human rights related to technology and the internet.
This year, Civil Rights Defenders is participating not only by attending staff from several of our programmes, but also as co-organisers of a number of sessions and events during the forum – mostly through the Human Rights Defenders at Risk department.
"Supporting human rights defenders is a crucial part in the struggle for human rights also in the digital space, and providing security trainings and psychosocial support is part of what Civil Rights Defenders do. We see offering parts of our toolbox to participants at the Stockholm Internet Forum as a service to the digital rights community – adding to the sustainability in the work we all do back home," says Marcin de Kaminski, Civil Rights Defenders programme director of Human Rights Defenders at Risk.
Workshop on Secure Interpersonal Communications (Pre-SIF)
Trainers Tina and Alik* are working with Civil Rights Defenders to make sure that our (and our partners') information does not end up in the wrong hands. Through a practical workshop during the initial "Pre-SIF", they guide participants through risk assessments, threat modeling and risk mitigation focused on non-digital information security.
*Names have been changed.
Online Attacks and Surveillance
A session on surveillance and digital threats to human rights defenders with a panel consisting of international experts from the digital rights community. They will explain how the online threat situation for human rights defenders looks in Mexico, Burma, the MENA region and beyond. Civil Rights Defenders programme director of Human Rights Defenders at Risk, Marcin de Kaminski – long time experienced within digital rights and the intersection of technologies and human rights – will moderate.
Psychosocial Support
As a special service to all SIF participants, Civil Rights Defenders is providing well-being sessions with our professional yoga instructor Anna Gordh Humlesjö. Since we consider psychosocial support for human rights defenders key to maintain sustainable organisations and communities, there will be both opportunities for guided mindfulness sessions throughout the forum and also opportunities to discuss organisational approaches to well-being.
From Crisis to Response, from Trauma to Recovery
A talk by Ali Gharavi, who was detained in Turkey in 2017 because of assisting local human rights defenders in information security practices. During the talk, Ali will discuss which strategies to employ and which resources are needed when human rights defenders are faced with crises designed to overwhelm and demoralise them. Ali tells his story from inside this crisis and its ongoing aftermath.
It was in July 2017, a routine workshop on stress management and information security for human rights defenders was raided by Turkish police forces. It turned into a months-long crisis of imprisonment, interrogations, charges, and court battles. The events also sparked trauma and recovery efforts for the affected human rights defenders, their loved ones, and their communities.
Contact
communications@crd.org