Ugandan LGBTI Activist Frank Mugisha Included in the Natalia Project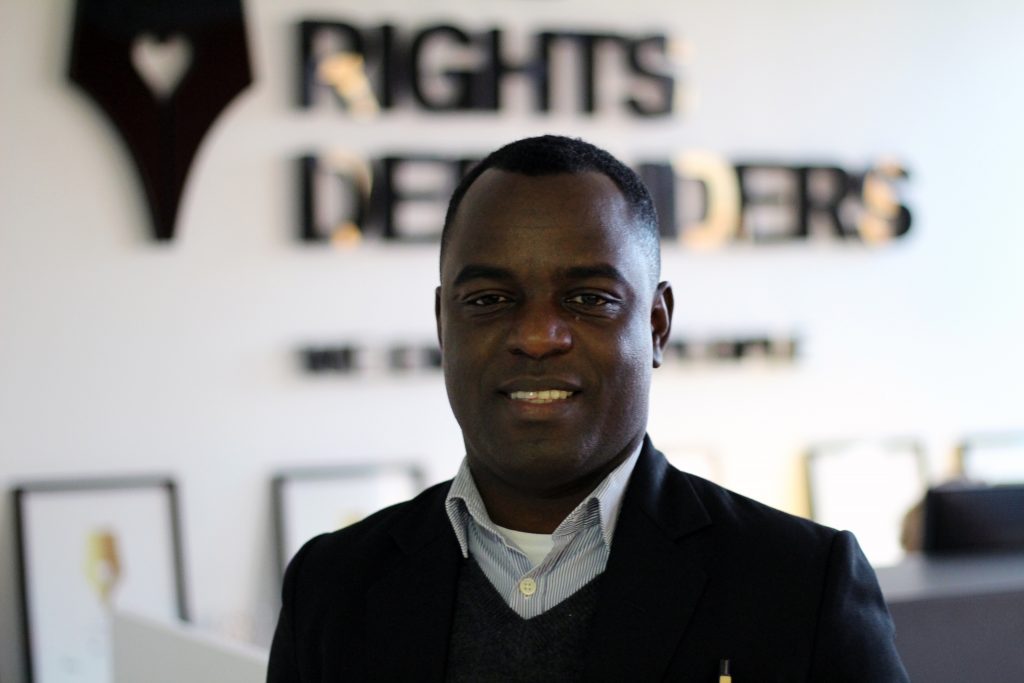 Human rights defenders who work to promote and protect human rights in their communities across the world are often threatened and attacked to stay silent. Ugandan LGBTI activist Frank Mugisha has experienced first-hand what it is like to live as a target in an oppressive environment that seeks to end his fight for a better, fairer and more democratic country.
"Working to promote LGBTI rights in Uganda is challenging as the environment is very hostile and homophobic. You constantly run the risk of being arrested, physically harmed and even murdered. I personally have had a colleague who was murdered as a result of his work. A major part of my organisation's work is therefore to do advocacy, trying to change people's hearts and minds," said Frank Mugisha who is the Executive Director of Sexual Minorities Uganda.
Protecting and strengthening human rights defenders across the world lies at the very core of Civil Rights Defenders' work. One of our hands-on initiatives to promote the security of those at risk is the Natalia Project. The alarm- and position system provides the opportunity for human rights defenders to raise an alarm instantly in case of an attack, in order to mitigate the potential harm that could follow.
In November, Frank Mugisha became the most recent Ugandan human rights defender to be included in the project. During his tailored security training – which is mandatory for each Natalia Project participant – we had the opportunity to hear Frank's thoughts on the civil rights situation in Uganda, his personal security situation, and how the Natalia Project could increase his safety.
"Activism has become a part of me"
Being openly gay and working for one of the region's leading LGBT organisations, Frank Mugisha notes that activism has become part of him and his everyday life. This is a contributing factor to what motivates him to continue fighting despite the hostility he often faces.
"It has been a work in progress ever since I came out at the age of 14. Feeling that activism is a part of me as a person is one of the things that makes me continue my work. Another thing that motivates me not to give up is that I have listened to so many stories of LGBTI persons who are deprived of their rights. Many of them cannot show who they are to anyone, not their families nor their friends. Sometimes I almost feel privileged being an activist, at the same time as I feel a kind of obligation to continue this work in Uganda. If I stopped, what would happen to all these people?"
"The Natalia Project is another step in my personal security"
In November, Frank Mugisha visited Stockholm to participate in a tailored security training as part of his inclusion in the Natalia Project. Describing his security situation as "very complicated", Frank believes that the project is an important step in his efforts to remain safe and prevent burnout and paranoia.
"Being not only openly gay, but also LGBTI and an activist, complicates my security situation. These things attract a lot of risks: risk of being physically or verbally attacked at any time; risk of being denied services such as medical care; risk of simply being denied admission to a restaurant or another public place. And then there is of course the risk of being arrested and put in prison. Every day when I wake up in the morning, I must prepare myself and, more importantly, plan how I am going to mitigate these potential risks if they happen. That is why this training is so important, as it gives the tools to do so."
"I would like to encourage activists to take their security seriously"
Burnout and mental health problems are common among activists who fear reprisals because of their work. Over the years, Frank Mugisha has seen many of his colleagues leave the country because of the way this has affected their personal lives.
"I believe that it is often the lack of support that makes activists leave. That is why I encourage activists such as myself to become involved in initiatives like the Natalia Project. I can tell for sure that every step I have taken in terms of increasing my personal safety has also been to the benefit of my work. Because if I was to feel paranoid all the time, I would not be able to do my job very well. Joining project such as this helps you learn how to mitigate risks. And maybe more importantly, it is a way of feeling that you have support, whether something happens or not"
---
Since the launch of the Natalia Project in 2013, the network has grown to include more than 150 human rights defenders from Russia, Central Asia, the East and Horn of Africa, Southeast Asia, Latin America and the Western Balkans. Learn more about the project here.