Launch of Unique Digital Security Trainings in Uganda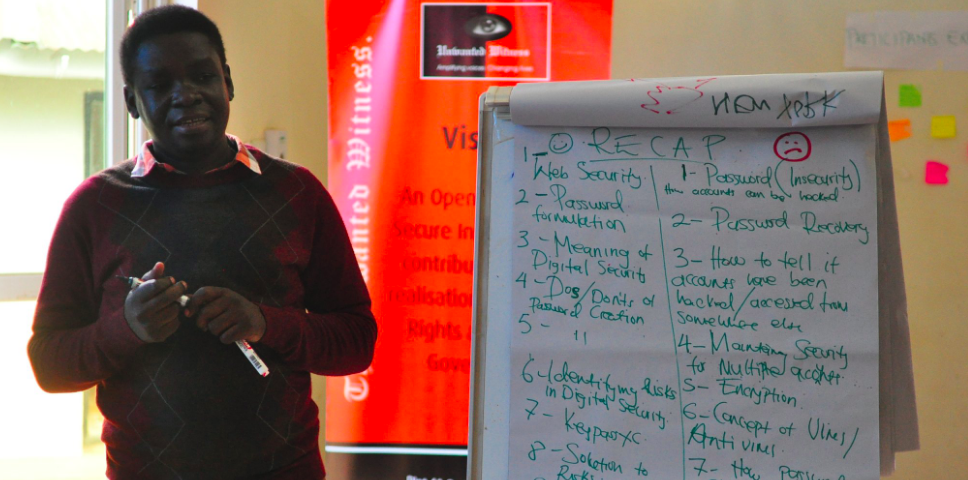 The trainings are part of a greater initiative by Civil Rights Defenders and our partners in Uganda, and aims to strengthen the respect for freedom of expression and decentralise digital security in all regions of the country.
In Uganda, internet represents a significant part of many people's lives, providing not only access to a wide range of services, but also facilitating expression, sharing of views, creating economic opportunities and enabling civic participation. In recent years, the Ugandan government has increased regulation on civil society engagement and freedom of assembly since the enactment of the 2013 Public Order Management Act (POMA). With additional clampdowns on media freedoms, particularly traditional media, a number of human rights actors, independent journalists and activists have embraced the digital space to defend people's rights and freedom of expression in the country.
With support from Civil Rights Defenders' Mobile Training Center, our partners and contacts in the country have begun leading trainings with the aim of decentralising digital tools and strategies. The hope is that these efforts will secure an online operating environment and safeguarding the broader space for journalists, human rights defenders and other targeted groups throughout Uganda.
Unwanted Witness Uganda, a long-term partner of Civil Rights Defenders and important internet-based human rights organisation in the country, is currently carrying out the first series of trainings which are reaching participants in the Albertine region, the Eastern region, the Northern region, the Rwenzori region and the Greater Masaka region.
Starting off Digital Security Training in Northern Uganda, Gulu with a team of people from different backgrounds. There excited to acquire digital skills !! @dcmukasa @cmukasa @mlowdi @crdefenders @dekaminski pic.twitter.com/Dhzlmy4ucx

— Mukisa Walusimbi (@Ritchiechard) October 17, 2018
"The trainings Unwanted Witness are implementing right now are the crucial basics: how to manage your own baseline security and how to defend against common threats. It is like inoculating against diseases — you start with the most exposed groups and the most common and dangerous ones," said Martin L. Fällman, Protection Officer at Civil Rights Defenders.
The trainings target a varied composition of human rights defenders who, by nature of their work, find themselves at risk. Participants include organisations working on corporate accountability in the environmental sector, women human rights defenders, minority communities, persons living with disabilities, persons living with HIV/AIDS who are highly stigmatised in their communities, and journalists who are vulnerable to cyberattacks. In the five regions where the trainings are held, human right defenders, journalists, women and girls, minority groups and indigenous communities are vulnerable to threats and often subjected to harassment, both offline and online.
"This initiative is unique in the sense that the trainings will reach human rights defenders throughout Uganda. It also has the capacity of creating resilience against online threats among a very broad group of human rights defenders across the country," said Gabrielle Gunneberg, Africa Programme Director at Civil Rights Defenders.
These trainings are the first steps towards creating a larger network of digital security trainers and experts who can reach human rights defenders in all regions and rural areas of Uganda. Civil Rights Defenders will continue working with our Ugandan partners on developing this "Training of Trainers" in order to strengthen digital security and other protection measures for human rights defenders in the country.