Harassment of the LGBT Community Continues
The attack on Baku's LGBT community is continuing, as local activists say Bakuvians with "non-traditional appearance" are still being stopped and questioned on the street and around metro stations. Concrete numbers are hard to come by, but estimates of the total number of detainees range from around 100 to over 200. Lawyers have had no success overturning the administrative sentences handed down last week.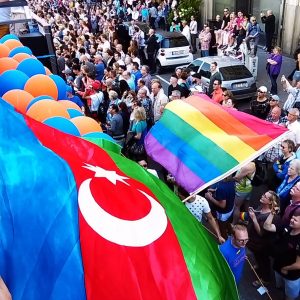 Local rights groups are advising LGBT people against walking in public without a member of the opposite sex, to avoid being outside after 23:00, and to not respond to calls or messages from unknown numbers of casual acquaintances.
The harassment of the LGBT community was carried in advance of a large anti-corruption rally led by the opposition coalition the National Council of Democratic Forces on Saturday. Six opposition activists were also arrested in the run-up to the rally, dozens were called into police stations and told not to attend, and at the time of writing, 64 protesters had been detained, nine placed under administrative arrest, and 11 were fined.
It is unlikely the timing of the sudden crackdown on the LGBT community and the harassment of liberal opposition activists is coincidental. Many of the detained reported that police attempted to force them to agree to testify in future political trials or risk detention or being public outed. Some were offered 150 AZN (€75) in return for their cooperation.
Also read: Mass Arrests and Abuse of LGBT People in Azerbaijan.
Last year, the Azerbaijani government swept up more than a hundred conservative activists, many of whom were coerced into testifying against Popular Front Party (APFP) activists in politically-motivated cases. Furthermore, the APFP lost support among strict secularists when it publicly condemned the crackdown on moderate Islamists, and it appears the government is hoping to repeat that success by forcing the primary domestic opposition to make a public statement in support of the LGBT community.
The only public comments from authorities has been from the Ministry of Health and the Ministry of Internal Affairs, both of whom issued confusing statements denying widespread press reports that detainees were being forced to undergo medical examinations. However, neither statement explicitly denied that the examinations were conducted, and the Ministry of Health's only went so far as to say they were not involved.
Civil Rights Defenders renews its call for the government of Azerbaijan to stop its harassment of the LGBT community, as well as the politically-motivated arrests and detentions of peaceful and law-abiding protesters and politicians. We also call upon the member states of the Council of Europe to take action and condemn the rapidly deteriorating human rights situation in the country.