Team Iustitia from Serbia Winners of 2017 Regional Moot Court Competition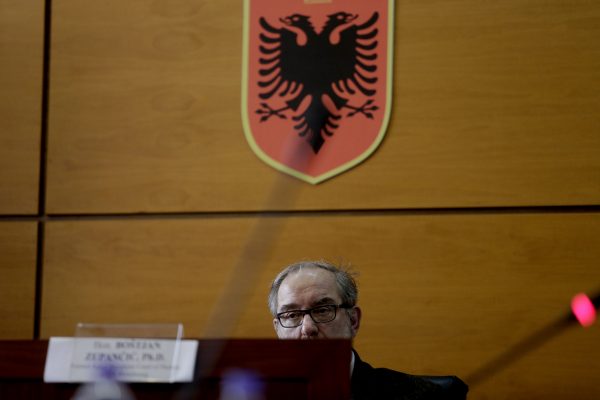 Team "Iustitia" from Nis, Serbia have taken the title at the 2017 Regional Moot Court competition with a narrow win over over "Ad Victoriam" from Tirana, Albania.The event which is now in its eleventh year and organized by Civil Rights Defenders took place over the 18 and 19 March in the Albanian capital, before the European Court of Human Rights.
The Regional Moot Court was first organised in 2007 and is inspired by the Nordic Moot Court model, whose tradition goes back to 1984. The competition includes written briefs and trial simulations before a panel of Judges of the European Court of Human Rights dealing with topical human rights issues.
Twelve teams from Albania, Macedonia, Croatia, Serbia, Bosnia and Herzegovina, Montenegro and Slovenia took part in the event, competing for the prestigious regional title. The winner of the Regional Moot Court Competition will go on to the Trans-European Moot Court Competition Finals in Strasbourg in the autumn of this year, where they will meet the winner of the Nordic Moot Court Competition, before the European Court of Human Rights in Strasbourg.
"In its eleven year history, more than 1000 students have had the chance to participate in the annual Moot Court Competition where they get the opportunity to present a case in a real court setting, so that they can gain first hand experiences that will help them in their future careers as human rights lawyers," said Goran Miletic, Director for Europe, Civil Rights Defenders.
Team Iustitia have been regular winners of the Regional Moot Court competition having last taken the Trans European Moot Court title back in 2014 over Team Lannung from Copenhagen in Denmark.
"More importantly – the Moot Court Competition has proved to be an excellent platform for students to meet their peers from all over the region, many of whom share the same values and dedication to respecting human rights, thus creating a regional network of future human rights defenders," said Goran Miletic.
---
You can follow developments and view photos from the event by clicking here.