Elections in Venezuela – Leaving Democracy Behind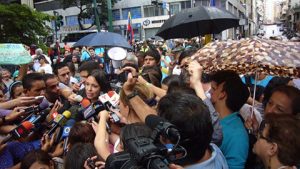 Venezuela is leaving democracy behind in the run-up to the elections of the National Assembly on December 6. That is the conclusion in a report by Civil Rights Defenders about the rapidly deteriorating situation of civil and political rights in the country.
Executive Summary of the Report
The Venezuelan government has launched a widespread attack on basically all civil and political rights during the last decade. The government has passed laws, decrees and constitutional amendments to limit the independence of the judiciary, the National Assembly, civil society and the media. It has continuously accused human rights defenders, opposition leaders and journalists of conspiracy, and sent elected politicians to prison with and without trial.
The human rights situation has continued to deteriorate rapidly since the protests during the spring of 2014. The repression of the protests was excessively violent and the legal processes against the detainees characterized by human rights abuses. The forced expulsion of thousands of Colombians from Venezuela in August this year, and the sentencing of opposition leader Leopoldo Lopez to almost 14 years in prison in September are just a few evidences of the worsening of the situation. Despite this, Venezuela was re-elected to the UN Human Rights Council in October 2015.
After the election of Nicolás Maduro as Hugo Chavez' successor as president in 2013, the country has entered a phase of deteriorating political and economical crisis. The radical increase in violence and impunity in the Venezuelan society the last decade have generated a general fear for personal safety. And, as there are no signs that the economical situation will improve, the increased inflation, poverty and shortages of basic goods will continue to motivate protests and further repression.
The upcoming elections on December 6 could be an important step to start solving both the political and economic crisis. But the aggressive language of the government towards the opposition has made any agreement between the two sides basically impossible. And, as Nicolás Maduro repeatedly has said that he will not accept a new majority in the National Assembly, the possibility that the elections will contribute to a peaceful solution is diminishing rapidly. Unless the government changes attitude dramatically in the coming weeks, Venezuela is definitely leaving democracy behind.
---
Read the report in full: Leaving Democracy Behind.