The Police in Montenegro Bans Pride for the Third Time This Year
The police in the Montenegrin city of Niksic has issued a ban against a Pride March, scheduled for 18 September, at the city's liberation day from fascism. The ban was allegedly issued due to security issues.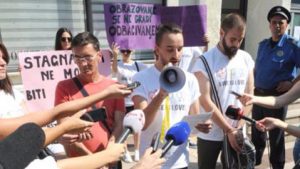 This is the third time in 2015 that the Pride March is banned due to security issues, although the organisers offered full cooperation to the police. Also, despite threats coming from the extreme right, no arrests have been made so far.
"To ban a Pride event three times in one year is an extreme example of a human rights violation against the LGBT community in Niksic. As a member of the Council of Europe, Montenegro is obliged to protect everyone's freedom of assembly with no exceptions and excuses" says Goran Miletic, Programme Director for the Western Balkans at Civil Rights Defenders.
Civil Rights Defenders demands the police to apprehend all individuals who issued threats against the Pride March in Niksic and protect the LGBT community in the city. We also demand the police to make the security assessment of the March available to the organisers. Freedom of peaceful assembly must be guaranteed to all citizens of Montenegro, regardless of their personal attributes.