Natalia Project Welcomes its First Participant in Kosovo
As of today, Rajmonda Sylbije is participating in Natalia Project. Rajmonda is the Executive Director of the Centre for Equality and Liberty in Kosovo (CEL Kosova).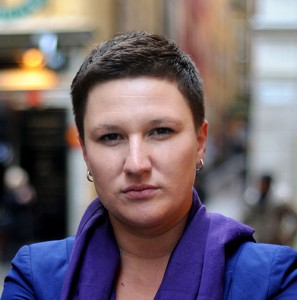 Within CEL Kosova, Rajmonda's work focuses on the protection and promotion of LGBT rights in Kosovo, with the aim to empower the LGBT community, increase the awareness among the general population regarding LGBT issues and work for improvements regarding the respect for LGBT rights in Kosovo.
"Despite our antidiscrimination law, LGBT people in Kosovo still cannot exercise their fundamental rights. Natalia Project is both a tool and a shield for me – I have learned how to work with my personal security and the bracelet helps keep me safe", says Rajmonda Sylbije.
Homophobia remains a big issue in Kosovo and LGBT people are often victims of both verbal and physical attacks.
"We are happy to welcome Rajmonda Sylbije to Natalia Project. She is one of the few vocal LGBT activists in Kosovo. With her, we are also expanding to yet another country in the Balkans and thereby increase our presence in the region", concludes Marie Månson, Programme Director for Support to Human Rights Defenders at Risk at Civil Rights Defenders.
---
Natalia Project is the world's first alarm and positioning system for human rights defenders at risk powered by social media. All participants go through extensive security training before being equipped with a personal alarm. In the case of an attack, a distress signal is sent to Civil Rights Defenders headquarters in Stockholm. Once the signal has been verified, the alarm goes out through social media to let the world know. More info about the Natalia Project here.