Second Human Rights Defender from Kenya Included in Natalia Project
A community organiser in Mombasa, Phyllis Omido becomes the second human rights defender from Kenya to be included in Natalia Project after David Kuria. Phyllis is the founder of the Center For Justice Governance and Environmental Action (CJGEA), an organisation that promotes environmental justice in the coastal industrial areas of Kenya.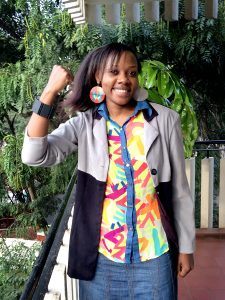 Phyllis founded the organisation in 2009 in reaction to the grave environmental consequences suffered by people living near toxic industrial areas scattered throughout the coastal region. The mission of CJGEO is to amplify the voices of the poor communities residing around extractive industries. One of the organisations' core functions is to educate communities affected by poor environmental standards about their fundamental rights.  CJGEA also advises on legal recourses available in cases of infringement.
"No tangible change can be achieved when you constantly live in fear at the frontline. Natalia Project has freed me from fear so I can amplify the voice of my people, knowing someone is watching over me. Thank you Natalia Project," said Phyllis Omido.
In 2012, Phyllis was accosted by armed men outside her family home together with her young son but miraculously escaped the ordeal. Shortly after the incident she was arrested alongside 16 other members of CJEA for lobbying against the widespread environmental fall out experienced by several communities.
Many families have been exposed to detrimental toxic waste from procedures involving the processing of lead to the recycling of noxious material.  Phyllis was charged in court on trumped up charges of inciting violence and arranging illegal gatherings but after a year-long struggle to clear her name she was acquitted. Phyllis continues to lobby the government for changes to environmental procedures. In 2014, three toxic waste smelters were relocated from poor urban areas in Mombasa as a result of her efforts.
"Over the past year we have affirmed our commitment to human rights defenders at risk in East Africa by providing training and capacity building in several countries. There are now several activists included in Natalia Project security system from Africa and the goal is to equip many more in the coming year,'' said Marie Månson, Programme Director for Support to Human Rights Defenders at Risk at Civil Rights Defenders.