Eleven Cambodian Human Rights Defenders Jailed in Three Days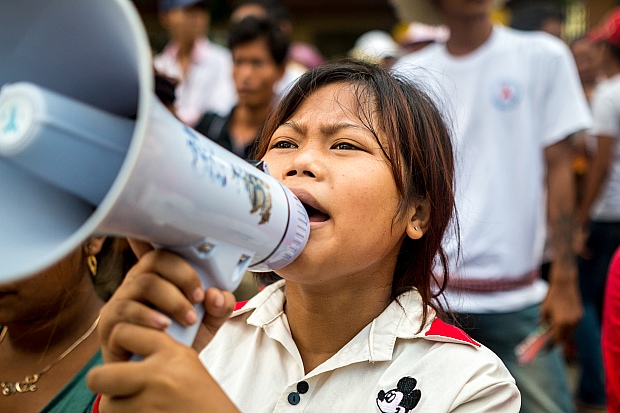 In the span of 72 hours, the Cambodian authorities have arrested, tried and sentenced eleven housing rights activists. They were arrested for participating in peaceful protests relating to the forced evictions around the Boeung Kak lake in Phnom Penh.
The rights activists, ten women and one man, a monk, were sentenced to one year in prison and a fine of two million Riel each (Circa 490 US Dollars 3600 SEK or). The monk, Venerable Seung Hai was reportedly defrocked following his arrest and all were moved to the Prey Sar Prison (CC1 and CC2) in Phnom Penh.
"The speedy trials and convictions remind us yet again that fair trial rights guaranteed under both Cambodian and international law are being routinely flouted by those who are legally bound to protect them. The Cambodian authorities must reverse this dangerous trend of criminalising human rights work and rendering the judiciary into a tool of harassment," said Brittis Edman, Southeast Asia Programme Director, Civil Rights Defenders.
Turn of events
10-11 November: Seven housing rights activists; Nget Khun, Tep Vanny, Song Sreyleap, Kong Chantha, and Phan Chhunreth, Po Chorvy and Nong Sreng, from the Boeung Kak Lake community were arrested during a peaceful protest outside City Hall. In the evening of 11 November, the Phnom Penh Municipal Court convicted them all for obstructing public traffic (Article 78 of the Traffic Law). In 2012 five of these activists was convicted in a similar trial but were released a month later after an Appeal Court reduced their sentence to time served.
11-12 November: Three rights activists; Heng Pich, Im Srey Touch, Phoung Sopheap, and the monk Venerable Seung Hai, were arrested during a peaceful protest calling for the release of the seven activists on trial. On the evening of 12 November they where convicted, by the same court, for obstructing a public official with aggravating circumstances (Article 504 of the Penal Code).
Background
The company, Shukaku Inc, was granted a land concession for 99 years of the area Boeung Kak lake in central Phnom Penh and turned the lake into a landfill. This led to an on-going dispute and forced evictions since the company also were granted a concession over the surrounding areas, which housed around 4200 families. The company is supported by a senator from Cambodia's ruling party, the Cambodian People's Party.
Thousands of families have been forcibly evicted from the area while the remaining residents face intimidation and suffer from the fallouts of the lake's commercial development. Since 2007, activists have assembled in peaceful protests and conducting public advocacy against the expropriation and forced evictions.