Anti-Corruption Activist Attacked and Detained in Montenegro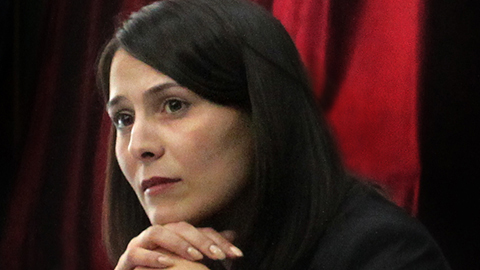 On 25 May, local elections were held across Montenegro's 12 municipalities. Vanja Ćalović, head of the organisation "Network for Affirmation of the Civil Sector" (MANS) which works on corruption and transparency issues was attacked and locked up for several hours along with two of her colleagues at the Municipal Election Commission office in the country's capital Podgorica.
"Montenegro is recognised by many international stakeholders, including the European Commission, as a country with serious problems regarding political corruption, irregularities and organized crime. There is a lack of political will from the government to fight against mafia and corrupted politicians," says Vanja Ćalović.
On 27 May, two days after the elections they had visited the office of the Election Commission to submit complaints relating to election irregularities a common feature in this small Western Balkan state. When they arrived at the office they were attacked and placed in custody by two administrators whose job it was to receive such complaints.
Civil Rights Defenders strongly condemns the attack on Vanja Ćalović and her two colleagues Vuk Maras and Dejan Milovac and strongly urges the Montenegrin authorities to fully investigate this incident and bring prosecutions against the perpetrators.
"Elections are the very essence of democracy and the source of legitimacy for any Government. The institution of elections must be protected at all times and human rights defenders must be allowed to monitor them without distractions and interference. It is unacceptable for any democratic country, especially a member state of the Council of Europe and a candidate country for the European Union to allow such violence against human rights defenders," says Goran Miletic, Programme Director for the Western Balkans at Civil Rights Defenders.
Vanja Ćalović is one of three people in the Western Balkans included in the Natalia Project safety alarm system for human rights defenders at risk. She was not wearing the Natalia bracelet at the time of the attack.