Peaceful Post-Election Protests in Cambodia Mobilise Masses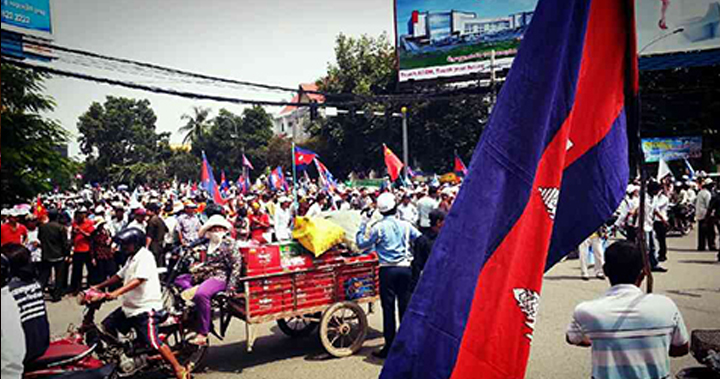 In Cambodia, peaceful protests which took place over three days last week mobilised tens of thousands of people who came out in force to call for electoral reform and a review of the results from the parliamentary elections in July. The opposition party collected thumb prints from some two million Cambodians. The authorities responded with restraint, essentially protecting the rights to peaceful assembly and freedom of expression.
On 23 October, the opposition Cambodian National Rescue Party (CNRP) reported that two million Cambodians had thumb-printed a petition, which had been delivered to nine embassies, including China and Japan, as well as to the OHCHR. The petition urges the international community to assist in resolving the current political deadlock, in accordance with the 1991 Paris Peace Accords. The Peace Accords followed the civil war and the Khmer Rouge rule, and set up goals for Cambodia to reach in cooperation with the international community.These included the right to vote, respect for the right to freedom of expression and freedom of assembly, as well as equal access to media for all political parties.
The July election left a lot to be desired. All broadcast media are more or less controlled by the government, which makes access to media unfairly distributed. During the protests following the election, the authorities blocked roads with razor wire and positioned a massive armed security force, which created a hostile atmosphere. On 15 September, the forces opened fire at protesters, killing one man and injuring several.
The protesters are seeking electoral reform as well as an independent investigation into the July election, essentially as a means to protect the Cambodian people´s civil and political rights, including the right to vote and the right to take part in public affairs. The grassroots networks of Cambodia have, through these protests and petitions, showed that they are well able to stand up against perceived breaches of their rights. People seem to have overcome decades long fear of the authorities and can and will organise strong movements to voice their views.
Background
Several breaches of people´s civil and political rights occurred in connection with the National Assembly Elections on 28 July 2013. Defying all predictions, the official result gave the ruling party of Prime Minister Hun Sen; Cambodian People´s Party only a narrow win against the opposition party, Cambodian National Rescue Party. Prime Minister Hun Sen has been in power for 28 years. Many irregularities were reported during the election. Several voters were unable to vote as someone else had already voted in their place and the voter registration process was very disorganized. Since the election there have been a number of protests, mainly organized by grassroots networks and the opposition party.