Successful Pride Parade in Podgorica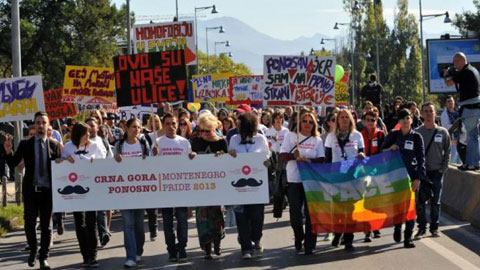 Civil Rights Defenders is delighted over the successful Podgorica Pride 2013 which was held on 20 October in the capital of Montenegro. The first Pride event ever held in Podgorica saw over 200 participants take part. This was a milestone for the protection of freedom of assembly and freedom of expression for the LGBT community in Montenegro.

"Despite numerous police and counter demonstrators being injured we would like to congratulate all of the organisers, participants and the LGBT community in Montenegro who took part in the patade. The police tried their best to protect the participants, but we must also remind ourselves that the prosecutor's office and the courts still have a job to do. Sixty right wing homophophic protestors were arrested, for causing trouble at the event. We expect all of them to stand trial in the very near future, said Goran Miletic, Programme Director for Western Balkans at Civil Rights Defenders, and continues:
"The organisers and participants deserve our respect, since the event took place at a very difficult time, where activists are subject to everyday threats. It took the presence of 2000 police who did their best to secure the event Now that the LGBT community is more visible, we expect society in Montenegro to change and fight homophobia, which is at a disturbingly high level. To do so, the institutions must ensure their respect for Article 14 of the European Convention of Human Rights, which prohibits all forms of discrimination. The case of Budva must not be repeated."
In Budva, more than 130 charges against counter demonstrators were interpreted as minor offenses. Montenegro is a member state of the Council of Europe and a country that has ratified the European Convention on Human Rights and other relevant international treaties.
"Everyone must be free to practice their rights, regardless of their sexual orientation, but no one should be free to use threats and violence, which was the case in Budva and Belgrade. We demand justice and responsibility for those who are responsible. Freedom of expression is protected under Articles 10 of the Convention and Montenegrin society and institutions must uphold it".
Podgorica Pride 2013 is the first Pride event to be held in the Montenegrin capital and was organised by the LGBT organisation, Queer Montenegro. The Pride parade took place in a climate of extreme intolerance towards the LGBT community which has also seen a constant stream of threats towards the organisers of the event. The first attempt to organise a pride parade in the Montenegrin capital took place in 2011, but was abruptly cancelled due to ongoing threats and the complete lack of concrete support from the Government.