Natalia braclet protects LGBT-activist in the Balkans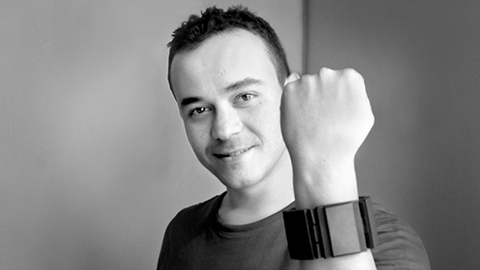 Kristi Pinderi, LGBT activist from Albania, is one of the first human rights defenders from the Western Balkans to be included in the Natalia Project security system. His bracelet was activated just in time for his participation at Belgrade Pride.
For Kristi Pinderi, the bracelet represents a strong moral support in his day-to-day work:
"Behind the bracelet there is an entire system and organisation with people, institutions, and media ready and willing to act in case of an emergency. It is a way for human rights activists not to feel alone and it is definitely the best tool for empowering them. When you are an activists, sometimes you forget about practical details like security, you are driven by your activism and ideals."
In his work, Kristi Pinderi is constantly exposed to hate speech, threats and the risk of violent attacks. Being the Executive Director of the organisation ProLGBT, he has been instrumental in raising the visibility of the gay movement in the country. He was also an integral part of the working group that helped draft the first ever anti discrimination legislation in Albania, which came into force in 2010.
Marie Månson, Director for the programme Support to human rights defenders at risk, is pleased that the Natalia Project has been expanded to include human rights defenders at risk in the Western Balkans.
"The security system goes a long way in enhancing the physical and psychological protection of human rights defenders. A lot of work is being done to educate activists like Kristi, who are equipped with security protocols that can be used for their organisations as well. They learn more about risk assessments and develop a strategy for secure communication and information technology. The goal is to give protection to the human rights defender but also to their entire organisations."
Within the next few weeks two more human rights defenders from the Western Balkans will be included in the Natalia Project. That will make a total of nine participants. The previous six people are all from the North Caucasus. Preparations have started to add defenders from Southeast Asia within the next months. The goal is to expand this number to 55 by the end of 2014.
Read more about the Natalia Project on www.nataliaproject.org