Opinion Poll: Majority of North Macedonia's Citizens Support Right for Peaceful Pride March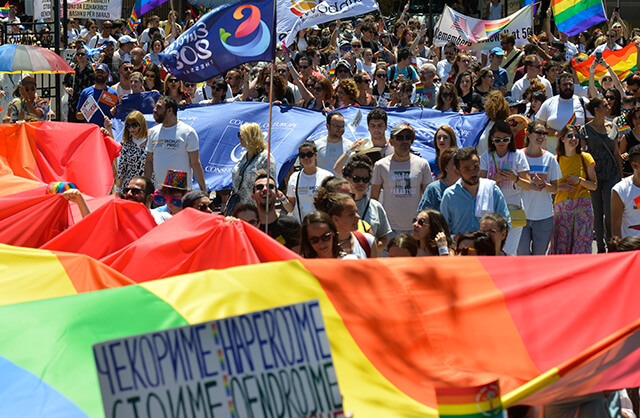 In anticipation of today's (26 June) second Skopje Pride, Civil Rights Defenders has conducted a public opinion poll, showing that the majority of North Macedonia's citizens support the right of LGBTI+ persons to hold a peaceful Pride march.
Graphs highlighting the results and the research methodology are available here.
Key Findings:
Asked whether they agree that LGBTI+ persons should have the right to peacefully march through Skopje, 55% of respondents answered positively. This represents an improvement compared to 2015 when 47% of citizens agreed with this right.
A major contributing factor is whether citizens communicate with LGBTI+ persons. 83% of citizens which communicate with LGBTI+ persons agree with their right to hold a Pride march.
Asked about the reasons why Pride is organised, most respondents (43%) agree that it's for the legitimate purpose of "LGBTI+ persons bringing their vulnerable position to public attention", as supposed to "provoking the majority that doesn't support their lifestyle" (40%)
Aside from communicating with LGBTI+ persons, the most positive answers came from respondents who were younger (18-29), college-educated and living in urban areas.
70% of respondents agreed that "LGBTI+ persons are citizens like all others," a notable rise from 2015 when 54% of respondents agreed with this statement.
Commenting on these findings, Civil Rights Defenders Programme Officer for North Macedonia, Damjan Zdravev, said "the LGBTI+ community in North Macedonia, like much of the Western Balkans, is under no-illusion about the uphill challenges to securing a fair and equal society for all. However, these polls show promising signals that things are moving in the right direction and that society is becoming increasingly understanding of the needs of this group. Undoubtedly, the first Skopje Pride in 2019 and the tireless work of LGBTI+ activists has played an important role in highlighting these issues, which is all the more reason to come out and express solidarity with the community during Saturday's march."
This poll was carried out as part of region-wide research conducted by Civil Rights Defenders, together with IPSOS Strategic Marketing, with a representative sample size of over 6000 respondents.