Journalists' Days Highlights Worsening Restrictions on Media Freedoms Due to Covid-19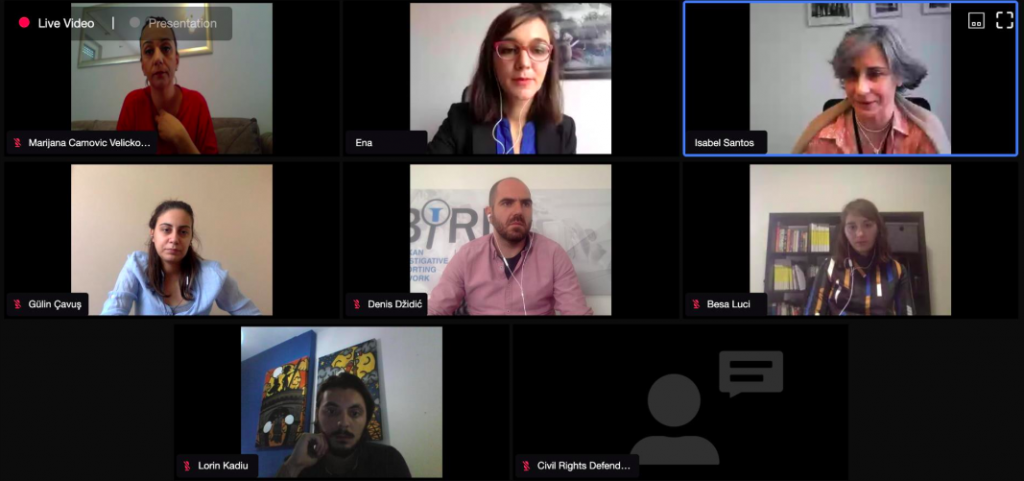 On 13 – 14 October, Civil Rights Defenders organised the 2nd Regional Journalists' Days, focusing on the state of media freedoms in the Western Balkans and Turkey in light of the Covid-19 pandemic. The event brought together renowned journalists, media experts and policymakers from the region, in a series of virtual panel discussions and thematic meetings.
Following opening addresses by Civil Rights Defenders' Director of Europe, Goran Miletic, and Council of Europe's Human Rights Commissioner, Dunja Mijatovic, who stressed the fragile freedoms enjoyed by journalists in the region today, a panel discussion was held on the topic of 'Information sharing in times of global crisis: Advantages and challenges of fact-checking and ways forward.' A key conclusion of the discussion was that each of the Western Balkans countries have seen worsening standards for reliable and credible information sharing during the pandemic, which complicates the work of journalists and is a major public health concern.
Speaking on the panel, Lorin Kadiu from Albanian media portal Citizens Channel explained the effects that poor information sharing had on the country's handling of the pandemic. "We face a full-blown communications crisis by the government. Instead of working with the media, the government became the media, and information related to the health crisis were being communicated directly from the Prime Minister's Facebook page." Back in early August, we interviewed Lorin Kadiu about Albania's poor handling of the crisis for The Human Rights Defender podcast; you can listen to the full episode below.
The following day, thematic meetings were held on topics ranging from physical and digital security, election reporting to fact-checking and new technologies, followed by a closing discussion on 'Misinformation, social media and journalism: understanding and countering false narratives'. Here, a panel of mainly investigative journalists from across the Western Balkans explained their everyday struggles of effectively communicating findings in the face of sophisticated, government spin campaigns. Former journalist and MEP from Slovenia, Irena Joveva expressed solidarity for her colleagues, saying "in the Western Balkans…sensationalist headlines in the media, tabloidisation, party controlled media outlets, intimidation of journalists seem to be the everyday life. Sadly, it has been normalised."
Over 60 participants followed each day of the day, while approximately 20 people took in each of the thematic meetings. The online events were streamed live via a multilingual web-conferencing platform, in English, Albanian, Macedonian and Bosnian-Croatian-Montenegrin-Serbian.
For the second year consecutively, Journalists' Days continues to represent the cornerstone of discussions on media freedoms in the Western Balkans, which have are worryingly under growing threat. Addressing her panel, MEP Isabel Santon summed up the impact these trends are having on the region's accession prospects; "it's an issue of great concern to see freedom of media being undermined and we are monitoring the situation in the Balkans, as well and in other countries that are candidates for accession."