EqualiTECH 2019 Human Rights Hackathon to Launch in Kosovo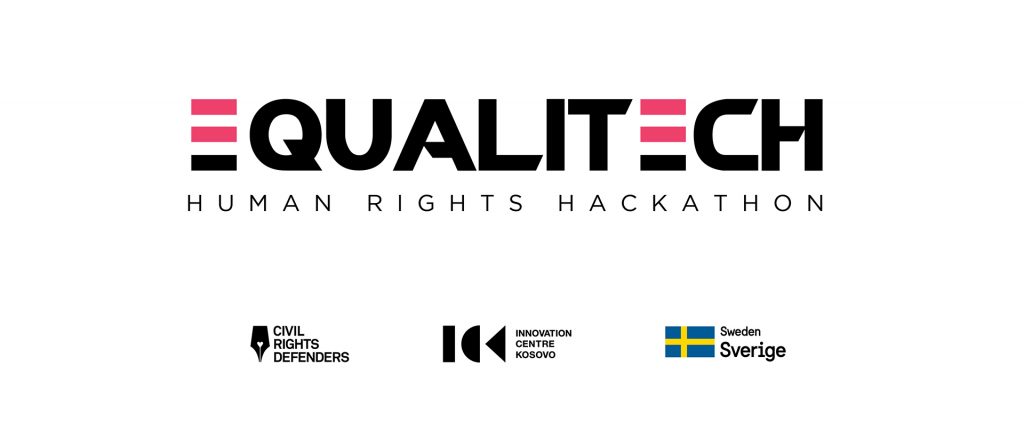 Civil Rights Defenders, in partnership with Innovation Centre Kosovo (ICK) is hosting the first ever regional hackathon to tackle human rights issues – 'EqualiTECH 2019' – on 27-29 September 2019.
Fighting for the advancement of human rights is an ongoing battle and as such, it demands the abutment of modern technological advancements. However, there is a clear shortage in the interplay of technological investments around human rights issues, frequently materialising as a roadblock for its advocates.
In an effort to reduce this gap, we invite participants with various backgrounds, skill sets, and creative abilities to form multidisciplinary teams and invent unique digital products to hack Human Rights challenges pertaining to 3 thematic areas:
1). Justice and Equality; 2). Freedom of Expression; 3). Access to Information.
This signature event challenges participants to place humanity at the forefront of design thinking and innovation. It aims to fuse the power of technological innovation with the generative capacities of human rights defenders and activists, in building ICT solutions as part of diverse teams, to support human rights work in the Western Balkan countries.
Under expert mentoring, the competitors of different backgrounds will have 40 hours to design innovative products that will elevate the work for human rights protection and advocacy.
'EqualiTech 2019' kicks off on the 27- 29 September, taking place at ICK's event hub. All interested candidates can apply here.
The deadline for application is 17 September, 11:59 pm.
The challenges
Justice and equality
Design a solution that helps increase justice and equality. Human rights, particularly of vulnerable and marginalized groups are frequently violated by state and non-state actors, remaining a major challenge in the Western Balkans region. People are discriminated on various grounds, cannot access justice and are forced to live on the margins of society.
Conceptualize and develop a digital product that will help increase justice and equality as well as promote inclusiveness for all. For example, think of tools (i.e. platform) that can connect state bodies responsible for providing free legal aid, private pro-bono lawyers/law firms, legal aid organisations and citizens in need of legal aid and advice; or tools that can help identify public and private places of interest and service providers (bars, restaurants, hotels, parks, etc) that are friendly, inclusive and non-discriminatory, particularly to vulnerable and marginalized communities in the Western Balkans.
Freedom of expression
Design a solution that helps boost freedom of expression. In this century, no one should be threatened to express free speech, a pillar of any democratic society However, this right is frequently violated and in various ways. Dissenting voices, particularly those that speak up to injustices, abuse of power, intolerance and discrimination face hate speech, online harassment, bullying and threats.
To complete this challenge, you should design a tool that will help facilitate and/or increase freedom of expression and reduce various forms of online harassment. The objective is to invent digital products (i.e. platforms) that can enable citizens, activists and journalists from the Western Balkans to connect with each other; identify and report violations of human rights; enable user-friendly reporting mechanisms that help increase their safety and security, etc.
Access to Information
Access to information is increasingly limited in the Western Balkans. Proliferation of unprofessional media, increasing number of fake and manipulative information, limits citizens abilities to make informed decisions. Conceptualize and design a digital product that will help increase access to reliable and useful information sources. This product (i.e. platform) should support citizens, progressive media outlets and independent journalists, fact-checking and other issues relating to 'fake news'.
Please note that this is not an exhaustive list. If you have ideas that would like to address, please let us know in the application form and we will do our best to accommodate them.
Also note that we accept a variety of innovative products such as but not limited to: web and/or mobile applications, AI technology, digital platforms, blockchain, etc.
Competition eligibility criteria?
We aim to gather human rights defenders/activists, interested social science students, technical experts (i.e. programmers, designers, UX researchers, etc), and active citizens with a creative flair and a special interest in combating discrimination, upholding human rights for minorities, supporting freedom of expression and protecting human rights in general. We think that each of these roles is paramount for creating a challenging but prolific environment.
To participate, you must meet the following eligibility criteria:
All individuals must be between 18-35 years of age.
Must work (HR activists or advocates) or have an interest (tech candidates) in combating discrimination, upholding human rights for minorities and underrepresented groups, and ensuring freedom of expression.
Tech candidates must be skilled in using programming language or tools and/or graphic design software.
All candidates must be able to collaborate within a team.
Must have a passion for problem-solving and analytical thinking.
Preference will be given to individuals with proven experience or passion in combating human rights violations.
Awards for the winning products
We will award three cash prizes, each in the amount of 1000 euros for the winning product prototypes in the respective challenge category:
Justice and Equality – 1000 €
Freedom of Expression – 1000 €
Access to Information – 1000 €
Additionally we offer you an opportunity to be a part of a yearly global challenge that will push the boundaries of existing efforts to protect and advocate for human rights.
What can you expect?
Mentorship sessions
Expert mentors will be available in intervals thought the event, coaching the teams, both on content and delivery of their innovations. All participants will have the opportunity to reflect with their mentors on different entry-points to innovation in support of human rights.
Final presentations
All teams will be required to pitch (present) their products on a 4-minute time slot followed by a short Q&A session.
Judging session
All the pitches will be judged by a qualified body of judges by unanimous voting. This body will announce the winners for each category and will incite a debate on how each of the tools can help shape the approaches to the protection of human rights.