"The Persecution of Journalists in Belarus Needs to Stop"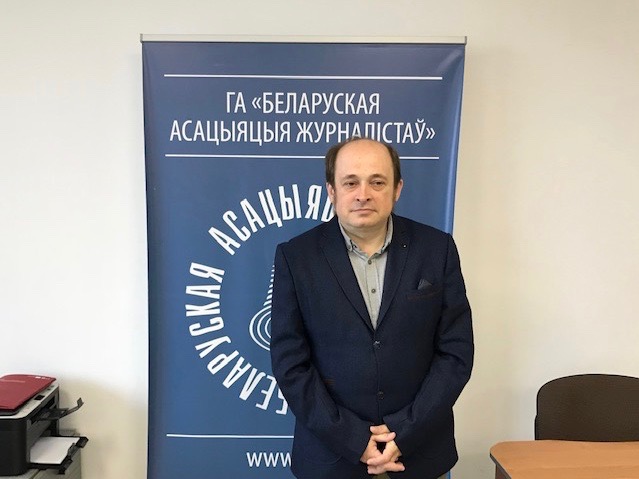 Independent voices from Belarus:
Close-up with Pavlyuk Bykovski, correspondent for Deutsche Welle 
As an independent journalist in Belarus, Pavlyuk Bykovski has been threatened and harassed on several occasions. This summer, when the repression against the country's journalists escalated, he was placed in a temporary detention center for two days. Civil Rights Defenders recently met with Pavlyuk Bykovski to learn more about the pressing situation for him and his colleagues. This is his personal experience of what it is like to work as a journalist in today's Belarus.
The struggle for information
"Working as an independent journalist in Belarus is not the easiest thing. Right now, I would point out restrictions on accessing information is one of the main problems. There are unfortunately very few authorities that are willing to provide information to independent journalists. It is also especially difficult to work at events that are attended by the president, since the permission for us to attend is given by the presidential security service. And, perhaps needless to say, these permissions are quite hard to obtain." 
Faced with travel bans
"On 8 August 2018, my house was searched and I was placed in a temporary detention center for two days because I was a suspect in the "BelTA" case. During the search, smartphones, computers, hard drives, tablets, flash drives and a voice recorder were confiscated from me and my family. I have now been banned from traveling abroad*. On a positive note, the Ministry of Foreign Affairs has extended my permanent accreditation as a foreign journalist which gives me the right to continue working. It is otherwise common that independent journalists are denied accreditation, which complicates their situation. It is very important that the persecution of journalists working without accreditation comes to an end."
There is nothing else like journalism
"For me, being a journalist is not just work, it is a hobby and a way of life. To stay on top of things and be aware of what is happening in the world interests me a lot, and I would say that there is simply nothing else like journalism. That is why I will continue my work, even if I know that it comes with its difficulties."
* After the interview was made, it has become known that the case against Pavlyuk Bykovski has been discontinued.
---
Read the rest of the series "Independent Voices from Belarus" here: 
Katerina Bakhvalova, "I Will Continue to Work, No Matter What."
Pavel Slepuhin, "I Have a Desire to Make the World Around Me a Better Place."
Tatyana Korovenkova, "The Authoritarian Regime Will Never Allow the Media to Work Freely."
Olga Chaychits, "The State Does Not Recognise My Rights as a Journalist."