Standing Together, Moving Forward
Dear reader, happy summer wishes from Sweden! Here in Stockholm, June has been a bit moody. One day with heat and glistening sunshine, another with hefty winds and stormy clouds. In the midst of all this it is time for me, Beatrice Liliegren, to say goodbye and leave the Innovation Initiative after spending the past five months here as an intern with Civil Rights Defenders.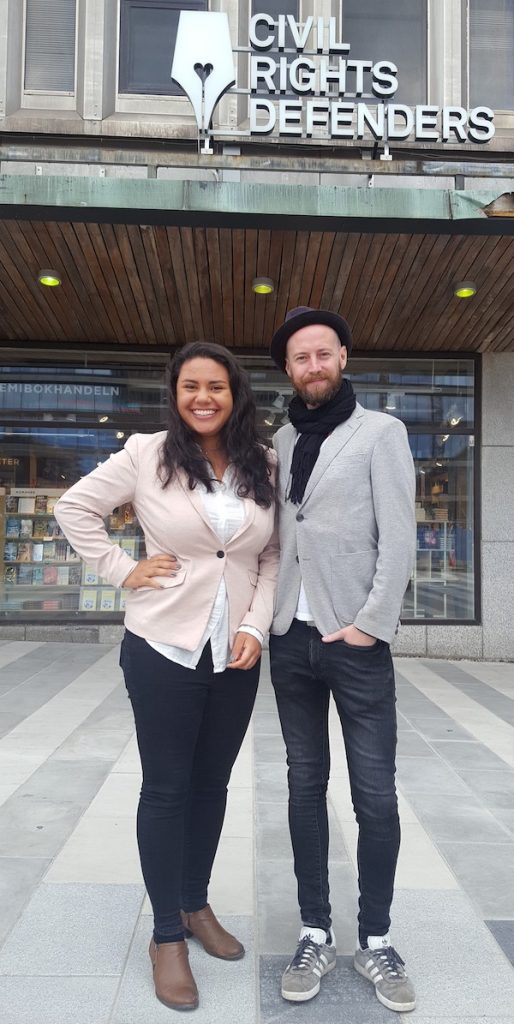 I grew up here in the capital of Sweden, to the sound of seagulls and the taste of meatballs. Before becoming a part of the Innovation Initiative I was a newly finished master student, searching for a place to belong in Stockholm again after spending the last year studying and living in Ningbo, China. Returning home, I did not have a clear objective, but I knew that I wanted to take my theoretical knowledge and develop my practical skills in the field of human rights. One day I was walking from the subway by the main square in Stockholm (I believe I was on my way to the employment agency) when I by chance passed by Civil Rights Defenders and saw their sign. Later, when I got home, I looked it up on the internet and lucky me, they were looking for an intern!
Fast forward to a few weeks later and I was sitting in one of the tallest buildings in the city, describing myself (a young woman with a social side, fresh out of university with an interest for gender equality and human rights) to a nice man with a decade of experience in the field of innovation. A month later, in the beginning of February, I started interning with Civil Rights Defenders.
Looking back I can only say that it has been quite a ride! I've had the privilege to work on a number of different projects, revolving around topics as versatile as psychosocial well being among human rights defenders, to developing a tool for advocacy planning. If you have read our blog previously, you will also know that the last month has been committed to Innovation Challenge 2018, a competition where human rights defenders from across the globe have submitted innovative ideas with the hopes of acquiring some funding to develop their projects or prototypes. It has been a real eye opener, to see people listening to and trying to improve their communities and societies where they live and work, showing that there are a lot of people out there who are fighting the good fight.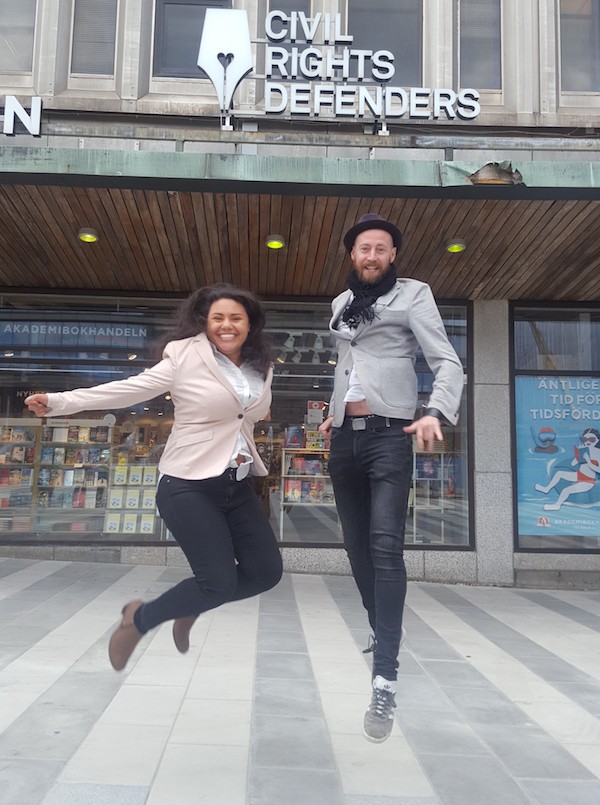 I have been involved in smaller projects, such as developing constructive videos on digital security, and big, massive projects such as Civil Rights Defenders biennual conference, Defenders' Days. The later was such an amazing event. I have never experienced anything like it. Despite being super busy, and trying to keep up with all the new impressions, you cannot stop yourself from realising how important the work of Civil Rights Defenders is to a lot of people, and how impressive it can be when the community comes together. One such moment was when Murat Celikkan, this years recipient of the Civil Rights Defender of the Year Award was celebrated on stage, and the whole audience stood up and gave him and his colleague and wife a standing ovation for what seemed like forever. I might sound completely sappy, but I still get tears in my eyes when I think about it. Such an amazing feeling, standing in a room full of people who every day receives critique, threats, takes risks and who sometimes have been victims of grave human rights abuses, but despite that continues to stand up for what they believe in.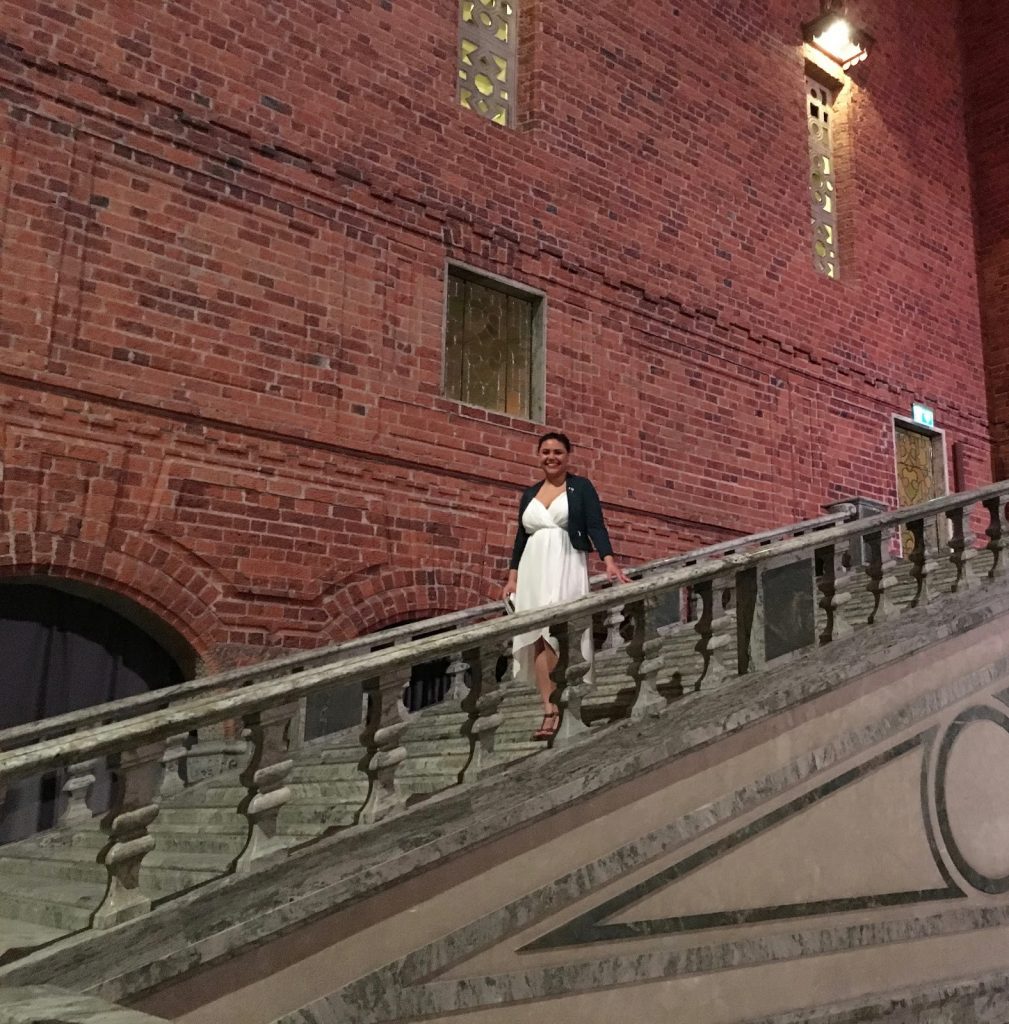 Thinking back I can only say that I have been extremely fortunate to intern with Civil Rights Defenders when I did. The tasks have been varied, and I have enjoyed every minute of it. There is a big difference between work and university. In the beginning I spent too much time on certain tasks, wanting them to be perfect before I let anyone else have a look. However, being a part of a team means working more in tandem with others, and I now understand the purpose of letting people follow your workflow instead of just delivering finished products. Also, finding the time to reflect and assess where one's at, becomes increasingly important the further you dive into your assignments, since it's very easy to bury your head in work only to realise that time has gone by. Luckily, I have been surrounded by great people who have reminded me to really enjoy my time here, and who always have plenty to offer in expertise, kindness or just laughs. With their help, I have grown professionally and together we have done really great work on civil and political rights. The innovation blog has expanded and helped me understand a range of different subjects, and I have tried to incorporate gender and an intersectional perspective in my work. I can leave here feeling proud of my performance.
I am still learning, still growing, trying to find my place in a sector built on humanitarianism and, quite frankly, love. Love for thy neighbour, love of freedom, love of life. However, it is also a sector built upon grants and other people's good will, which makes a career in this field fraught with uncertainty, and sometimes even high risk, when standing up for higher beliefs and values time and time again often provokes people that rather you didn't. That's why it has been so inspirational to come to work everyday with people you can stand up together with. Of course, human rights defenders all over the world have differences and sometimes conflict among themselves, but in the end they are all passionate and keep asking the difficult questions. And the saying really is true: We are stronger together.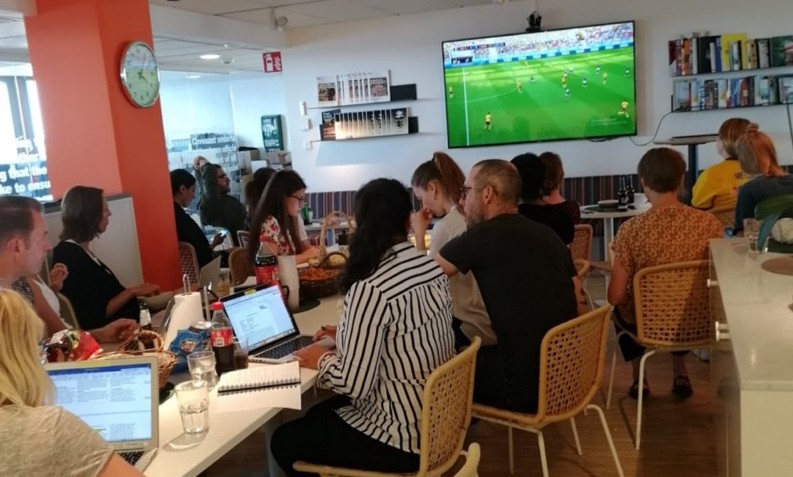 Will the Innovation Initiative be looking for a new intern in the fall? Well of course! Keep an eye out on Civil Rights Defenders social media sites and their webpage if you are interested. I have really enjoyed my time here, and will take many fond memories and practical knowledge with me on my future journey.
A huge thank you to all the amazing people at Civil Rights Defenders, both at the office here in Stockholm and staff all over the world. Good luck in the future, and hopefully we'll meet again. To all the amazing partners that I have had the privilege to talk to, or developed projects with: I want to send you my deep appreciation and gratitude.
With love, Beatrice Liliegren