Ukraine Must Bring to Justice Journalist Arkady Babchenko's Killers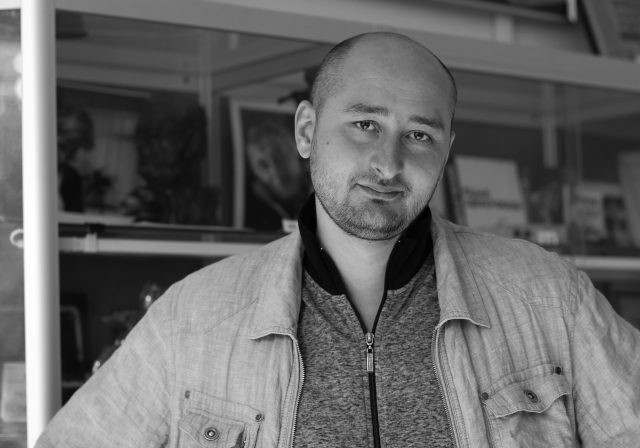 This statement was issued when all friends, family, and colleagues of Russian journalist Arkady Babchenko were under the impression he had been murdered by persons unknown in Kyiv, Ukraine. Several hours after publication, Babchenko and the Security Service of Ukraine announced in a public press conference that the murder had been staged in order to entrap a group of individuals who were conspiring to murder Babchenko.
Civil Rights Defenders will leave the statement in its original form below in the name of transparency, and reiterates the importance of the Ukrainian authorities identifying and bringing to justice those responsible for the murder of Pavel Sheremet.
Updated: May 30, 2018, 17.02.
Original Statement
Civil Rights Defenders condemns the murder on Tuesday evening of the exiled Russian journalist Arkady Babchenko, 41, and urges Ukrainian authorities to bring all responsible to justice. Babchenko, who fled to Ukraine with his wife in early 2017 for security reasons, died in an ambulance after being shot three times in the back at the entrance to his apartment in Kyiv, Ukrainian and international media reported.
"We extend our deepest condolences to Arkady Babchenko's family, friends and colleagues, and strongly urge President Petro Poroshenko and his government to carry out a thorough and transparent probe, and bring to justice everyone – accomplices, killers, and masterminds – responsible for the murder of our colleague. To ensure and protect press freedom, Ukraine must put an end to impunity in attacks against the press", said Joanna Kurosz, Programme Director for Eurasia, Civil Rights Defenders.
In their statements to the press, Ukraine officials, including the interior ministry, stated that they have opened an investigation into the murder, are looking into his critical journalism as a motive, and have published a sketch of a potential killer. Russian authorities have also condemned the murder and opened their own probe into the murder.
Babchenko, a veteran of two Chechen wars, was an awards-winning war correspondent and publicist who covered conflicts in Russia's North Caucasus, the August 2008 invasion of Georgia, the 2010 ethnic conflict in southern Kyrgyzstan, Russian annexation of Crimea and the ongoing conflict in Eastern Ukraine. Until 2011 he reported for the Moscow-based Novaya Gazeta, and was known for his staunch criticism of the many conflicts that Vladimir Putin's government have started and participated in. In late 2016, one of his posts on social media has attracted death threats and calls to strip him of Russian citizenship, prompting them to flee Russia first for Prague, then for Kyiv where he joined an exiled Crimean Tatar broadcaster ATR. He is survived by a wife and six children.
Babchenko is the second exiled Russian journalist murdered in Kyiv since President Poroshenko came to power in 2014. In July 2016, Pavel Sheremet, famous Russian journalist who also moved to Ukraine, was murdered with impunity in downtown Kyiv. Despite promises, Ukraine have failed to identify or bring to justice anyone in Sheremet's murder.