Human Rights Defender Dilmurod Saiid Freed After Nine Years in Uzbek Prison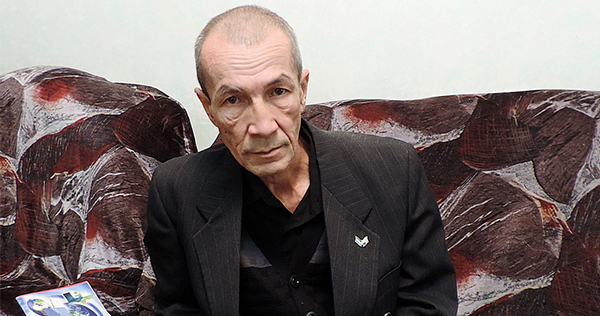 On Saturday, 3 February 2018, prison authorities in Uzbekistan's southern Qarshi region released human rights defender and journalist Dilmurod Saiid. Civil Rights Defenders welcomes his release, and urges the Uzbek authorities to build upon the achieved progress and free all other imprisoned journalists and human rights defenders. 
Prior to his arrest on 22 February 2009, Saiid worked for the Ezgulik Human Rights Society and contributed to exile-run news websites. He has since served almost nine years in prison on fabricated charges of forgery and extortion, the New York-based Committee to Protect Journalists (CPJ) reported at the time. While imprisoned, Saiid lost his immediate family. In late 2009, the journalist's 34-year-old wife and 5-year-old daughter died in a car accident while on their way to visit him in prison, and in 2014 his mother passed away, news reports said.
"We are relieved that our colleague Dilmurod Saiid is free but he should not have been arrested in the first place. To undo all the grave injustices in his case Uzbekistan must take immediate steps to rehabilitate Saiid, and ensure that he is allowed to work and travel as he pleases," said Joanna Kurosz, Eurasia programme director at Civil Rights Defenders. "We also the urge Uzbek authorities to release all other imprisoned journalists and human rights defenders."
In a short video statement published by Radio Ozodlik, the Uzbek service of Radio Free Europe/Radio Liberty, Saiid expressed his gratitude to all colleagues in Uzbekistan and abroad who tirelessly campaigned on his behalf to help him gain freedom. He also reiterated that, from the time of his arrest and to this day, he continues to dispute the charges as politicised and fabricated, and that he is hoping for complete rehabilitation.
According to CPJ, Saiid's prosecution was marred by numerous procedural violations, including the withdrawal of statements by prosecution witnesses, publicly disclosed falsification of evidence, and absence of a defence lawyer during the sentencing. Despite the violations, a regional court thumped Saiid with a 12,5 year-long prison sentence in July 2009, and his appeal was denied. In January 2013, the journalist slipped a note to another human rights defender via his brother who came to visit him. Written in the note was a plea for help. By referring to specific articles in the UN Convention Against Torture, as well as Uzbek national legislation, Saiid also indicated that he had been subjected to torture and other abuses.
In the last few years, Uzbek authorities have freed in total 16 journalists, human rights defenders, and government critics, who are believed to have been imprisoned in retaliation for their work or political views, Human Rights Watch said in their October 2017 report. The releases are regarded as part of a reforms package, which has been set and cautiously implemented by the Uzbek president Shavkat Mirziyoyev who came to power in late 2016, following the death of the authoritarian leader Islam Karimov in August 2016.
Several other journalists and human rights defenders – including Yusuf Ruzimuradov, Gayrat Mehliboyev, Bobomurod Abdullayev, Hayot Nasriddinov – currently languish in Uzbek prisons, where they are likely being subjected to physical abuse and torture. According to CPJ, Ruzimuradov, who was jailed in March 1999, has been imprisoned longer than any other journalist in the world. Uzbek authorities continue to defy requests to provide any information on his status and whereabouts. Abdullayev, whom the Uzbek security service arrested in October 2017 on spurious anti-state charges, was forced to dismiss his lawyer and subjected to torture, his mother Gavkharjon Madaminova told the BBC Uzbek service following her recent visit to the detention facility. "Authorities told my son that he will not walk alive unless he admits to the charges," Madaminova told the BBC.
Civil Rights Defenders urges President Shavkat Mirziyoyev to intervene into Abdullayev's case, probe torture allegations, and ensure the immediate release of all other imprisoned journalists and human rights defenders.