My Time at the Human Rights Innovation Initiative: Technology, Creativity and Human Rights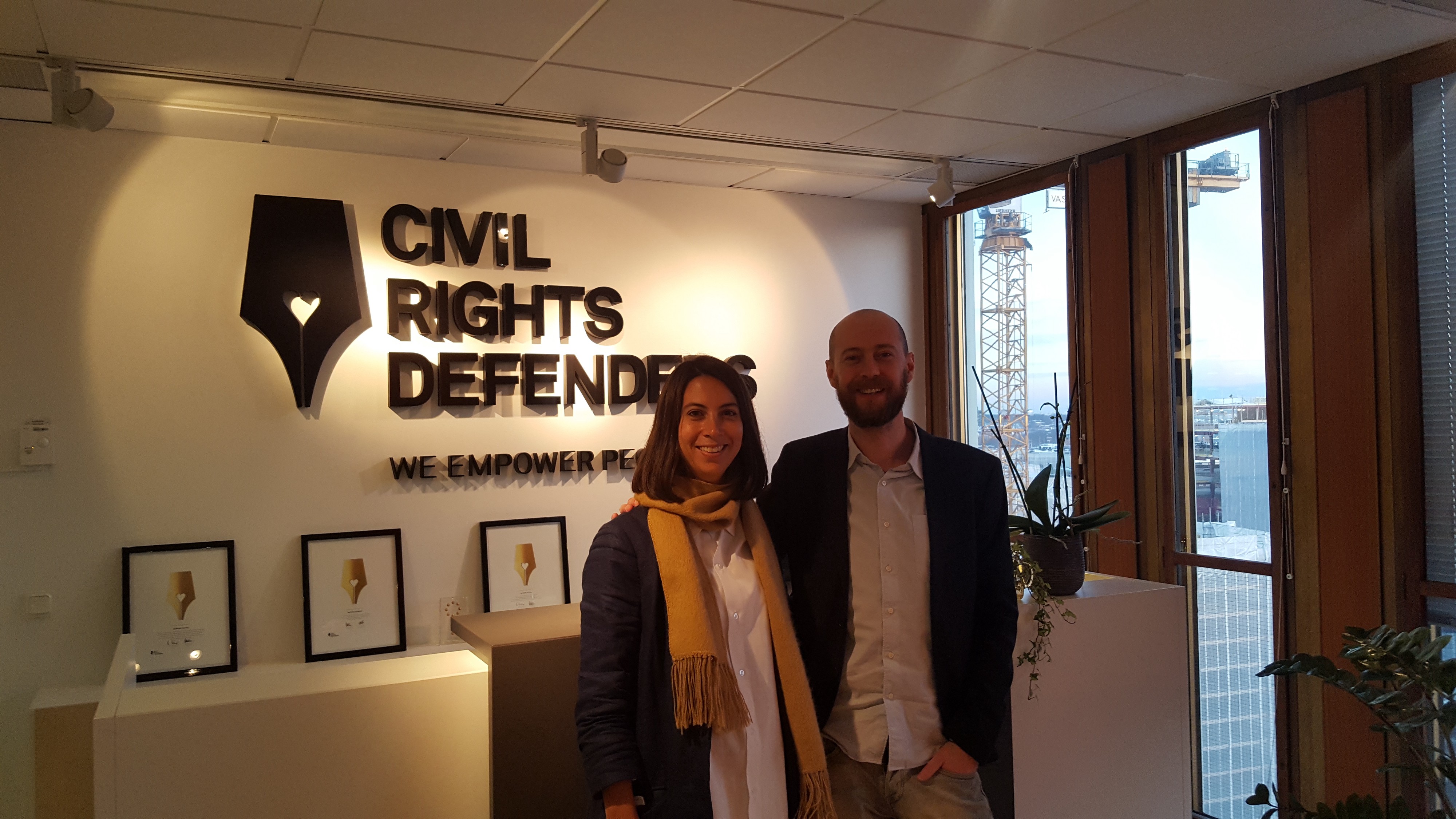 Why do you want to work with human rights?
That was one of the first questions Mathias Antonsson, who leads the Human Rights Innovation Initiative, asked me during the interview for the Innovation Intern position. I replied by sharing a personal story that empowered me to get actively involved in the cause for human rights. It is a story dear to me that I got to discover in my hometown's local newspaper after my grandfather passed away. It is the story of an unknown human rights defender, a regular primary school teacher that in the middle of Argentina's bloody dictatorship spoke out and initiated discussions among his students on the human rights violations that were being committed at the time. It was a risky move, since some of the students' families had close connections to high ranks of the military junta. According to the article writer, my grandfather was the first person in his community that dared to criticise what was going on, despite the risks of being harassed, detained, and "disappeared".
People around the world have been striving for the promotion and protection of human rights for years. Although some human rights defenders become internationally well-known, most of them remain unknown outside their local arena. It is their selflessness and will to improve their community that characterise them, making them an inspiration worth our admiration.
The story of unknown human rights defenders that put their lives at risk to collect and disseminate information on human rights abuses, is a widely known one among Civil Rights Defenders. It is in that space that the Human Rights Innovation Initiative operates, and what I got exposed to in my role as an Innovation Intern.
During the past five months I engaged on a variety of projects that aimed not only at increasing the security of human rights defenders, but also at making the work of these largely unknown human rights defenders more known in their community and beyond. We do this through new innovative ways. In other words, my work revolved around human rights defenders security and their impact, which are two of the pillars of the Human Rights Innovation Initiative.
One of the interesting things I have been doing at Civil Rights Defenders includes developing a digital tool for strategic advocacy. Essentially it is a tool that allows human rights defenders to create tailor-made and advanced advocacy plans for either their organisation or for particular campaigns or projects. Hopefully, the tool will soon be available for Civil Rights Defenders' partners, so stay tuned if you want to know more about it.
I also had the great opportunity of getting involved in the Innovation Challenge 2017, which exposed me to a great range of innovative ideas from all over the world. Furthermore, I participated in different kinds of activities organised by various colleagues at Civil Rights Defenders, which helped me understand the role and importance of the organisation. This internship also enabled me to meet a few of Civil Rights Defenders 200 plus partners, who shared clever ideas on how to tackle some of the issues they experience in their daily work. And I even attended events that triggered my imagination on how to solve some of those issues. Moreover, I tried to collect best practices from the different departments within Civil Rights Defenders to showcase examples of innovative activities and ideas. You can read about some of these best practices in this blog.
Overall, this internship has been an enriching journey on a professional and personal level. I learned a lot more about human rights, especially how human rights are denied in many parts of our world. I also got to know how the human rights situation in Sweden is far from perfect. I learned first hand about the struggles that human rights defenders experience in their daily lives in some of the most repressive countries in the world. The burnouts, the harassments, the frustrations, the arbitrary detentions, the extrajudicial executions.
But I also learned about success stories. Unfortunately, quite often Civil Rights Defenders have to keep these stories to itself to protect the human rights defender. Sometimes these are small victories, at other times they are game changers. I got to learn more about how we can use technology to empower human rights defenders. Hence, reaffirming my conviction on how important is to have the local actors at the centre of any endeavour, which was aligned to the defender-centric approach, a core concept of the Human Rights Innovation Initiative.
Last but not least, this internship gave me the opportunity to meet amazing colleagues that are doing incredible work both in Sweden and abroad. Their hard work and commitment with civil and political rights is truly inspiring.
Thanks a lot to Civil Rights Defenders and the Human Rights Innovation Initiative, I wish you all the best!
*Antonela Tedesco, Human Rights Innovation Initiative intern (Fall term 2017)