Announcing the Winners of the 2017 Innovation Challenge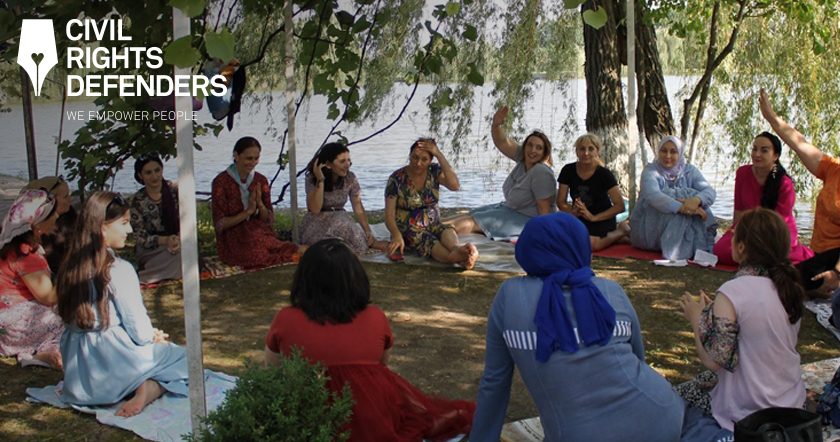 Today, on the international human rights day, Civil Rights Defenders is pleased to announce the winners of the Innovation Challenge 2017. This year, two separate applicants have been named joint winners by the jury: Peer-Care, a project focusing on human rights defenders' mental health, and an anonymous applicant who is determined to increase police accountability in their region.
Out of the 28 applications, the jury, consisting of Jac sm Kee, Jamila Raqib, and Robert Hårdh, today announced that Peer Care and an anonymous winner will share the 2017 prize.
Overall, the Jury found each and all of the applications very interesting.
"I am excited to be exposed to some of the most creative and strategic projects to advance human rights and democratic development", said Jamila Raqib, jury member and the Executive Director of the Albert Einstein Institution, in an interview with Civil Rights Defenders.
The jury members all agreed that the five finalists presented very important and needed ideas aimed at addressing real challenges which human rights defenders face in their everyday lives.
"The five finalists presented really important and much needed ideas for responding to real needs in the work to advance human rights. Each had different strengths and areas for further thinking and development. I hope that they are able to receive a strong vote of support and confidence from making it this far in the process. It was of course, a very tough decision, and I am deeply grateful and appreciative all of their work, thinking and commitment to the advancement of human rights and its intersection with technology," said Jac sm Kee, jury member and the Manager of the Women's Rights Programme for the Association for Progressive Communications (APC).
The winners
Peer Care, a collective of women human rights defenders, propose a simple, flexible, low-cost and sustainable model for mental health care and prevention. The model will be developed, adapted, owned and implemented by, as well as for, grass roots human rights defenders in their own communities.
"With a true defender-centric approach, Peer Care has created a solution by human rights defenders, and for human rights defenders. The issue of human rights defenders' emotional, psychological and social well-being is an area of vital importance, but unfortunately often forgotten or neglected," said Robert Hårdh, jury member, and the Executive Director of Civil Rights Defenders.
While "self-care" is often presented as key to human rights defenders' mental health, their idea is based on "peer-care", in which grass roots human rights defenders take responsibility for each other's well-being while working to protect human rights in some of the most repressive regions in the world.
"We are so proud of our team for winning the Innovation Challenge! It is a wonderful result of our joint work over many years. We work in very difficult conditions, where defenders face risks every day, and we all needed to find ways to help each other. Your competition was a great chance for us to share our field experience and expertise on how to prevent mental illness and strengthen our mental health, all while networking, improving the effectiveness of our work, sharing personal stories. We will design Peer Care, our new methodology with practical tools on well-being, safety and security of defenders, to be applicable in any context around the world, and we hope that it will make all of our colleagues around the world more resilient," said the Peer Care team.
"Peer Care incorporates innovative thinking with in-depth experience and insight to more effectively tackle a fundamental challenge – how to increase resiliency among human rights defenders by addressing their mental health and wellness needs. It is clear that the project's organisers understand that innovation is closely tied to effectiveness, which means that it should be grounded in the real world, and meet the real needs of real people," said Jamila Raqib.
The second winner has requested to remain anonymous in order to avoid state repression. The applicant put forward an innovative way of increasing police accountability through the use of crowdsourcing and data visualisation. This will not only create citizen oversight, but also improve the law enforcement officers incentives for good behaviour.
"It was a challenge for us to present our idea for an international competition. The participation in Innovation Challenge 2017 helped our team to develop the vision on how we are going to build our project in the nearest future, it inspired internal discussions. It's a great honour that the jury chose to support our idea. Thank you!," said the non-disclosed winner.
"I am excited by the winning applicant's initiative and find it to be a clever and grounded application of crowdsourcing as an approach and technology innovation to improve accountability through direct engagement. With care and attention to how it rolls out, this project can potentially support greater critical awareness on civic rights and state duties, and hopefully also foster better relationships between the police and the people it is serving," said Jac sm Kee.
"This project is both defender-centric and innovative. By monitoring law enforcement through crowdsourced citizen reports, this idea not only stands a chance to improve accountability, but also creates incentives for the police to reflect on their own behaviour and actions," said Robert Hårdh.
The winners of Innovation Challenge 2017 will share the prize of 300.000 SEK. The purpose of the funding is to create possibilities for the entire innovation cycle – from the idea stage, through iterations, to solution, and, finally, adoption.
"Our goal is simple, yet challenging"
Civil Rights Defenders would like to thank all finalists, and everyone else that applied. In a time where repressive regimes and policy makers have stepped up their coercive game and continue to find new methods of oppression, we must find new ways to stop them. This is one of the very core reasons for why Civil Rights Defenders has created the Human Rights Innovation Initiative.
We believe that innovation is key to providing realistic and long-term solutions for human rights defenders at risk. As conditions continue to deteriorate in many of the regions where we work, it is becoming all the more crucial to develop smart and creative ways to assist those who need it the most.
"Our goal is simple, yet challenging: to present ideas that could become important tools for protecting human rights defenders at risk and making their work more effective. The more ideas that are developed, the better," said Robert Hårdh.