Long Held Journalist and Human Rights Defender Freed From Prison in Uzbekistan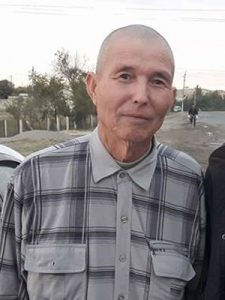 Civil Rights Defenders welcomes the release of human rights defender Azam Farmonov and journalist Salidzhon Abdurakhmanov from Uzbek prisons. Farmonov and Abdurakhmanov were unfairly sentenced in retaliation of their work in 2006 and 2008 respectively.
Civil Rights Defenders compliments the new Uzbek government's steps, and urges it to free all human rights defenders and journalists that are still imprisoned, remove the restrictions for them to travel outside the country, and continue to take steps to improve the country's human rights record.
Farmonov, a local human rights defender, was freed from the notorious high security prison Jaslyk on Tuesday 3 October, the Moscow-based independent news agency Ferghana News reported. He was arrested by the authorities in April 2006, and two months later sentenced to nine years in prison on accusations of extorting a sum equal to 250 US dollars after he tried to defend the rights of a local farmer. In April 2015, when his prison term had expired, Uzbek authorities accused the human rights defender of disobedience to prison rules, and extended his prison term by another five years. His appeal was denied, Ferghana News said. According to news reports, authorities repeatedly tortured the Farmonov and placed him in solitary confinement for up to 20 days.
Abdurakhmanov was arrested in June 2008 on accusations of drugs possession, and sentenced to ten years in prison in October the same year, the New York-based Committee to Protect Journalist (CPJ) reported at the time. At the time of his arrest, Abdurakhmanov contributed to the reporting on human rights, traffic police corruption, and environmental issues to several news outlets, including the Institute of War and Peace Reporting, Radio Free Europe/Radio Liberty, and the now defunct independent news website Uznews. According to CPJ, Abdurakhmanov denied the accusations and told the court that the police had planted the drugs in retaliation for his reporting. As a proof of his innocence, Abdurakhmanov pointed to the lack of his fingerprints on the bag of drugs, the investigators' failure to establish the chain of custody, and that the sniff dog failed to react when it was first brought to check his vehicle. The authorities denied his numerous appeals. He was freed on Wednesday 4 October, exiled Uzbek human rights activists told Civil Rights Defenders.
"We are relieved to see that our Uzbek colleagues Azam Farmonov and Salidzhon Abdurakhmanov walk free after spending up to a decade in prison where no innocent journalist or human rights defender belong. We complement the steps that the new government of President Shavkat Mirziyoyev has taken to improve the country's human rights record, and urge the Uzbek authorities to immediately and unconditionally free all the remaining imprisoned journalists and human rights defenders", said Joanna Kurosz, Programme Director for Eurasia at Civil Rights Defenders.
"Thank you and all other human rights organisations for all the advocacy efforts and support during these long nine years and four months that I've spent in jail. I felt it, and it kept me survive morally and physically", Abdurakhmanov told Civil Rights Defenders shortly after his release.
In December, Civil Rights Defenders urged the then newly elected President Mirziyoev to reverse his country's abysmal human rights record and called for the release of human rights defenders and journalists. Since then, the authorities have freed journalists Muhammad Bekjanov and Dzhamshid Karimov. They have also agreed to host a regional media conference in the capital Tashkent, organised by the office of the OSCE representative on freedom of the media.
However, recent news from the country indicate that authorities continue to employ their repressive tactics against critics. On 27 September, the dissident writer Nurullo Otakhonov was detained for several days upon his return to Uzbekistan from Turkey, where he lived in self-exile. In addition, last week Uzbekistan's security service arrested the independent journalist Bobomurod Abdullayev on bogus anti-state charges, Ferghana News reported. Authorities have also barred two journalists, Bekjanov and Karimov, from leaving the country for a year after their release from prison.
Civil Rights Defenders urges the Uzbek authorities to cease their repressive tactics against journalists and human rights defenders and allow them continue their work or seek treatment outside the country.