Stop the Ongoing Harassment of Activists' Family in Azerbaijan
Civil Rights Defenders is concerned by the persistent harassment of the family of Azerbaijani human rights defender Bashir Suleymanli, Director of the Institute for Citizen Rights and Co-Founder of the Election Monitoring and Democracy Center. We call upon the Government of Azerbaijan to immediately cease this intimidation, respect its citizenry's rights to freedom of speech and assembly, and combat the growing impunity of local security services outside of the country's capital Baku.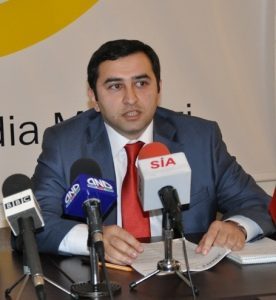 The harassment began on 30 March, when Suleymanli's father was called into the police station in the city of Yevlakh, about 275km west of Baku where he was forced to provide detailed information about Suleymanli and his relatives; including phone numbers, license plate numbers, and addresses. Suleymanli complained to the relevant national authorities and visited the Yevlakh Police Station in person to inquire about the incident, but was told there was "no problem."
On 13 April, police in Sheki, a city 75km north of Yevlakh, paid a visit to the home of relatives of Suleymanli's wife, Gunel, and asked questions about the activities of Bashir. When the family asked why they were being questioned, the police gave several contradictory explanations, including that they were vetting another family member for hire. Bashir has also learned that police in Yevlakh are questioning residents he met or visited with during his visit there during the recent Nowruz holidays.
In recent days, Gunel had been approached by an unidentified person demanding personal information, including her address and whether she was married to Bashir, as well as being followed by the same woman for three days.
Suleymanlı believes that such tactics are related to his professional activity: "This is the next wave of pressure against human rights defenders and civil society. The political government is becoming worried about our meetings with people including relatives in the regions".
The harassment of Suleymanli's family is part of a larger effort to intimidate activists and further shrink the already limited space they can operate in throughout the regions after protests against rising prices broke out across the country early last year. A recent Reuters report uncovered mass jailings, beatings, and most alarmingly, the recreation of Soviet-era community militias tasked with reporting on potentially troublesome neighbors. Pressuring family members of activists in Azerbaijan is commonplace, and can involve sustained harassment, loss of employment, and in several cases involving prominent writersand activists living abroad, arrest and imprisonment.
Suleymanli is a former political prisoner, having served 10 months of a 31/2 -year sentence on charges  that included embezzlement, tax evasion, and abuse of authority. He was subsequently released in 2015.
Civil Rights Defenders condemns the harassment of Bashir Suleymanli and his family, and calls upon the government of Azerbaijan to respect the rights of human rights activists. We are especially concerned with the growing impunity of the security services in the regions, and call upon Azerbaijan to respect its citizen's rights to freedom of speech and assembly as a member of the Council of Europe.
---
For more information, please contact: 
Mike Runey (English, Russian), mike.runey@crd.org.